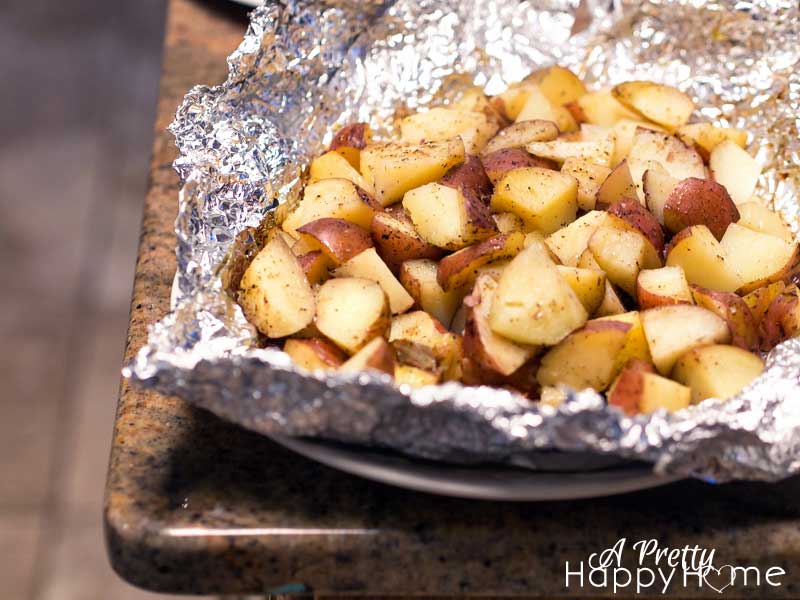 Bacon Feta Jalapeño Potato Salad
My husband doesn't cook very often anymore.
So when I came home last week to find him cooking up something that looked highly questionable, I'll admit I had my doubts. Which, in retrospect, was totally the wrong attitude – especially if I'd like him to do more cooking. *insert major forehead slap here*
When all was said and done, instead of eating crow, I ate two helpings of his potato salad.
It all started with bacon. And, really, all good things start with bacon.
I'm just not sure why it had to be on the grill, but I'm going with the flow here. Again, husband cooking = excellent idea.
He then chopped some red onion and jalapeños.
He does a much better job of dicing than I do.
When the bacon was done, he added that to his pile of chopped goodness.
Also, off the grill came the foundation of the salad…the potatoes. Those looked good just the way they were.
I'd like to interject that while he was cooking, he was also taking pictures – for me to share with you. So sweet, that man.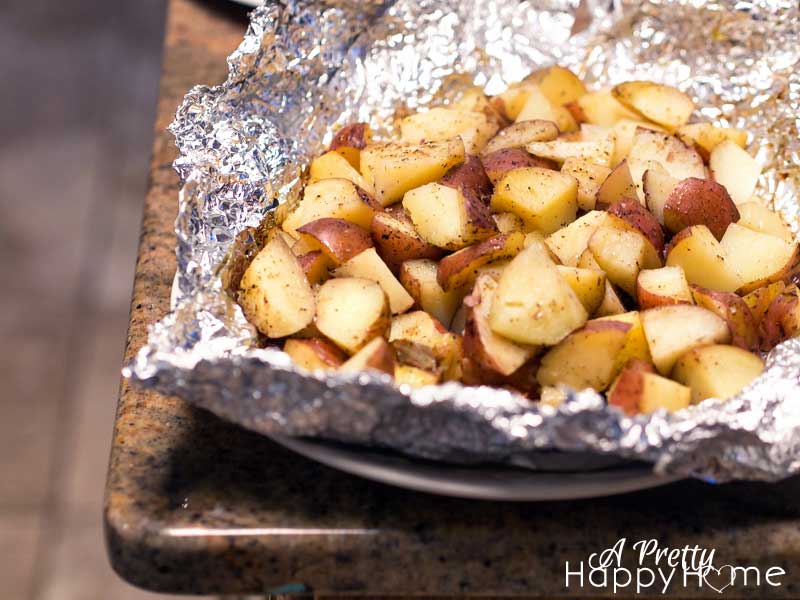 This is where things started to get a little weird. And, why I was skeptical. And why I was, oh, so wrong.
The motley cast of ingredients in this bowl are balsamic vinegar, onion & chive cream cheese, mayo, cilantro and some sugar.

When I came home, all I saw was this muddy mixture in the bowl and my husband with his iPhone tapping in his recipe. No, ladies, he doesn't wing it. He systematically records all changes/improvements he makes to a recipe.
Honestly, it wasn't the prettiest recipe. And, the balsamic vinegar is to blame. If we'd had white balsamic like the original recipe called for, it might have looked a lot different. Still, I shouldn't judge before I taste! Lesson learned.
We served this recipe as a HOT potato salad and it was delicious and amazing in a rock-your-tastebuds kind of way. Seriously. We decided we could start a restaurant and add this to the menu it was that good. My husband liked it the next day too. Sadly, it was all gone before I got to try leftovers. I guess we'll need to make it again!
So, the moral of this story is, it doesn't always have to be pretty to make your belly very, very happy!
Bacon, Feta, Jalapeño Potato Salad
inspiration for this recipe came from this recipe on my recipes.com.
Ingredients:
1/2 cup mayo
1/2 cup chive & onion flavored cream cheese
1/8 cup chopped cilantro
1/2 cup diced red onion
1/2 cup diced jalapeño (remove stems and seeds if you don't want it too spicy)
3 lbs red potatoes (cooked and diced)
1 Tbsp sugar (or more to taste)
1/4 cup balsamic vinegar
8 slices cooked and crumbled bacon
4 oz feta cheese
Directions:
Wash and dice three pounds of red potatoes. Cook on BBQ in foil packet or boil until fork tender.
Cook 8 slices of bacon (or more – can you ever have too much bacon?). When cooked, blot grease and crumble.
Meanwhile, chop cilantro, onion and jalapeño.
For the sauce, mix together cream cheese, mayo, balsamic vinegar and sugar until creamy. Add in cilantro, onion and jalapeño. Finally, carefully stir in the cooked potatoes and bacon.
Serve hot and enjoy!
---
Food is the best, isn't it? Here are some other recipes to ponder. 
Berry Balsamic Vinaigrette with just 3 ingredients