Sometimes I see recipes online that I think look cool, but are they worth the effort? Or are they really as good as the blogger or reviewer says they are? There are some duds out there. Shocking, I know!
Here are some things I've made lately that I can vouch for!
CINNAMON ROLL APPLE PIE by Inspired By Charm
I had to try this pie because it looked so unique. How cool is that crust? It wasn't hard to make either and I used homemade crust. The recipe calls for store bought crust. Yes, I'm weird, but I like to practice making pie crust. I don't make pies all the time, so I like any chance I can get to figure out how to make the dough better and better. I did also sweeten my apples a little more than Michael did, just because of the type and number of apples I used.
I liked this pie because it won on both taste and presentation.
MELLOW MUSHROOM PIZZA DOUGH COPYCAT RECIPE by Lark and Lola
Do you have a Mellow Mushroom restaurant near you? Oh. my. word. The toppings are amazing, but there's just something about their crust. It's so light and buttery or something. This copycat recipe is very similar. I was surprised and then not so surprised to see that one of the secret ingredients is molasses!
I also liked their info about cooking the crust a lot hotter than traditional recipes call for. I cooked mine at 500 degrees for about 7 minutes on just a regular baking sheet – I don't have a pizza stone.
Seriously, try this crust. I'm drooling just thinking about it. Don't ignore the part where they brush it with butter after it's done. Totally worth it.
PORK AND SQUASH ENCHILADAS by Better Homes and Gardens
I saw this recipe in a recent edition of Better Homes and Gardens magazine. I like enchiladas. I like pork. The squash I wasn't too sure about. I ended up baking an acorn squash and using that instead of the frozen squash the recipe calls for. You could hardly taste the squash, unless you really got a bite of just squash. Otherwise, it just adds a hint of sweetness.
My husband and I loved the recipe. My kids? Not so much. I wouldn't say they are the best judge of culinary goodness though.
I really hope you can access this link and that it doesn't make you log in – sometimes they are weird about their recipe content.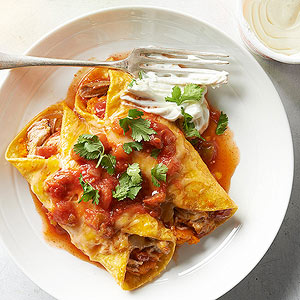 So, that's it! 3 recipes to try that will make your tastebuds do a happy little dance. If you try them, let me know. Enjoy!