Vintage-Inspired Storage Box
A long time and three states ago we bought a 10-ft. artificial Christmas tree. It was the display model.
Here's a warning. Christmas tree display models do not come with a box. You're going to have your very own National Lampoon's Christmas Vacation
 moment getting it home.
Image Source: A Pilgrim In Narnia
To give you something else to think about, once the Christmas tree is out of the box (literally) it never stores nicely again.
For the 49 weeks per year when we weren't using the tree, we wrapped it in a tarp and shoved it under the stairs in our basement.
That didn't look serial killer-ish or anything.
Eventually we finished our basement and the under-the-stairs tree storage was no longer practical. We couldn't get rid of the tree though because according to Handy Husband's calculations, we'd finally gotten our money's worth out of the tree. Now that we'd broken even on that investment the tree was saving us money every year.
He really knows how to put the holly jolly in the holidays.
The tree was here to stay. Half the lights didn't work and we could only use two-thirds of the tree since we didn't have a two-story ceiling any longer, but hey, that Charlie Brown tree was giving us an excellent return on investment!
Handy Husband, in a stroke of brilliance, built a wood storage chest to hold the tree. I know we had a good reason for going this direction instead of getting one of those Christmas tree bags. Maybe because we wanted to be able to store other things as well?
Most likely it was because we wanted the tree and its storage container to be stored out-of-sight in our barn. That meant our storage solution needed to be able to withstand rodents and moisture. When faced with a challenge, Handy Husband does not mess around. This sucker was built out of marine-grade, 3/4-inch plywood and ended up being heavier than both of us could easily lift.
It was perfect.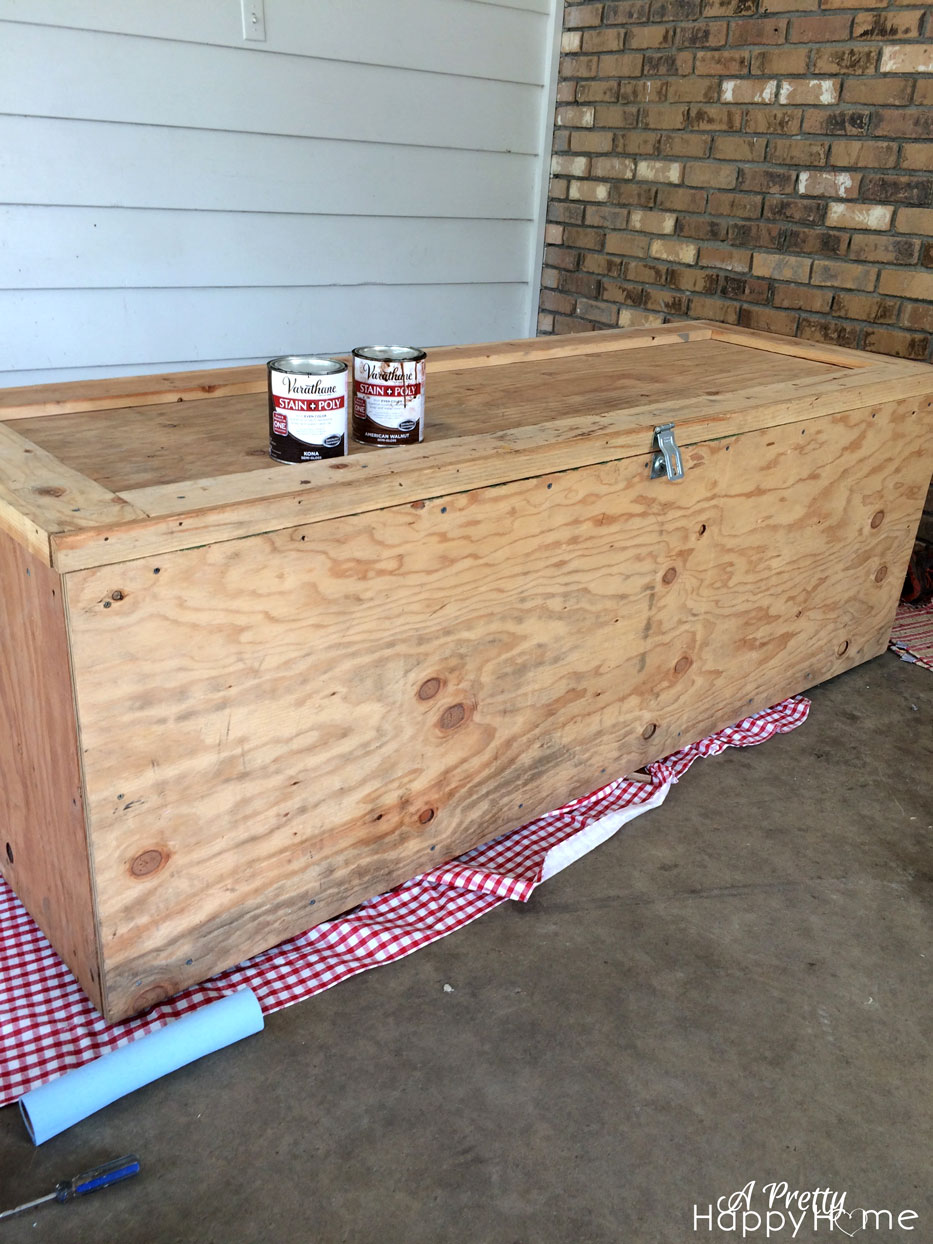 It was also ugly, but that didn't matter because it was hidden in our barn.
Fast forward a few years and we moved to the suburbs of Atlanta. The Christmas tree coffin storage chest moved with us – mainly because we had movers to do the heavy lifting. This may shock you, but barns are hard to come by in the suburbs. I now had to look at the eyesore.
Apparently I have a high tolerance for eyesores because it took me a full year to give the storage box a makeover.
This was going to be a free makeover using supplies we already had on hand. Stain seemed like the easiest place to start. I didn't have enough of any one stain to finish the job, but if I combined them all I would! This truly is a custom creation. One-of-a-kind. Not to be repeated.
I sure hope I don't need to do any touch-ups.
After the stain had dried, I got to work stenciling on some character. I don't have one of those fancy vinyl machines or stencils in every size and shape, so I had to go old school. I selected a font with a bit of vintage flair and printed out my letters on computer paper.
Then I cut out the letters and arranged them on the outside of the chest using tape. Once I had them placed to my liking I used a white pencil to mark the outline of the letters on the chest. A white pencil showed up better on the dark stain than a regular pencil.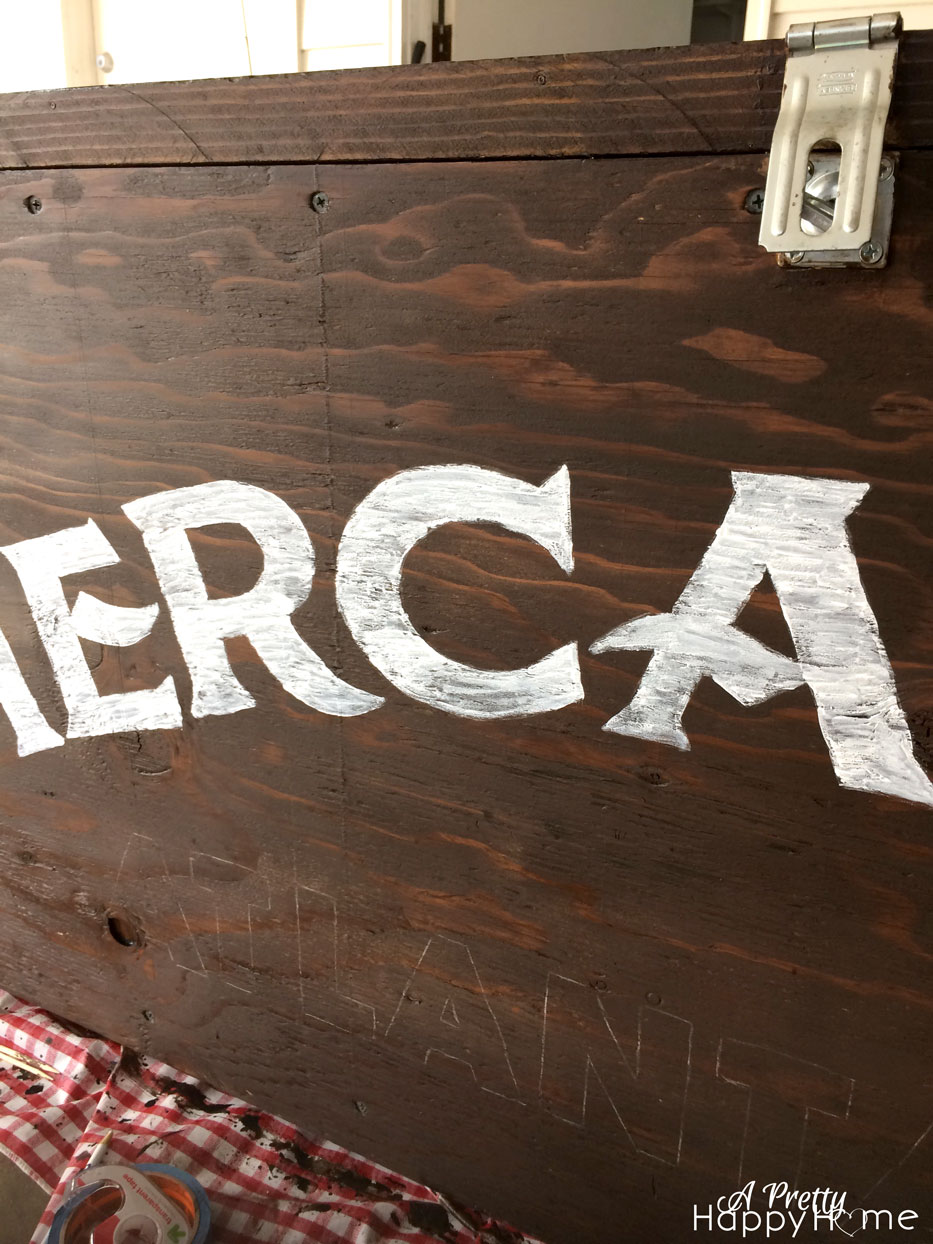 Now all that was left to do was the most tedious part: hand-painting the letters on the chest. It took a couple of coats of leftover white house paint to fill the letters in to my liking.
Then I undid my work with a couple of passes over it with my Ridgid Palm Sander
. I wanted the chest to look like it had a story many decades long instead of a few years long.
I probably could have done a bit more sanding, but honestly, it's a little painful for me to undo all of that work.
From here on out, the storage box is going to have to age all on its own.
I'm happy with how the storage chest turned out. Why did I wait so long to spruce it up? The only other thing I would do to this chest is add vintage wheels. That would look awesome.
Now, who needs a large storage chest to store sports equipment, holiday decor, etc.? I can make you a killer deal on this one.
---
Thanks for visiting my blog! It makes my day! Here are some other posts you might enjoy.
Our Best Hidden Storage Purchase
---
*affiliate links in this post*