Travel: Belfast with Kids
When we were considering a move to Ireland last year, we took a bus tour through Northern Ireland. Our bus stopped in Belfast for approximately one hour. Long enough to grab a sandwich, but not much else.
Earlier this month we took a long weekend and headed north to spend more time in Belfast.
GETTING THERE FROM DUBLIN:
It is approximately a 2-hour train ride from Dublin's Connolly Station to Belfast Central Station. I recommend booking your tickets in advance if you are traveling with a group. This just saves you the headache of finding a seat all together. Plus, the kids get to see their names above their seat (that's how you know it's reserved).

These type of trains have a food trolley, a bathroom and outlets to charge iPads. In other words, my kids have no reason to ever leave… or look up when mom wants to take a picture.
You can also take a bus from the Dublin airport to Belfast. Buses leave regularly outside of the arrivals terminal and you can buy a ticket when you arrive.
WHERE WE STAYED:

We stayed at the Radisson Blu in the Gasworks District. We didn't have a particular reason for choosing this hotel other than we had points to apply to the stay, breakfast was included in our rate and we could walk to the hotel from the train station.
This is the view in front of the hotel:

What was great about the Radisson Blu for kids? Well, let me tell you. The kids got a welcome packet when they arrived with "jellies." Jellies are gummy bears or fruit snacks. The packet also included an activity book and a scavenger hunt. Their favorite part of the packet was the vouchers they could use in the bar to buy popcorn and hot chocolate.
Yes, kids are allowed in bars in Ireland and Northern Ireland. Hotel bars are pretty tame by bar standards though. In this case, you have to walk through the bar to get to the breakfast area.
This was the first time my kids spent "money" by themselves at a bar/restaurant. They did not want me to go with them, so I watched from the lobby. It took an extra long time because 1) my kids are shorter than the bar and 2) the bartender thought the kids were with the other patrons who were ordering drinks.
But they accomplished their mission and were completely tickled with themselves. It was a good life lesson for them in being polite, how to order food, waiting patiently, etc.
And no one seemed to find it strange that the kids were alone. In the bar.
When in Northern Ireland, I guess…
As for a negative, the hotel restaurant had good food, but the service was slow. They seemed either unorganized or understaffed the night we ate in. Also, if you want to stay in the heart of downtown Belfast where a large number of restaurants and shops are steps away, this hotel's location is not going to be as ideal for you.
NOTE ABOUT CURRENCY:
The Republic of Ireland (Dublin, Cork, Limerick, Galway, etc.) uses the euro. Northern Ireland is part of the United Kingdom, which includes Great Britain, Scotland and Wales. The  currency in the U.K. is the pound.
EXCEPT. In Northern Ireland, banks can print their own bills. So, there might be 6 different 5 pound notes in circulation. Different colors, different sizes. It's confusing. All of the pound notes from all of those different banks are accepted at retailers, attractions and restaurants in Northern Ireland.
The only caveat is if you go back to London. Only the Bank of England notes are accepted there. You can't use money you got from an ATM in Belfast back in London. But you can use the money from an ATM in London in Belfast. Like I said, confusing.
Many attractions will quote you prices in pounds and euros. Also, some places will accept euros, but will give you back change in pounds.
Here's more about that situation.
WHAT WE DID:
Remember, this is a post mainly about traveling with kids, so keep that in mind. 
---
W5 
W5 is an interactive discovery centre or as I like to call it, a hands-on science museum for kids. The W5 stands for who, what, when, where and why. Clever, right?
The museum features a really cool climbing attraction – a sort of 3-D climbing sculpture. This was my 9-year-old daughter's favorite part.
There are hands-on learning stations on different levels of the museum with a big emphasis on architecture and motion.
We built cars that moved, we built forts and buildings with blocks, we learned how to fly a plane in a simulator and so on.
There is a cafe in the museum, but you can exit the museum and reenter during your visit. The museum is located inside a mall-like space called Odyssey Pavilion. I don't remember any shops, but it had several restaurants and a movie theater. It was nice to be able to leave our coats and backpacks tucked away in a locker in the museum while we went to lunch.
Considering we spent close to 6 hours at W5 (I know, CRAZY) , we feel we really got our money's worth out of our less than €36 family admission fee. I would recommend starting your visit as soon as the museum opens to avoid crowds and school groups.
---
Titanic Belfast
Visiting the Titanic museum is reason alone to go to Belfast – even if you don't have kids.
(You'd probably get more out of it if you didn't have kids in tow, frankly. Or that could just be my experience with 6 and 9-year-olds. I'm sure yours stop and patiently read every display.)
Titanic Belfast is broken into 3 visitor experiences:
1) The Titanic Belfast museum experience: Walk through displays covering the building of the ship, what the ship looked like, what went wrong and the search for the sunken ship. This includes an amusement park ride (it's not fast or scary), which was my children's favorite part.
While the museum is fairly interactive, to get the most out of the museum experience, you have to be willing to stop and READ. That part tested the limits of my 6-year-old's attention span, but the rest of us really, really enjoyed it.
This video will give you the best overview of what's there. (Hopefully the link works.)
2) SS Nomadic: The SS Nomadic was, among other things, the Titanic's tender. The vessel has been preserved and sits in dry dock next to the Titanic Belfast museum.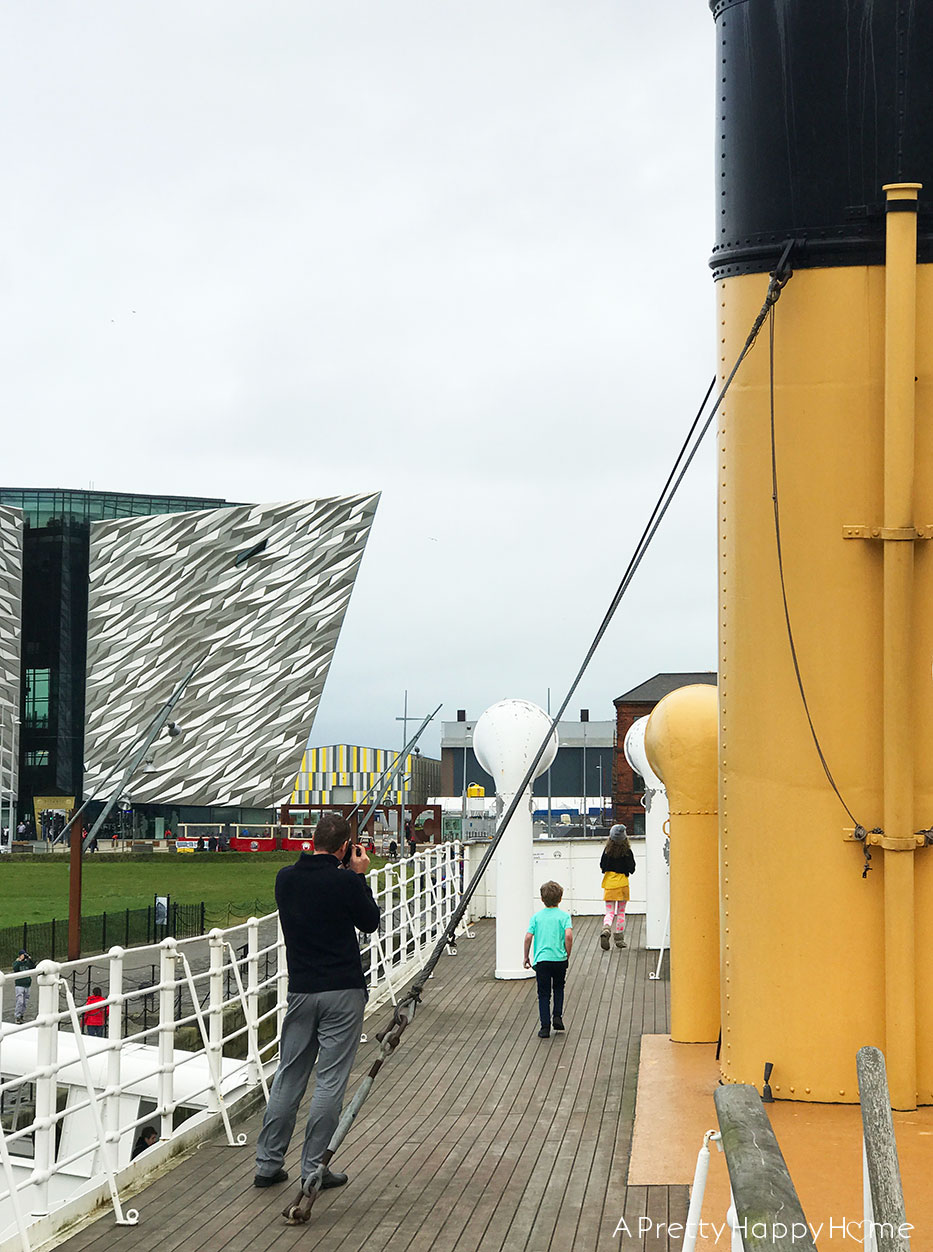 Touring the Nomadic was quite interactive for my kids. In other words, there were plenty of things they could touch! The self-guided tour illuminates the experience you would have received 100 years ago on board the Nomadic while being ferried to the Titanic.
You'll also have the opportunity to learn about the work the ship performed in the decades after the Titanic sank.
3) Guided Discovery Tour: This is a one-hour guided walking tour (much of it is outside). You'll learn about the drawing offices where the plans for the Titanic were designed. You'll also learn about the hidden meanings and metaphors behind the museum's design. The thought and care that went into constructing this museum – not just as a tourist attraction, but as a memorial – was astonishing.  My kids were fairly attentive for 3/4 of the guided tour – mainly because they got to wear headphones.
If you want to do the Discovery Tour, you need to book your tickets in advance. We purchased a combo pack that included all three experiences. It included 2 souvenir photos and an activity packet for the kids. Considering those souvenir photos were the first family photos we've had taken in a long time, it was totally worth it. Cheesy, but worth it.
If your kids are toddlers, I'd wait before spending money on the Titanic Belfast. They (and you) will get so much more out of it if they are just a little bit older.
We ate in one of the museum's cafes and had a great meal. The Belfast Baking Company is right across from the museum (really good scones, by the way) or you can walk over to the W5 building to eat in a restaurant there.
---
River Lagan Towpath (Walkway)
If you'd like to walk along the River Lagan, there is fantastic paved trail through the heart of Belfast. You can walk from the Botanical Gardens to the Titanic Museum and beyond. Bridges cross over the river at several points to get you back and forth to various tourist attractions.
Depending on when you're out walking, you might see something like this:
---
Ulster Museum and Botanical Gardens
We walked through the botanical gardens, but it was raining and February, so we did not get the  full experience. We also did not go inside the Palm House, which is part of the gardens. Mainly, we were on a mission to get to the Ulster Museum.
The Ulster Museum is free. They ask for a donation, which we were happy to give because it was truly a great museum – especially for a free one.
The museum offers a little bit of everything: natural history, art, science, geology, animals, native people and history.

My kids had fun exploring the exhibits, touching animal pelts, looking at rocks, trying on masks and more.

I had a teary-eyed moment reading about The Troubles. That is what Northern Ireland refers to as the 30-year period of conflict beginning in 1968. There was so much tragedy. So much loss.
I was in my early 20s when the peace accord was reached. All I really remember were the bombings all over Belfast. I didn't understand why people were driven to do what they did.
Understanding the "why" is important in preventing such unrest from happening again or something like it from happening elsewhere. Ulster Museum helped me understand the "why" and refreshed my memory on the facts as they happened chronologically.
My kids didn't fully understand this part of the museum and for now I'm okay with that. Let them be little.
---
Victoria Square
If you like to shop, Victoria Square is a good place to visit. It's mainly indoor with an outdoor vibe. We popped in there to pick up a cord from the Apple Store. The mall has sit down and fast-food restaurants if you need sustenance. I'm not going to say the restaurants are all authentic – there is a TGIFridays after all. Crazy, I know. No, we did not go there.
You can also take tours of the glass dome, which shows off views of the city.
Learn more.
---
The Big Fish Sculpture
Along the River Lagan is The Big Fish, which was commissioned in 1999 to commemorate the regeneration of the River Lagan. The skin of the fish is made out of ceramic tiles, which show historic images of Belfast. The sculpture is approximately 30-feet long, so it makes for quite the photo opportunity!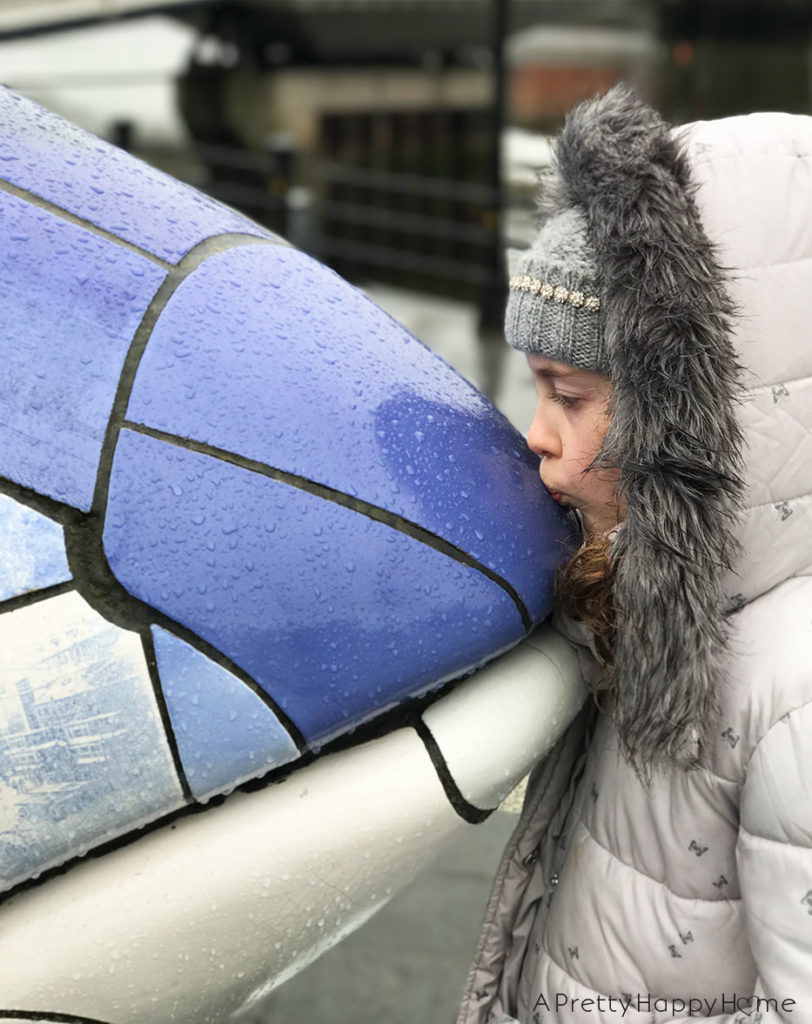 I still don't know why she wanted to kiss the fish. My kids have very robust immune systems.
Learn more about the fish.
---
Beacon of Hope Sculpture
Also along the River Lagan is the almost 60-foot tall Beacon of Hope Sculpture. It was built in 2007 and the lady in the sculpture stands on a globe representing peace, harmony and thanksgiving.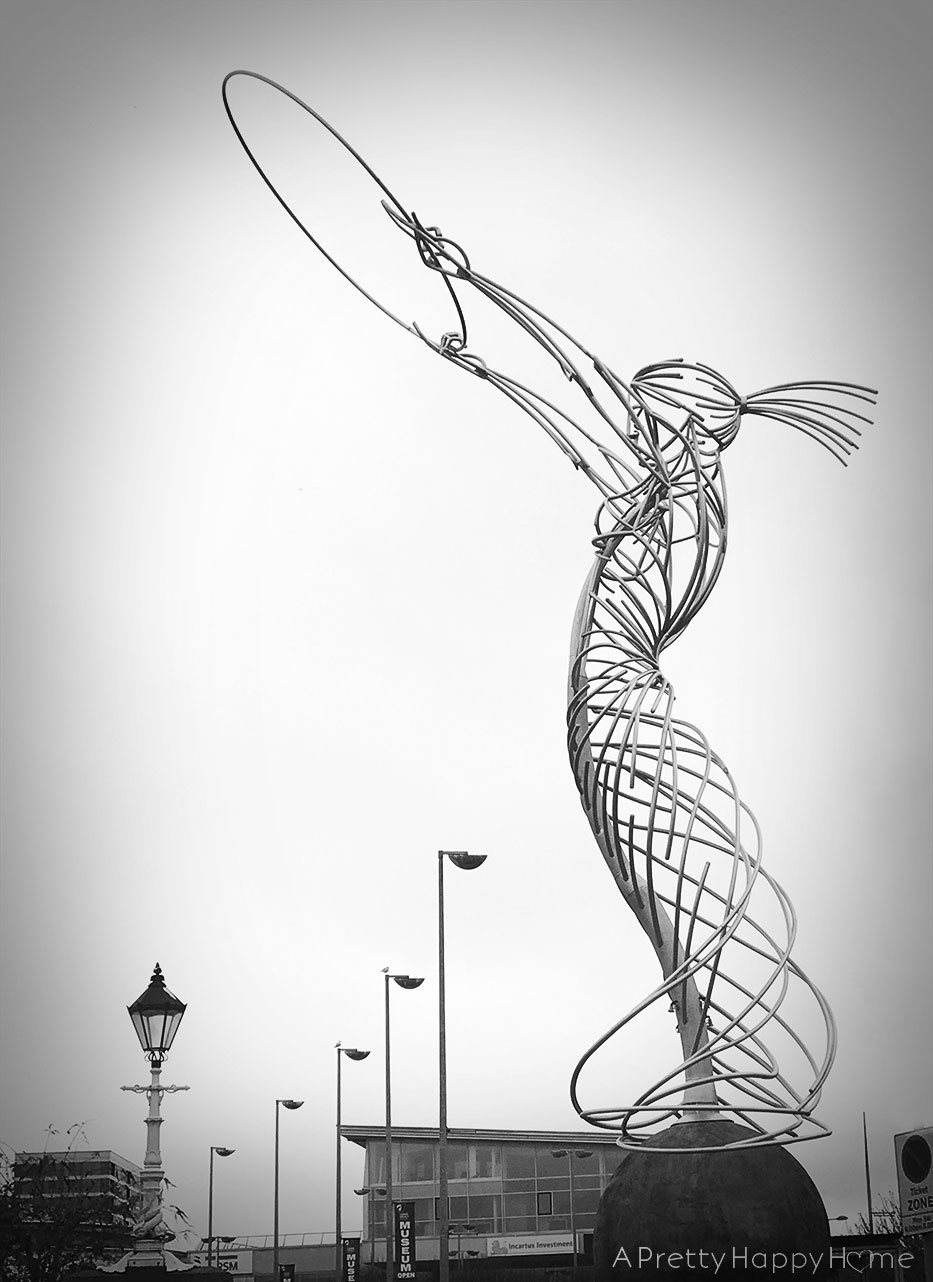 The sculpture's artist, Andy Scott, said of the sculpture, "I hope that the figure is adopted by the people of Belfast as a symbol of peace and reconciliation, and as a shining beacon of modernity and progress."
Learn more.
---
We had 2 1/2 days to spend in Belfast. It really was not long enough – especially since we spent most of our time at W5 and Titanic Belfast. We barely scratched the surface on things to do and explore in the area, so we'd love to go back!
I am happy to have had a second chance to explore this city and highly recommend you include it on your Travel Bucket List.
To learn more about things to do in Belfast, click here.
---
If you enjoy traveling, check out one of these posts!
Travel: Eiffel Tower With Kids
Travel: Copenhagen, Denmark With Kids
Visiting Ireland: The Cliffs of Moher and Aran Island With Kids
A Day in Malmo, Sweden With Kids
Visiting Ireland: Galway With Kids
Visiting Ireland: Kissing the Blarney Stone at Blarney Castle
Our Favorite Irish Castle Tour with Kids
Travel: Tips for Visiting the Dominican Republic
Travel: Fort Walton Beach and Destin, Florida with Kids
Travel: Charlotte, North Carolina with Kids
---