Books My Kids Are Reading Part 11
It has been longer than usual since my last "Books My Kids Are Reading" post.
We're still consuming stacks and stacks of books, but not as many that I'm reading out loud to the kids. In fact, there are only three in this list that I read aloud to the kids and there's a reason for that.
My 3rd grader needed to work on reading comprehension. Since I am a sucker for reading "just one more page" when the kids ask, it was cutting into his nightly independent reading time.
We did a nighttime reset so that he has a solid 25 – 30 minutes of independent reading time. When he's done reading I ask him about what he read, the plot points, the main characters, etc. It seems to be working as he's pulled up his reading comprehension score considerably. If your child's school scores reading comprehension by having a teacher ask the child verbal questions and your child hates to be put 'on the spot' then this technique might help.
My daughter is in 6th grade and she's writing a book, so if she has all of her homework done that is what she's been spending her extra time doing at night. She's created an entire world for her book characters and it's fascinating to me to see her brain working this way.
Here are the books my kids are reading or have read that we recommend. For reference, my son is 8-years-old and in 3rd grade. My daughter is 11-years-old and in 6th grade.
---
BOOKS MY 8-YEAR-OLD RECOMMENDS
Unbelievably Boring Bart
 by James Patterson
If you have a child who thinks being a gamer or YouTube star is a completely legitimate career path, then this is the book for them!
My 8-year-old son willing read this book on his own and I consider that a small miracle. Online games and apps are one of his favorite things in the world, so the subject matter was perfect for him.
The main character, Bart, is the kind of kid that doesn't fit in with any of the cool kids. In fact, they sometimes pick on him. What these kids don't know is that in his spare time, Bart has written a phone app that becomes the hottest new game in town. Everyone is playing his game!
But should he tell them that he created it? He could become popular if he does. That's the dilemma.
---
Atlas Obscura: An Explorer's Guide to the World's Hidden Wonders
I almost bought this book for Christmas and now regret not doing so because we've renewed it from the library three times! It's the perfect book to pick up if you (or your child) only have 5 minutes and want to learn about some obscure place or thing in the world.
Atlas Obscura is not a children's book, but fluent readers should be able to handle most of the words. They do publish a children's version
of this book.
We use this book as a way to dream about our next travel adventure and to learn about the quirky things that can be found in various countries around the world.
---
Dog Diaries: A Middle School Story
 by James Patterson with Steven Butler
As I keep mentioning, I have a hard time finding fiction books that my 8-year-old son is interested in reading.
Dog Diaries is a new series from James Patterson that I thought might peak his interest. Plus, it had just the right ratio of pictures to text that isn't intimidating.
I know he liked the book because he read the entire thing without complaining. He did say it was a little weird because the story is written from the dog's perspective. One of the "weird" things is that the dog keeps a journal hidden inside its fur.
Where else would a dog keep a journal?  
---
BOOKS MY 11-YEAR-OLD RECOMMENDS
The Darkdeep
 by Ally Condie and Brendan Reichs
This is one of the last books I read aloud to both kids. It was really engaging if you like a bit of suspense, mystery and science fiction. I will be shocked if this book is not made into a movie because the action scenes are perfect for the big screen. It's definitely written for middle school-aged kids, but my 8-year-old enjoyed listening too.
Here's the gist of the book from my perspective…
After a bullying incident, a group of kids find themselves on an uninhabited island. In the middle of the island is a stranded houseboat. That's weird enough, but it's what's under the houseboat that sets off a chain of events that spirals out of control. There's a magic well and if you jump into it, the well will conjure up whatever is on your mind: a purple bear, your favorite cartoon characters, your worst nightmares.
It's up to the kids to figure out how to rein in the magic they unleashed.
As a parent, the only thing I thought was unnecessary in the book was a subplot that included some boy/girl jealousy. These type of relationship dynamics get introduced in middle school books quite often. However, it didn't stop the book from being a page-turner for all of us.
---
Smack Dab in the Middle of Maybe
 by Jo Watson Hackl
Smack Dab in the Middle of Maybe is a tender, poignant book about love and family that my daughter and I read together.
The story contains wilderness survival, treasure hunting, and the realities of life with a parent with mental health issues. You'd be hard-pressed to not have empathy for the main character because she is so relatable and you know there are countless kids in the world dealing with the same emotions.
From the publisher:
"How far would you go to find something that might not even exist? All her life, Cricket's mama has told her stories about a secret room painted by a mysterious artist. Now Mama's run off, and Cricket thinks the room might be the answer to getting her to come back. If it exists. And if she can find it"
---
The Name of this Book Is Secret (The Secret Series, Book 1)
 by Pseudonymous Bosch
My 11-year-old daughter read the entire Secret Series and LOVED it. She did say there are some intense moments in the books, so if your kiddo likes to keep things light-hearted this might not be the series for them.
The intensity has been described by online reviewers as Indiana Jones-type scenes where one of the child characters might be sacrificed (they are saved, don't worry). If your child likes Harry Potter or Percy Jackson, they will probably enjoy this series.
Here's the book description from the publisher:
"Warning: this description has not been authorized by Pseudonymous Bosch. As much as he'd love to sing the praises of his book (he is very vain), he wouldn't want you to hear about his brave 11-year old heroes, Cass and Max-Ernest. Or about how a mysterious box of vials, the Symphony of Smells, sends them on the trail of a magician who has vanished under strange (and stinky) circumstances. And he certainly wouldn't want you to know about the hair-raising adventures that follow and the nefarious villains they face. You see, not only is the name of this book secret, the story inside is, too. For it concerns a secret. A Big Secret."
If you know one book won't be enough, here's the link to The Secret Series Complete Collection
.
---
Save Me a Seat (Scholastic Gold)
 by Sarah Weeks and Gita Varadarajan
I love seeing what books my 11-year-old daughter picks out on her own. She ends up with an eclectic mix.
Save Me a Seat is about two kids. The first is a boy who moves to the U.S. from India. The second is a kid who has lived in the same town his entire life, but his best friends moved away. These two kids don't think they have anything in common, but they do – the school bully.
This book is lauded as one that covers issues of friendship, cultural differences, individuality and fitting in.
My daughter said the book made her feel good at the end. She hasn't experienced bullying, but she has often been the new kid and could feel empathy for the characters.
---
Pie
 by Sarah Weeks
This is the third book by Sarah Weeks that my daughter read in the course of about a month! Weeks is a consistently good author for this 9 – 12-year-old age group.
From the publisher:
"When Alice's Aunt Polly, the Pie Queen of Ipswitch, passes away, she takes with her the secret to her world-famous pie-crust recipe. Or does she? In her will, Polly leaves the recipe to her extraordinarily fat, remarkably disagreeable cat, Lardo . . . and then leaves Lardo in the care of Alice.
Suddenly, the whole town is wondering how you leave a recipe to a cat. Everyone wants to be the next big pie-contest winner, and it's making them pie-crazy. It's up to Alice and her friend Charlie to put the pieces together and discover the not-so-secret recipe for happiness: Friendship. Family. And the pleasure of doing something for the right reason."
---
Small Spaces
 by Catherine Arden
Small Spaces can best be described as creepy, but has almost all 5-star reviews and has been placed on several "best" lists by libraries and publishers.
The main character in Small Spaces is an 11-year-old math whiz. She's retreated into books after her mother's death. She comes across a book that tells a story similar to the scary ones you tell around the campfire at night. Then her school bus breaks down in the spot where this book supposedly takes place and the events that transpire seem very similar to what happened in her book. Are you scared yet?
My daughter loves to be a little bit scared. The ghost story kind of scared. The kind of scared where you are on the edge of your seat in anticipation of what's going to happen next.
When I asked my daughter to review Small Spaces she said, "You shouldn't read this book if you get scared easily, but it is a good book. There's no blood, just walking scarecrows."
Oh, just walking scarecrows. That's reassuring. Haha!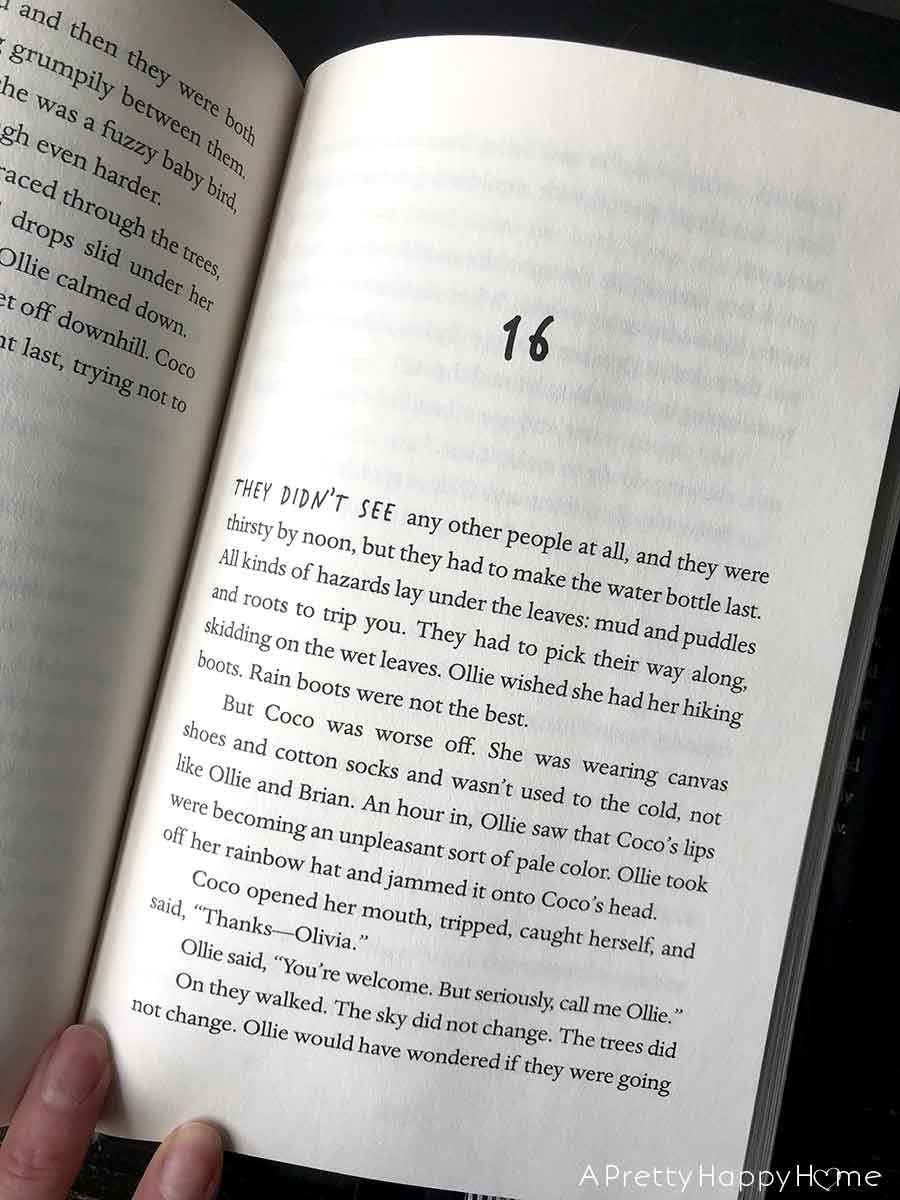 ---
So B. It
 by Sarah Weeks
So B. It was made into a movie in 2016 and has an all-star cast including Alfre Woodard, John Heard and Cloris Leachman.
The story is about a girl with a disabled mother who goes on a journey to learn about their past. My daughter said it helped her understand what life might be like if your parent wasn't able to take care of you because of a mental disability.
Definitely check out the movie trailer…
---
Soof
 by Sarah Weeks
Soof is the epilogue to So B. It, but can be read as a stand-alone book. I don't think it has been made into a movie – yet!
From the publisher…
"All her life, Aurora has heard stories about Heidi and all the good luck she brought Aurora's family. Aurora, though, doesn't feel very lucky. The kids at school think she's weird. And she's starting to think her mom thinks she's weird, too. Especially compared to Heidi.
On the eve of a visit from Heidi, more bad luck hits Aurora's family. There's a fire in their attic, destroying a good part of their house. And, even worse, Aurora's beloved dog goes missing. Aurora and her family have always believed in soof — Heidi's mom's word for love. But sometimes even when soof is right there in front of you, you still need to find it — and that's exactly what Aurora is going to do."
---
That's it for this round!
As always, I'm happy to learn about other books my kids might enjoy! Do share!
P.S. If you need to reference these books in the future, I have added the books from this post to my Shop page and I'm working on adding the books from the other posts too. It's tedious work and, frankly, I'm not good at making myself do it!
Here are past posts on children's books we LOVE:
Affiliate links to Amazon used in this post. If you shop using my links, I get credit.