Step Stool (from High School Shop Class) Makeover
Did anyone take shop class in high school?
I didn't. I also did not take Home Economics. Coincidence?
Eventually I did learn to cook (necessity for the win), but I still haven't mastered power tools. My hubby took shop class, so thankfully someone around here is handy with the tools!
So, let's take a trip down memory lane. Somewhere around 1989, my hubby made this stool in shop class. Anyway, the poor thing was looking a little worse for wear (I'm master of the understatement), but man, that thing is sturdy. I give him an A+.
I decided it was time to give this stool a little makeover. I bribed the hubby to sand it down for me. He's such a good sport about these things.
Already looking better…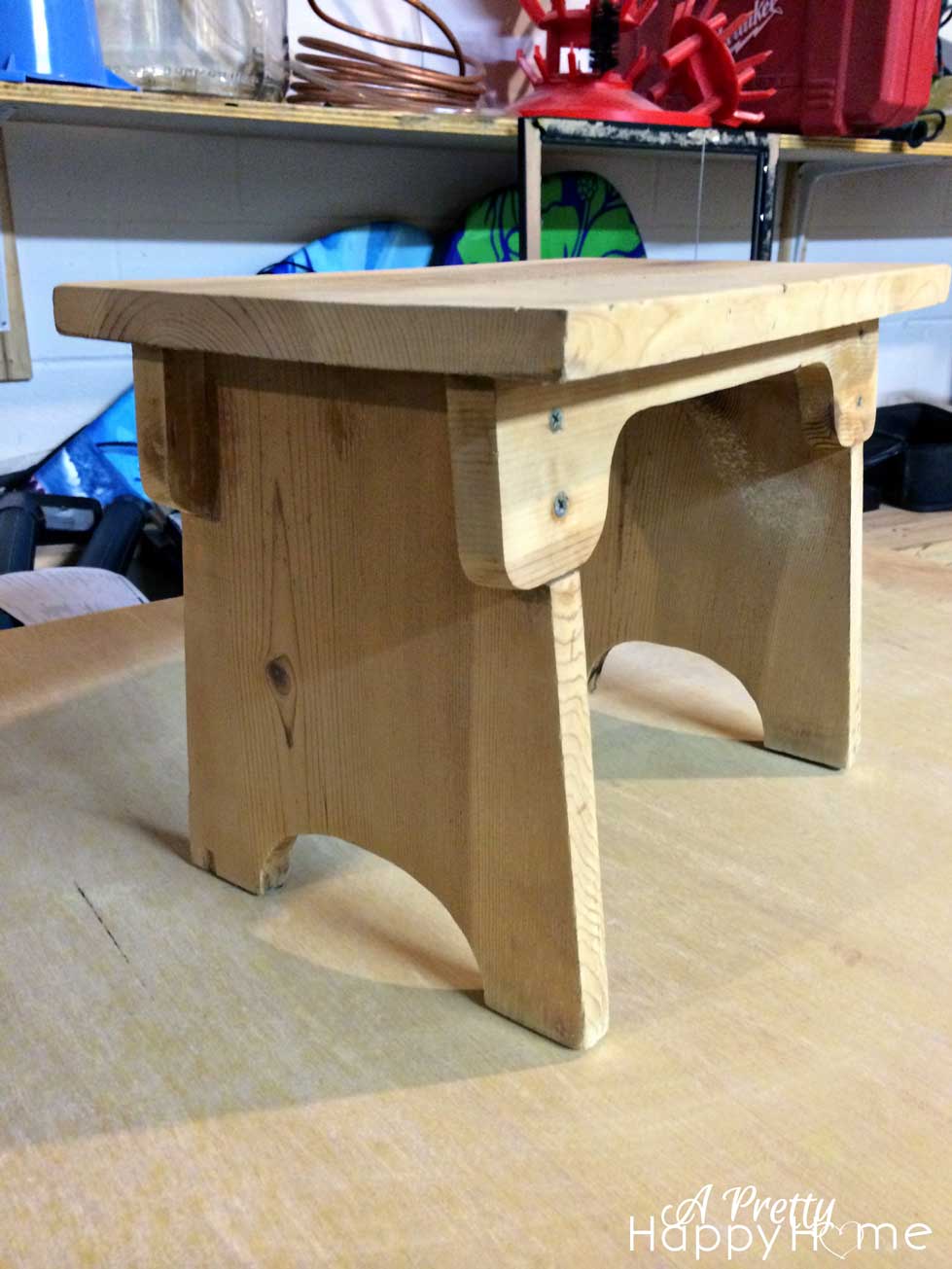 Then I gave the stool a couple of coats of stain and taped off the bottom. After that, I painted under the taped line with some leftover paint & primer from our daughter's trundle bed project.
I used the green FrogTape
because it is what I had on hand, but I haven't decided if it does a better job than the ScotchBlue
tape. I seem to always have some imperfections in my lines. It couldn't possibly be operator error?!?!
And TADA!!! Doesn't she look better?
Like most home trends, I'm late to the one involving paint-dipped furniture. I'm sure liking it though! Plus, this was a low-risk, no-cost way for me to experiment with the trend and technique. Since I already had stain and paint on hand from other projects, the worst thing that was going to happen was that the stool would be sanded down again.
However, I think I'll keep it this way for awhile. Maybe not for 25 years… Holy cow! It's been a long time since my husband's been in high school! Yowzers! Sorry, I digress. 🙂 In his defense, it hasn't quite been 25 years since he graduated though.
Updating something quickly and inexpensively that we've had forever is the type of project that gives me a happy burst of pleasure!  Plus, I love a sentimental project. A shop class project from high school that we still use and enjoy… if only furniture could talk. The stories that little stool could tell!
---
Here are some other posts you might enjoy! 
*affiliate links in this post*