Distressed Scrap Wood Arrow: ScrapMaster Project #3
Many months ago after we finished building the guest bed and my daughter's bed, my husband cut up all of the leftover wood scraps into 1 inch x 1 inch x random length segments.
I'm not sure what possessed him to dot hat, but it's been fun to dream up uses for all of that wood. Now, if only I had the time to execute on those ideas. Right?
One of the things we made was a wood crate to dress up my plastic milk crates. The other item we made was an arrow-shaped growth chart.
The third item is kind of a twofer. I actually started it before the idea of the growth chart came along.
That's right, I set out to make a wood arrow and while I was sitting there staining and painting it, I had an "eureka!" moment and knew I had to make a growth chart on the back side. So, I did. But that was just for grins and giggles. I didn't need a growth chart – we already have one – that we made. Gah!
I needed a larger piece of art for one of my walls. So, I flipped the arrow back over and went back to sanding, staining and painting my distressed arrow. This is the result…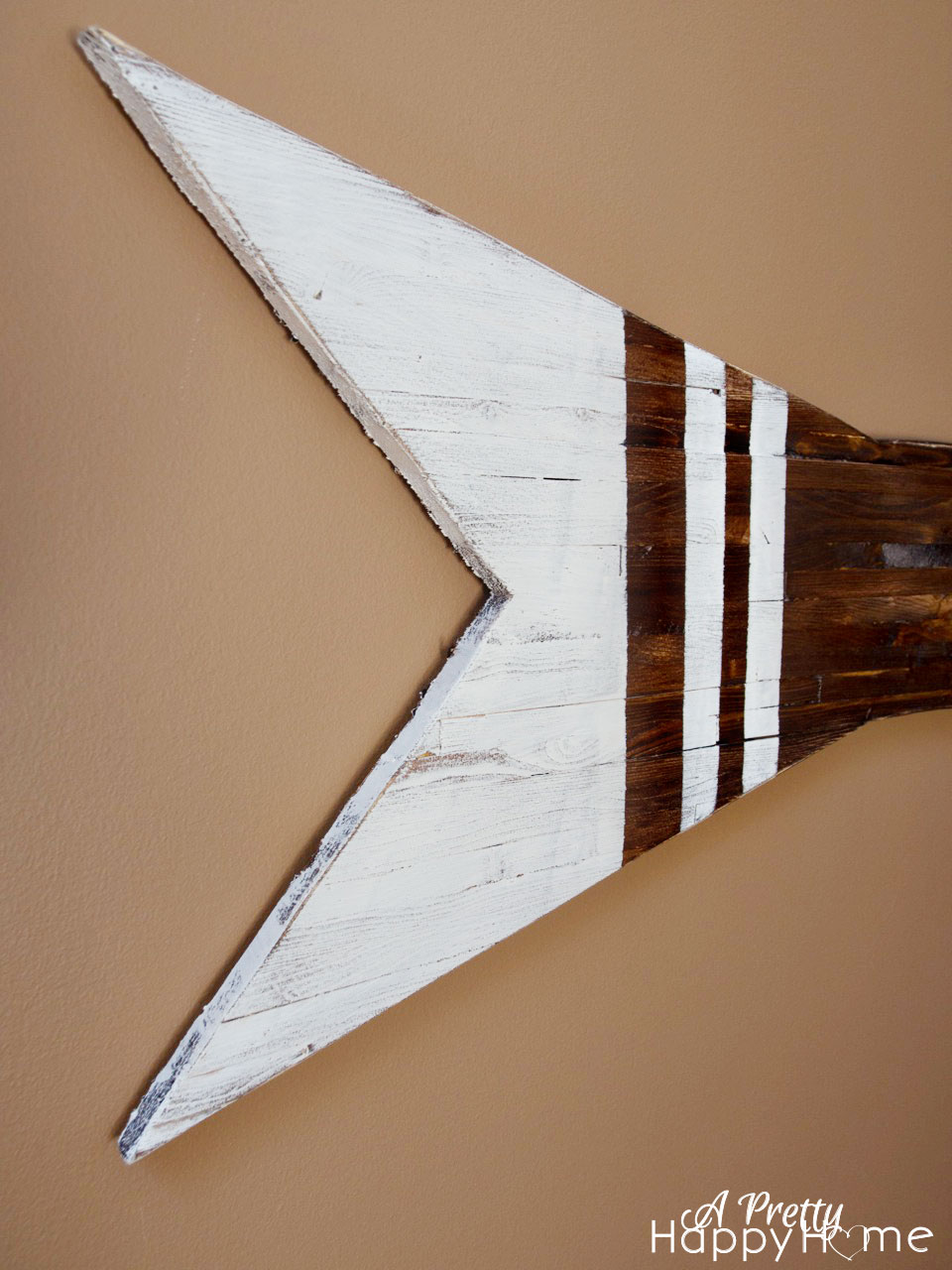 Each of the 1 x 1 x random lengths of wood were glued together and then we penciled out the arrow shape and cut it out with a saw. If you were coming here for a tutorial, you're probably feeling immense disappointment right now. I considered doing a tutorial and then realized that we winged this project so much that it just wasn't going to happen. That happens a lot around here.
You can see the lines where each scrap piece was glued together. Some have bigger gaps due to either variations in the glueing process or warping of a board. I like the character it adds. And since I was going for lots of "character," I didn't have to worry about sanding it perfectly smooth.

I used painter's tape to mask off the areas that I didn't want covered in paint. Because the scrap pieces are slightly irregular, even after they were cut, it left some imperfect edges. But, I think that kind of adds to the charm. See, charm and character are good! Repeat after me!

I've actually been sitting on these photos for awhile because it was such a weird wall to photograph. The entry you see below is to our office and to the left of that is our front door. I'm actually standing in the hallway to get this shot. Due to all of the weird angles, it was impossible to get a straight-on shot of the arrow.

I'm quite smitten with this handmade piece of art! It's much larger in person than the photos convey and was a fun project to make. I know I'm a little late jumping on the arrow decorating bandwagon, but that's my usual pace! I'll happily ride this bandwagon for a good long while!