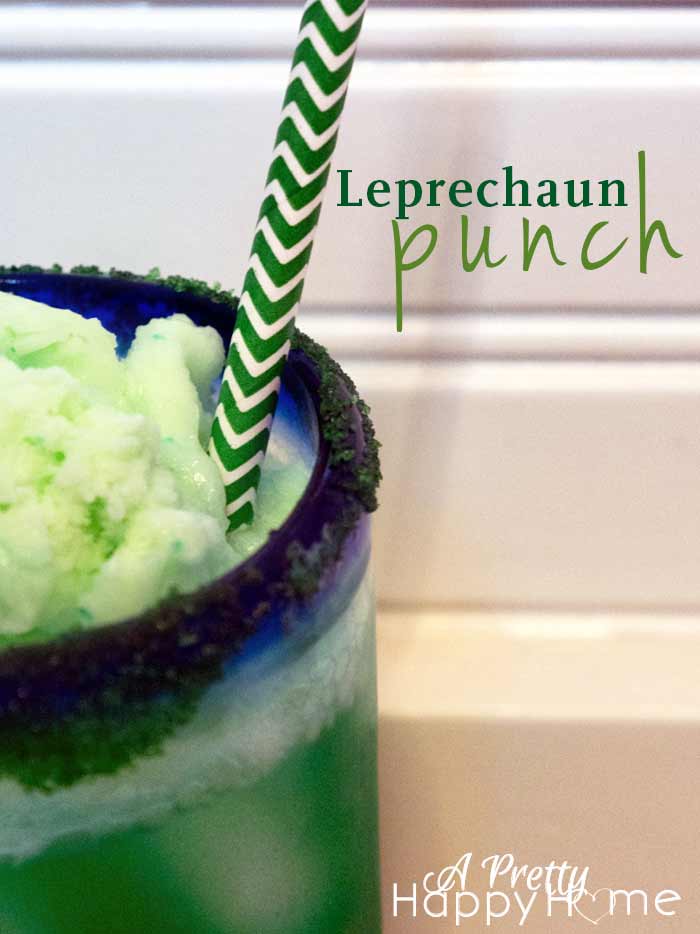 I like any excuse to use food coloring. There. I said it.
So, of course, St. Patrick's Day is the perfect day for me to unleash my arsenal of green food coloring. My kids go wild for all of our green concoctions! And, I like to play it cool, but I love it too!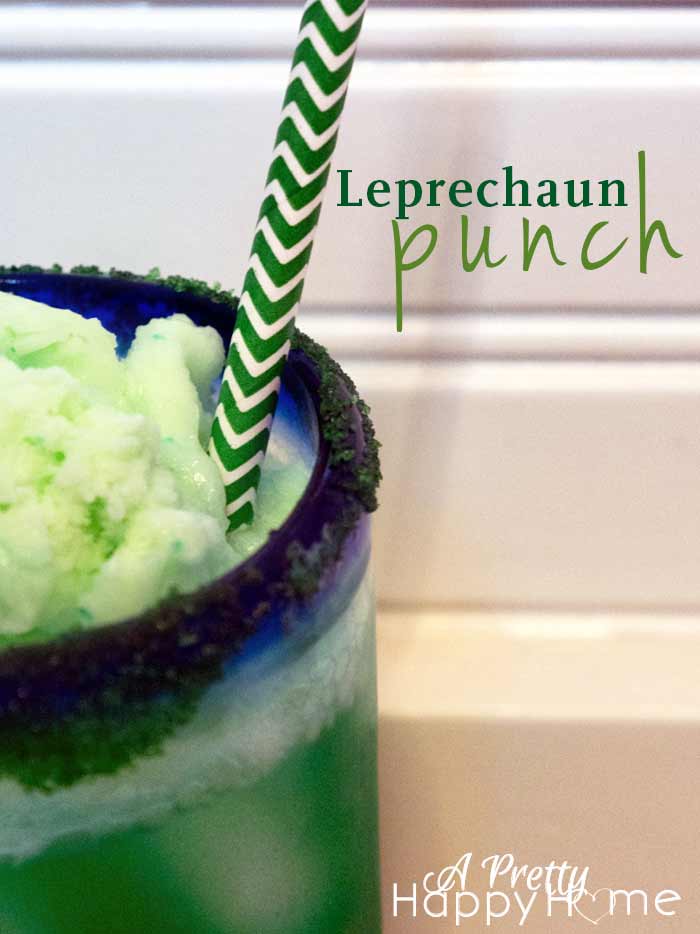 This year I'll be serving up a tall glass of Leprechaun Punch for the kids. It's super easy to make. (You could definitely make this in large punch bowl if you were serving a crowd.)
All I did was color a glass of Sierra Mist with green food coloring and then added a dollop of lime sherbet on top! If you have green sprinkles to rim the edge of the glass, even better!
My trick for getting the sprinkles to stick is to run the rim of the glass in the lime sherbet so there's just enough moisture on the rim for the sprinkles to stick.

You can color most anything with green food coloring. Some menu ideas include:
-green mashed potatoes or rice
-green peanut butter and honey sandwiches
-green yogurt (vanilla is the easiest to color, but I've made blueberry work before too)
-green milk
-green pancakes or biscuits (you can even make the butter, honey and syrup green)
I'll also be serving up on all manner of green fruits and vegetables on St. Patrick's Day: peas, celery, broccoli, green apples, kiwi, green grapes, spinach and more! Ah, the fun!
On St. Patrick's Day, our menu is completely random. The only rule is it should be green and fun! How will you celebrate?
Leprechaun Punch
Ingredients
Sierra Mist (or another clear-colored soda or sparkling juice)
Lime Sherbet
Green Food Coloring
Green Sprinkles (optional)
Directions
Fill a glass with clear-colored soda. Add as many drops of green food coloring as you want to achieve your desired shade of green. Add a generous dollop of lime sherbet on top. Serve and enjoy.
Optional: rim the glass before filling with green sprinkles.
---
P.S. My blue rimmed glasses are from World Market. (affiliate link)
---
Want more St. Patrick's Day ideas? Of course you do!
Quick and Simple St. Patrick's Day Wreath
10 Tips for Surviving a Parade with Kids – Dublin Parade Pics included!