Banana Blackberry Muffins with Vanilla Orange Glaze
They say necessity is the mother of invention.
I say two black bananas sitting on your counter mocking you is the mother of invention.
Tomato, ta-mah-toh.

And, really, I just adapted a recipe from good ol' Betty Crocker, so it's not like I've gone out on an extreme culinary limb here.
It was a delicious limb though.

So, here's the deal with me and muffins.
If I'm going to add fruit to them, then I prefer for them to be mainly fruit with some muffin dough to hold the fruit together. Anyone else with me? *crickets*
I used frozen blackberries that we picked last summer, but frozen blueberries or raspberries would be delicious too. If you happen to have fresh berries, knock yourself out!
I think the only wrong thing here would be to not include lots and lots of berries.

Now, about that glaze. Glaze is my new muse.
A glaze is just powdered sugar and some sort of liquid, usually milk and vanilla. I used vanilla and orange juice. A little zest would be nice too, but I was working with what I had. Do I need to remind you about those two black bananas?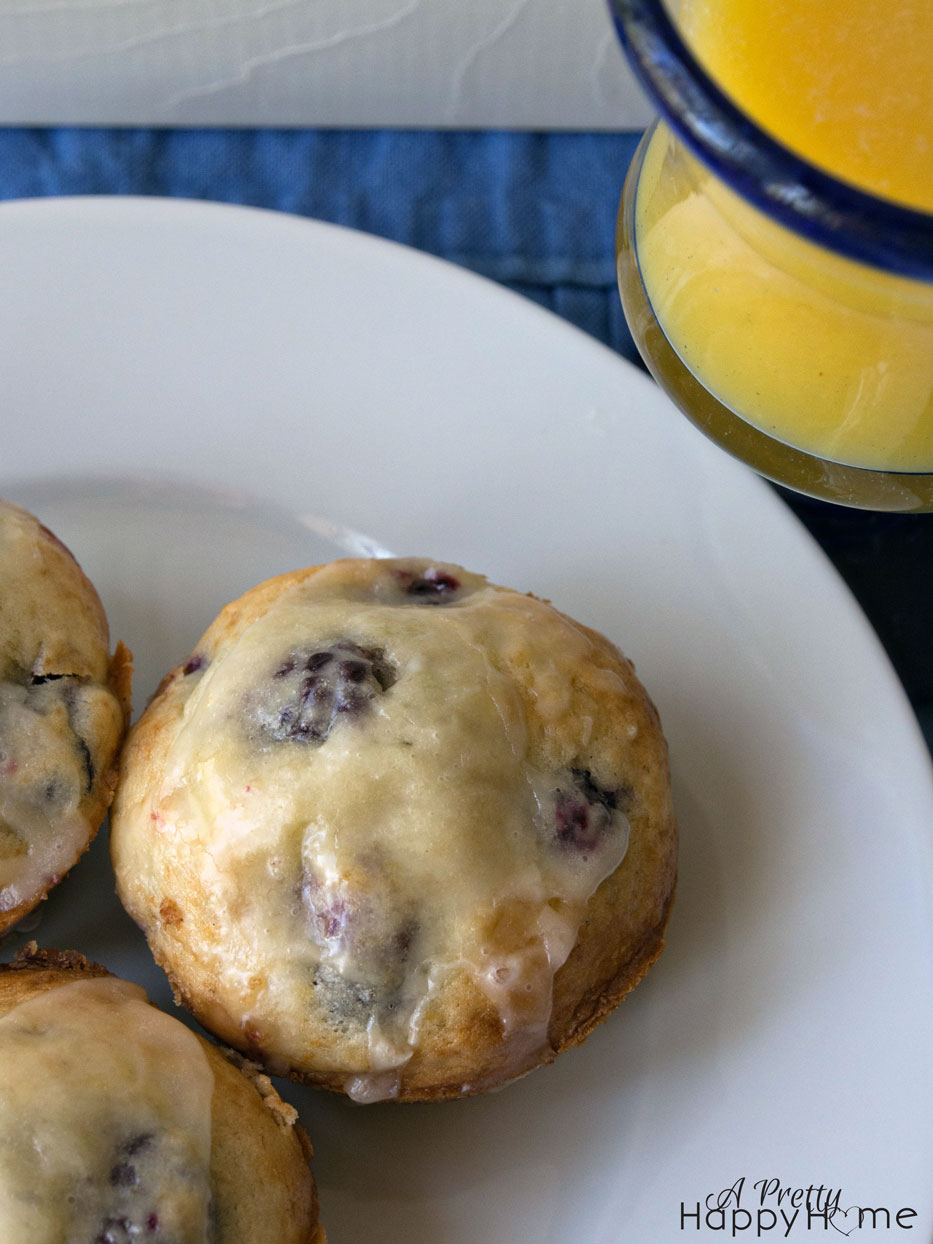 The sweetness of the muffins combined with the tartness of the berries is just right! Or in the words of my offspring, "you make the best muffins EVER mom!" They've probably only ever had my muffins, but whatever. I'll take it. 🙂
And yes, I did take a bite out of that muffin for you. I'm a giver.

So, if you're like me and end up with forgotten bananas on your counter or want to curry some favor with your children, give these happy little muffins a whirl!
---
Banana Blackberry Muffins with Vanilla Orange Glaze
(adapted from Betty Crocker's Best of Baking Cookbook: Banana Blueberry Muffin recipe)
Muffin Ingredients:
2/3 cup milk
1/4 cup vegetable oil
2 medium bananas, mashed
1 egg
2 cups white flour
2/3 cup sugar
2 1/2 teaspoons baking powder
1/2 teaspoon salt
3 cups fresh or frozen blackberries
Glaze Ingredients:
1/2 cup powdered sugar
1/2 teaspoon vanilla
2 1/2 teaspoons orange juice
Directions:
1. Heat oven to 400 degrees.
2. Grease muffin pan or line with paper baking cups.
3. Beat milk, oil, banana and egg in a large bowl.
4. Stir in remaining ingredients except berries just until flour is moistened.
5. Fold in blackberries. (I fold mine in still frozen. Betty Crocker says to thaw them – too much trouble, if you ask me.)
6. Divide batter evenly among muffin cups, cups will be almost full. Makes 12 – 16 regular-sized muffins.
7. Bake 20 – 24 minutes or until golden brown. (I recommend checking at the 18 minute mark to see how they are doing…there's more moisture in these muffins than the original recipe so they do take a little longer.) Immediately remove from pan.
When muffins are close to being finished, make your glaze. 
1. Place 1/2 cup powdered sugar in a bowl. Add in vanilla and orange juice and mix until all of the sugar is moistened. If you need more liquid, add a tad bit more until you achieve your desired consistency.
2. Drizzle a spoonful of glaze over the just-out-of-the-oven muffins.
3. ENJOY!!!
---
Thanks for reading! If you've still got coffee in your cup, try one of these posts!
I'm Starting to Like Zucchini Because I Hide it in All of the Foods
Refinish Dining Chairs Without Power Tools