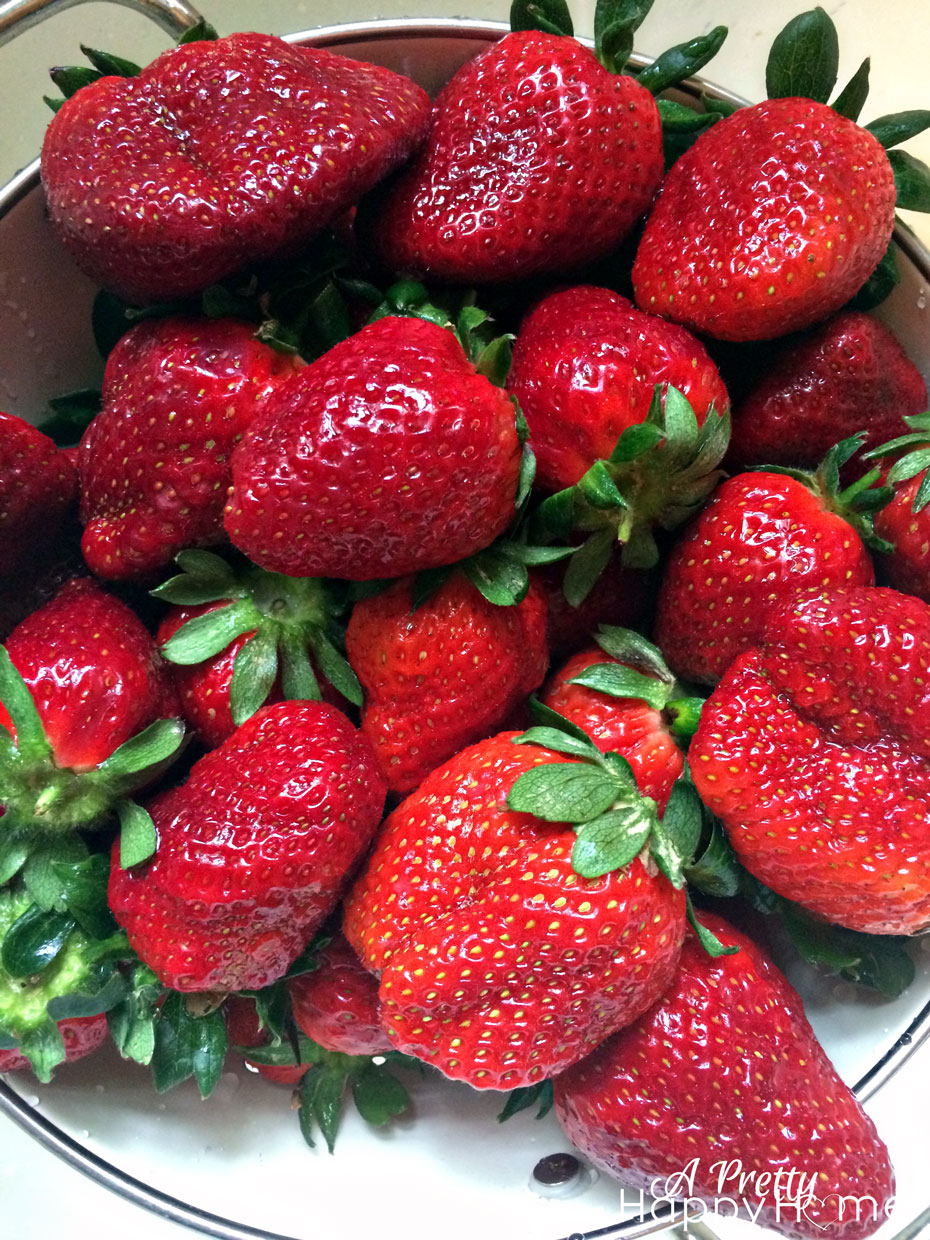 As a girl who was born and raised in the Pacific Northwest, I am still flabbergasted that I can pick beautiful, sweet, ripe strawberries in mid-April in Georgia. God bless the sunshine!
I'd been on "strawberry watch" for a couple of weeks waiting for my favorite Georgia farm, Washington Farms, to have ripe berries. Last Thursday I was just home from preschool drop-off and happened to check Facebook in a last ditch attempt at procrastinating on sanding the kitchen cabinets. The farm was having a pick 2, pick 1 gallon free deal that day. So, I jumped in the car and hustled over there (it's an hour drive) to pick some berries before I had to hustle back for preschool pick-up. It was a whirlwind morning, but I came away with 7 gallons of berries, half picked by me, half picked by the farm.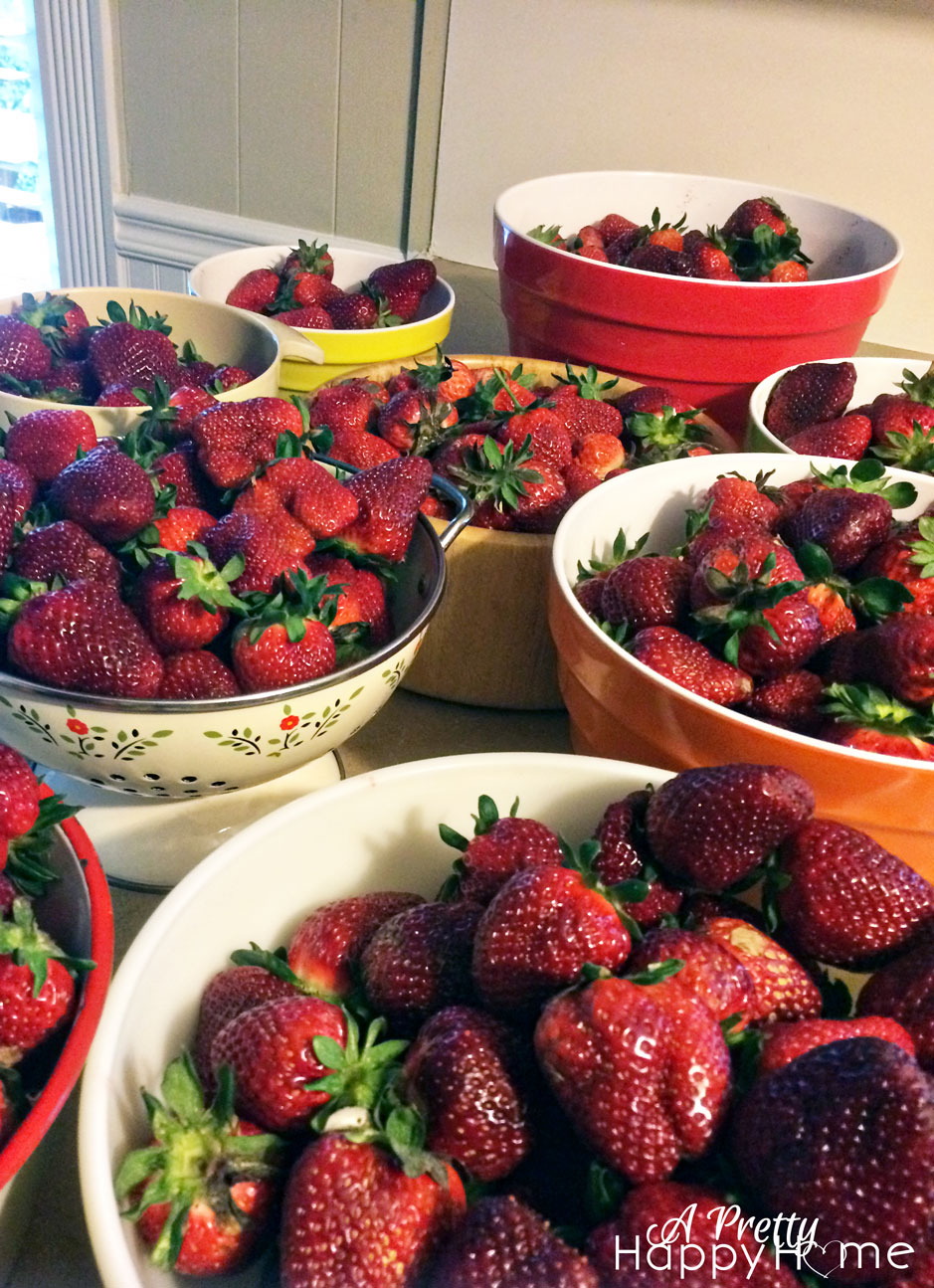 I mainly pick strawberries to freeze and use in freezer jam over the winter. It saves more space (and containers) to freeze the chopped up berries than it does to freeze containers of jam.
I start by washing the berries in a colander. You can research the best and safest ways for you to wash berries – I just run cold water over them.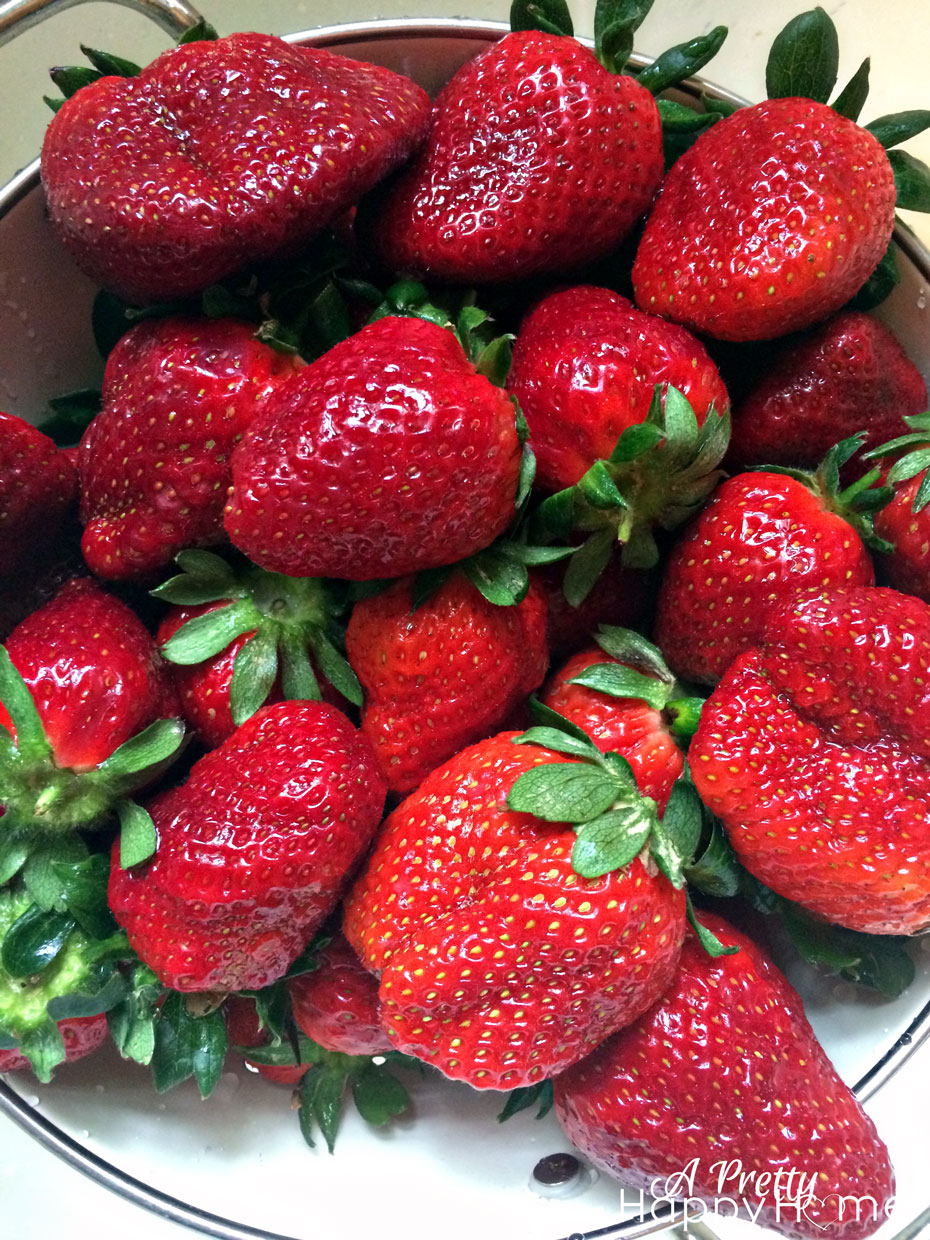 Then I cut the stems off and toss them in the blender or a food processor.
(This is my favorite blender
that isn't cheap, but isn't Vitamix expensive.)
For strawberry freezer jam, you don't want the berries completely pureed. They should be a little chunky. So, pulse a few times and you are good.

I know that one batch of freezer jam takes 4 cups of crushed strawberries, so I freeze my strawberries in pre-measured amounts of either 4 or 8 cups. It's way too messy to thaw berries that have been crushed or pureed and try to measure again. Save yourself the trouble and do it at the beginning.
I freeze my strawberries in gallon-size plastic freezer bags
. Make sure you lay them FLAT to freeze. That way, when frozen, you can stack them neatly in your freezer. I set mine on a cookie sheet to carry them to our chest freezer.
I also label the bag with the date, how many cups of berries are in the bag and where I picked/bought the berries. I like to label where the berries came from in case there's ever a recall or safety concern. I've never had a problem though – just doing it out of an abundance of caution – especially when buying berries from a grocery store to freeze for later.


Now, if you want to make some strawberry freezer jam, read this post. You can use fresh or frozen berries. It's super easy and you don't need special canning equipment. Plus, freezer jam tastes like fresh berries – so, so good!
Now I'm all prepped for making strawberry jam all year long! This brings me immense amounts of happiness! As someone who eats the same darn thing for breakfast every single day, having plenty of jam on hand brings me peace of mind. Not that I'm melodramatic about jam or anything. Now I can move on to "blackberry watch" and "blueberry watch." Okay, so I might be a little obsessed…
---
Thanks for reading! 
You  might also like these posts on Blueberry Freezer Jam, Blackberry Freezer Jam and Peach Freezer Jam.
---
*affiliate links in this post*