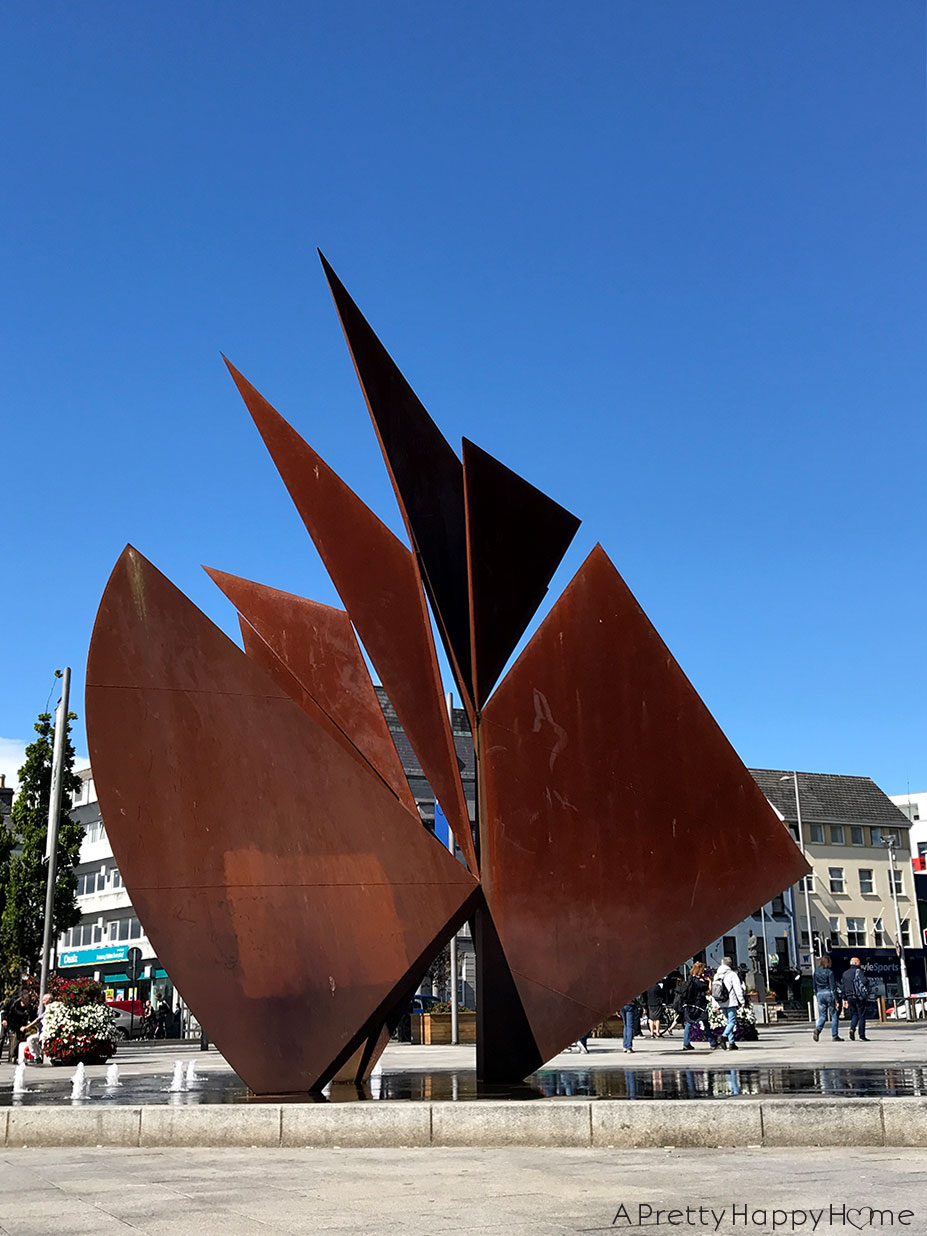 Visiting Ireland: Galway With kids
Over the past year we have spent long weekends here and there visiting different parts of Ireland.
Every place we visit is new and exciting for our family – it's a perk of moving to a new country!
Our kids are 7 and 10 and they are definitely becoming seasoned travelers.
Last weekend we finally made our way from Dublin over to the beautiful city of Galway.
Galway has a population of approximately 80,000 people. It is also the home of National University of Ireland Galway (NUI Galway). Approximately 17,000 students attend university at NUI Galway each year.
LOCATION
Galway is located on the west coast of Ireland. The River Shannon is located to the city's east. To the west is Galway Bay, which opens into the Atlantic Ocean.
Galway is a 2.5 hour train ride from Dublin's Heuston Station. It is a great hub for tourists who want to visit the Cliffs of Moher (to the south) and Connemara (to the north).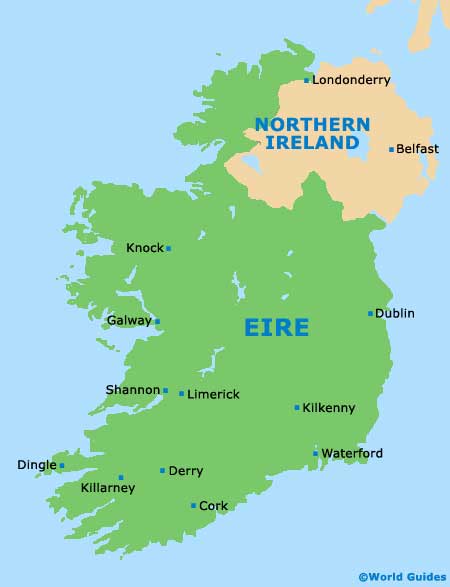 (map)
TOURIST HIGHLIGHTS
Galway is not a big city. In a long day (or a day and a half), you can see all of the major tourist attractions in the city itself. After that, you're going to need a car or a tour bus to see the sights outside of the city.
For a PDF of a Galway city map with attractions, click here.
Here are some places we visited:
---
Galway Cathedral
Galway Cathedral is not an old church, but it is impressive.
The church is located along the River Corrib and is free to visit. They do ask for a 2 Euro donation.
This was a good place for my kids to:
1) Practice their inside voice.
2) Not drink the holy water.
3) Not play with fire from the why were there so many?? hundreds of lit candles.
The cathedral also offers a unique opportunity to teach kids about sound and acoustics. In particular, what happens when you make fart noises in an echo-y building. The wrath of God mom. That's what happens.
The part my kids most enjoyed was the beautiful mosaics on the walls. We had an interesting whispered discussion about how mosaics are made. At least, that's what I think we were talking whispering about.
By the time our 20-minute visit was over, I was wondering why the tour hadn't included any communion wine.
---
Eyre Square
Eyre Square is a park smack in the middle of Galway and half a block from the train station.
There's a playground, green space, benches and statues/sculptures.
There was also a water fountain around the base of one of the sculptures that would have been  a TON of fun to play in if I had brought a second pair of shoes for each kid, towel, change of clothes, sunny weather, etc. I really dropped the ball on that one.
Eyre Square gave me one of those "thank God there's a playground" moments though. We can offer kids all sorts of fancy experiences, but simple is usually best.
Look! There's a swing and something dangerous to climb on! Go have fun while mom and dad figure out where the heck we are and how we are getting to the next place (in peace).
Everyone wins.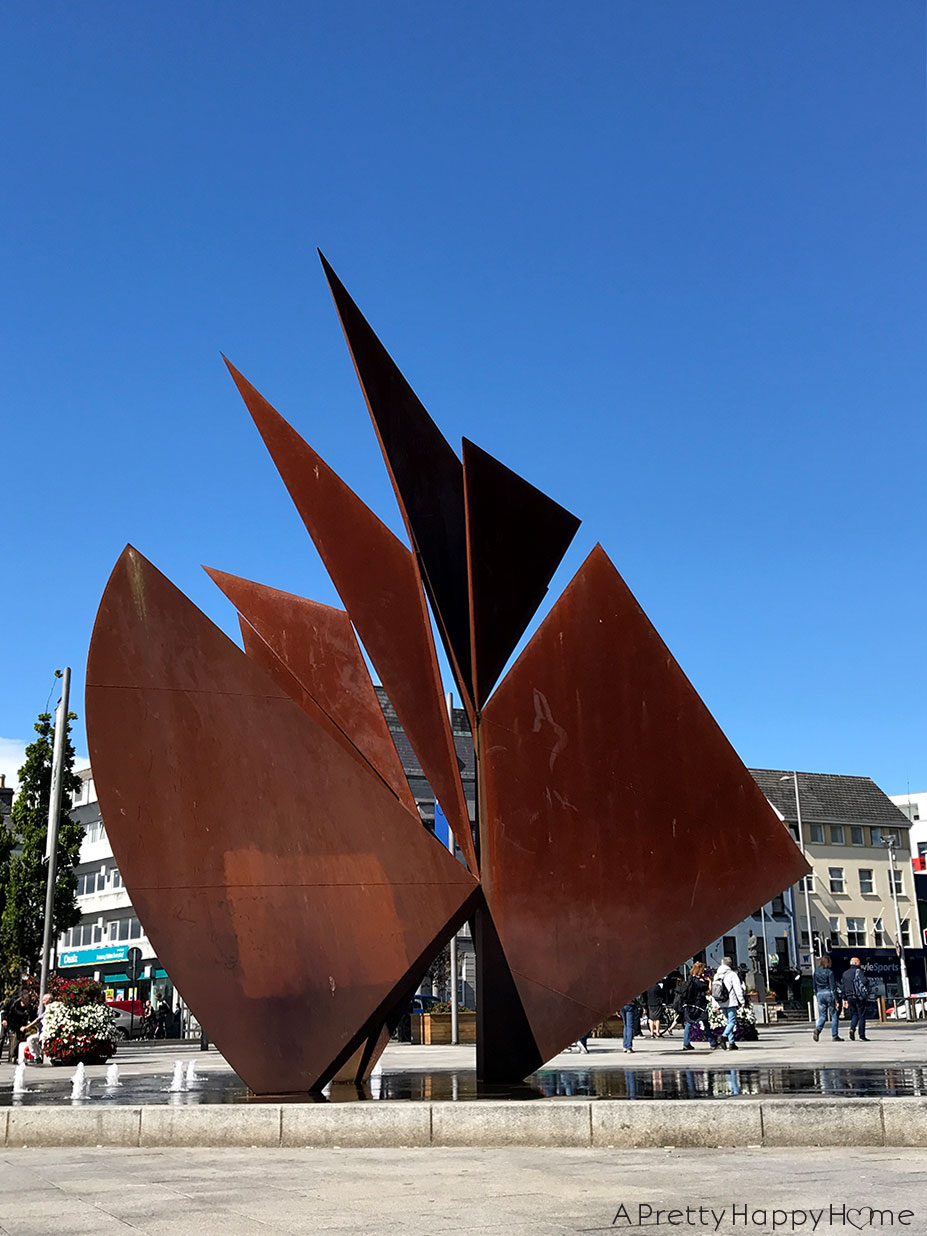 The copper sculpture at Eyre Square (above) represents the red sails of the iconic Galway Hooker boats, which are unique to the area.
So, now my kids know what a hooker is!
My work here is done.
---
Fishery Watchtower Museum and River Corrib Path
Galway has a beautiful path/sidewalk system along the River Corrib. You can walk from the NUI Galway campus down to Galway Bay on these paths. It's fantastic! Truly.
Plus, if it rains (it will) there are plenty of trees to duck under for a little protection.
Along the way, you'll be able to see evidence of the fishery system – past and present.
Random fact: the city can let 1 million gallons of water through that dam (below) in 4 seconds!
Be sure and visit the teeny, tiny Fishery Watchtower Museum. Your dining room might be bigger than this museum, but it's probably not as tall. The watchtower was an actual place from where officials kept track of the salmon count in the river and of any illegal fishing activity.
The museum is free to enter no matter how many questions you ask the staff. I asked a lot! They were so helpful.
Also along the River Corrib Trail you will see poetry plaques such as this one…
The poetry plaques were erected by the Galway Civic Trust and the poems all refer to Galway and its waterways.
---
City Museum
The free museums in Ireland are really top-notch and Galway City Museum is no exception.
The museum does a fantastic job of explaining the history of the Galway area – including the significance of the Galway Hooker. Much to Handy Husband's disappointment, we raced through all of those parts and made our way to the hands-on Sea Science section.
Science for the win! But in all reality, our museum visits go much better when I don't have to say "DON'T TOUCH" 50 gazillion times.
Also, there are decent bathrooms in the museum that don't cost 20 cents to use. Knowing where free bathrooms are in a new city is super important! I don't want anyone to have a situation!
(image)
---
Spanish Arch
The Spanish Arch, one of 4 built in 1584, is right outside of the Galway City Museum.
All you're going to do is walk through it, maybe do a little parkour if your parents aren't watching.
It takes 4 seconds.
There is history and significance to the arch though and you can read more about it here.
---
Latin Quarter and City Centre
I'm not exactly sure where the Latin Quarter ends and the rest of the City Centre begins in Galway. I'm not even sure why it is called the Latin Quarter. Clearly, my knowledge base has limits.
Regardless, there is plenty for the eye to take in while visiting Galway.
There are a ton of shops (department stores and speciality shops) and restaurants (pretty much any type of cuisine you can imagine) in this area, which is mainly a car-free zone.
And tourists too. So. Many. Tourists. In. August.
When it rains, they will scatter…usually into a pub.
Our favorite restaurant was the Pie Maker.
We ordered our savory pies for takeaway since the restaurant has approximately 2.5 tables. Be sure and check out the copper ceiling…it took 60 hours to install.
If your kids don't like savory pies, I can pretty much guarantee they will enjoy the apple pies!
There are also all sorts of fun alleys and side streets to walk down in Galway's City Centre.
I usually tell the kids we are taking a shortcut when I spy an interesting looking side street/alley/crack between the buildings.
Sometimes that ends up being true…
---
Walking and the Salthill Promenade
Galway is a walking city. Be prepared to lace up your shoes and hit the sidewalks and promenades.
Try to wait until the weather is 'nice' though. Walking some of these stretches on a oh no we are going to blow away blustery day isn't quite as enjoyable.
If you walk down the Salthill Promenade, there is a small amusement park and an aquarium. We did not visit this aquarium because while it received great reviews, we've visited a lot of amazing aquariums in the past couple of years. We were on the hunt for something different.
At the very end of the Salthill Promenade there is a diving board. Even on a "cold for everyone else, but warm for Ireland day" there will be people diving off the board into the bay.
I think my kids would have done this. Me? No. Way. No way. Brrr.
(image via Irish Times by Andy Newman)
---
River Cruise
If you need some time to CHILL and would like to see some scenery too, then I'd highly recommend the Princess Corrib cruise up the River Corrib.
You can sit inside or outside on this boat, so weather should not be an excuse for skipping this excursion.
The peaceful cruise is narrated by the captain (who was driving the boat in his stocking feet), so you can't help but learn a few things along the way. About the river, not the captain's feet.
One of the things you will see on the cruise is Menlo Castle.
It has quite the story behind it involving a fire and a missing body.
I was just blown away by how beautiful ivy looks on an abandoned castle.
---
OTHER HANDY TIPS
Luggage Storage: If you need a place to store suitcases, there are lockers at the train station. However, we used the 'Left Luggage Facility' at Big-O Taxis. It's right around the corner from the train station and across the street from Eyre Square.
Hop On, Hop Off Bus: We hopped on this bus tour when we first arrived. It was a spontaneous decision and it was SO helpful in getting our bearings on where everything was in Galway.
Train Tickets: If you are traveling with kids, make sure you buy (or at least price out) a family ticket on the Irish Rail site. Sometimes that option takes a little more searching, but it does exist
Food on the Train: These longer train rides do serve sandwiches and snacks from a food trolley. They aren't the greatest or the most affordable. Dublin's Heuston Station has great options for buying sandwiches, salads, sushi, etc. to take on the train. The train station in Galway does not, but there is a Starbucks. I'd recommend buying food from Marks and Spencer, Tesco or Dunnes before boarding the train in Galway for the return trip to Dublin.
We definitely enjoyed our visit to Galway! I'm going to follow up this post with another one about our excursion to the Cliffs of Moher, which might be my new happy place.
If you have any questions about Galway, please don't hesitate to ask. I can't promise the answers you are looking for, but I'll do my best!
---
Our trip to Galway produced this funny post – How I Accidentally Got My Kids Excited for College 
Thinking about visiting Ireland? Read on!
The Cliffs of Moher and the Aran Islands with Kids
Our Favorite Irish Castle Tour with Kids