Visiting Ireland: The Cliffs of Moher and Aran Islands (with kids)
I can't believe we waited over a year to see Ireland's #2 tourist spot, the Cliffs of Moher.
The #1 tourist spot in Ireland, by the numbers, is the Guinness Storehouse. Tourists have their priorities!
As much as we enjoyed the Guinness Storehouse, the Cliffs of Moher just might be my favorite spot in all of Ireland. So far.
When visiting the Cliffs of Moher, most people will home base out of the city of Galway.
I wrote about visiting Galway here. It's not a big city, so you can hit all of the high points in a day, maybe a day and a half. That leaves plenty of time for excursions like the one we took to the Cliffs of Moher and the Aran Islands.
Since we do not have a car, we booked a one-day guided tour with Galway Tour Company.
We selected them based on careful research luck of the draw, in all reality. They had availability for the sites we wanted to visit on the day when we could visit and a coupon code. I do love a good coupon code! They have absolutely no clue who I am, but we had a great experience.
If you're curious, we booked this specific tour for the Aran Islands and the Cliffs Cruise.
TRIP HIGHLIGHTS:
---
Riding The Ferry to the Island of Inisheer (Inis Oirr)
(ferry image courtesy Doolin Ferry)
After leaving Galway, our first stop of the day was in the small town of Doolin where we took the Doolin Ferry over to the island of Inisheer.
While the boat does has stabilizers, whatever that means, you are traveling over open ocean. It was a bit rollercoaster-ish, which added to the excitement. It should be noted we were traveling on a relatively calm day!
The good news, if you are prone to seasickness, the ride is only 15 minutes on the express ferry. Otherwise, it takes about 30 minutes.
---
Inisheer (Inis Oirr)
In terms of land mass, Inisheer is the smallest of the Aran Islands. In terms of people, it is the second smallest. The permanent population on the island is approximately 260 people.
Our ferry had 190 passengers, which means in the course of a normal day, tourists will definitely end up out-numbering the locals.
I couldn't help thinking about how much I complain about Amazon deliveries to Ireland. I can't even IMAGINE living on an island where everything they consume has to be ferried over. I saw restaurants, but I did not see a grocery store, so I don't know how that works.
As soon as you get off the ferry, you will be asked by many different locals if you want to rent a bike (they have kid bikes and helmets too) or take a horse and carriage ride. Either of these activities are 10 euro per person. Make sure you have cash!
I wish we would have rented the bikes because the island is only 3 km wide. It would have been easy to cycle around and see the sights in our allotted time of about 2 hours on the island.
However, we were starving. Okay, it might have just been me, but it was either eat at noon on the island or wait until 3 p.m. for a late lunch. 3 p.m. is like my snack time, people. Not lunch. There was no way me and my stomach the kids were going to survive in good spirits until 3 p.m. for lunch.
So we headed to the pub. Yes, kids can go into pubs in Ireland.
After that, we did some exploring around the island.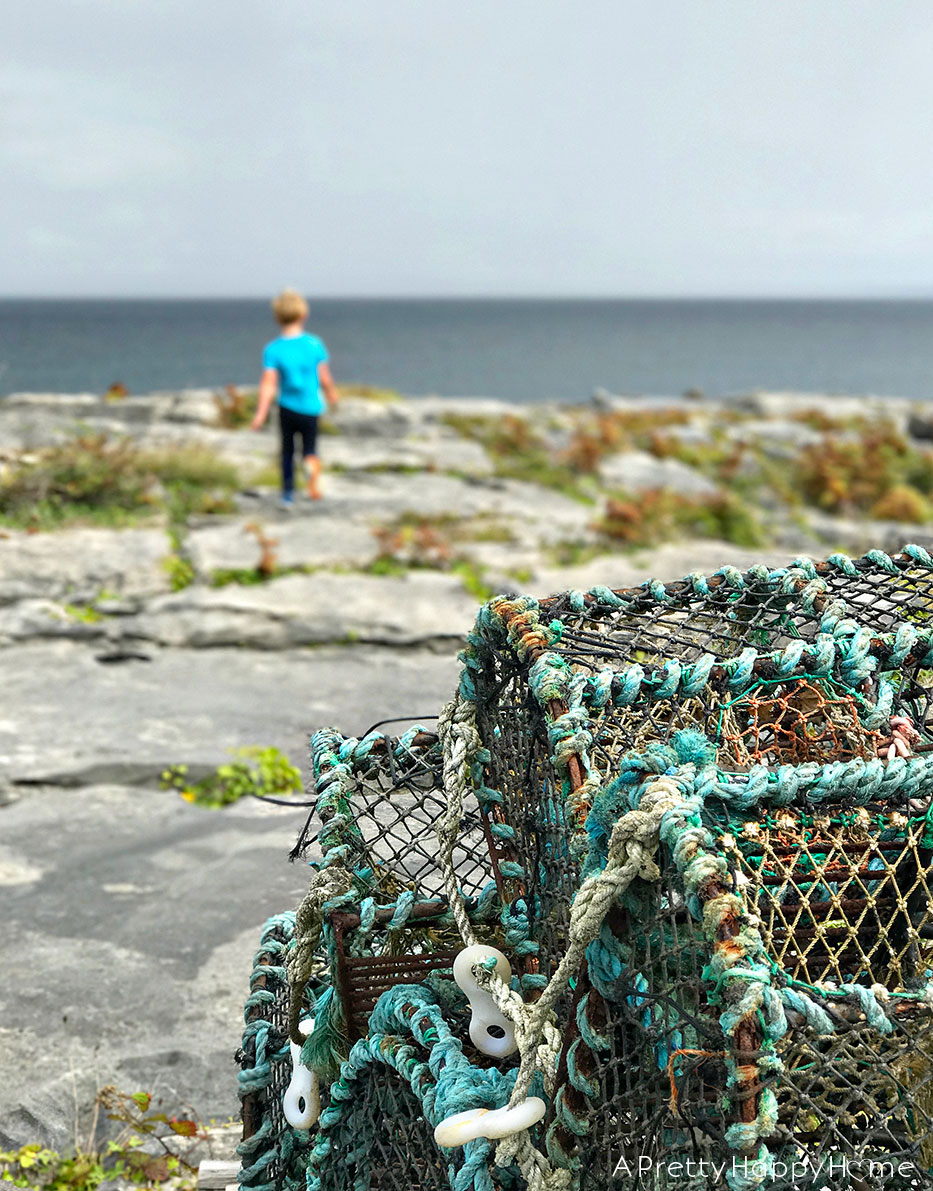 Inisheer has a really lovely swimming beach.
I managed to snag a picture without any humans in it, but yes, people were actually swimming on this grey day.
In addition to a beach, the island also has a cemetery, an abandoned church, a small castle, a fort, a lighthouse and a shipwreck you can check out.
The shipwreck is also visible from the ferry just before you dock in Inisheer.
You can see a glimpse of the castle and fort on top of the hill in the below picture.
If jumping on rocks and playing on the beach is not your kids' thing, there is also a nice playground right behind the beach.
---
Cruising Along the Base of the Cliffs of Moher
After a couple of hours on the island, we boarded the Doolin Ferry, but instead of heading straight back, we cruised along the base of the Cliffs of Moher.
We had quite a few Princess Bride fans onboard our boat and they were VERY excited to see the Cliffs of Insanity!
I was too! I knew it was going to be cool to stand on top of the cliffs, but seeing them from the Atlantic Ocean just completed the entire experience.
The captain will get you as close as is safe to the cliffs. Parts of the cliff break away periodically, so in the interest of safety, they don't get too close.
Unfortunately, my youngest kiddo did start to feel a little seasick during this cruise, which lasted about an hour. Thankfully, he returned to normal just minutes after we reached dry land.
---
Visiting the Cliffs of Moher
After a quick stop for a late lunch for the rest of the tour group (we went to the chocolate shop instead – who are the smart ones now?!?!), we headed for the Cliffs of Moher.
The nice thing about going on a guided tour is that your admission to the various attractions are all included in your tour price.
I think we had about 90 minutes to explore the top of the cliffs.
We felt safe enough taking the kids along the northern cliff route toward the round tower.
It was well fenced, with a (mainly) paved path and steps. It's about a 5 – 10 minute walk to the tower.
You can pay an extra 2 euro to climb the 25-foot tower. I felt 700-feet above sea level was plenty high, thank you very much.
The views were – I don't have adequate words – spectacular.
This below photo is looking back at the south side of the cliffs. Those black specks on top of the cliffs are people.
As you can see, it was a relatively calm day and the water was exceptionally clear. I felt incredibly lucky that we had some blue sky during our visit. That doesn't always happen here!
Our tour guide told us the south side of the cliff walk was more dangerous and without railings, which is why we started our hike on the north side.
Since our kids did a good job of not going completely crazy hiking responsibly, we told them we would hike up a little way on the 'dangerous' part if they held mom or dad's hand THE ENTIRE TIME.
Well, the first part of the cliff walk on the north side is completely fenced in with rock slabs, so that was safe enough.
There was a point when people jumped the fence and were hiking on the wrong side of the path though. The unprotected side. The side that occasionally breaks off and drops 700-feet into the Atlantic Ocean.
I probably would not have done that even if we didn't have our kids with us.
It was a good lesson in, if your friends jump off a cliff hike on the edge of a cliff, would you do it too?
NO! Because your mama will find out and ground you until you are 107!
We did get a lovely family picture while at the top of the cliffs.
Yes, I was sporting the always glamorous wind-whipped look.
And my precious son. He was sporting the 'tongue sticking out of his mouth at the camera' look.
I did not notice this until much later.
So no, we will not be sending out Christmas cards this year! At least not normal ones where everyone is smiling at the camera.
There is a neat visitor center at the cliffs. It's built into the earth just like something out of Lord of the Rings. That in and of itself is cool!
There's also a cafe, gift shop and restrooms.
---
Coast Road and The Burren
After we finished hiking around the Cliffs of Moher, we boarded the coach for the 2-hour ride back to Galway. We took the coast road back to the city and I had my eyes glued to the landscape the entire time.
You will travel through a region called The Burren. Burren means great rock and I've never seen anything like it! I'd like to go back and explore The Burren National Park.
In total, our trip lasted 10.5 hours. We left Galway at 9 a.m. and returned at 7:30 p.m. It was a long, but amazing day. If you were taking a Cliffs of Moher tour from Dublin, you would probably leave around 6:30 a.m.
---
GUIDED TOUR TIPS:
We've been on a couple of guided trips while in Ireland. Both times our kids (ages 7 and 10) have been the only children on the trip, but no one seems to mind and the tour groups almost always offer a child discount. If your trip says kids go free, you still need to book them a spot. Otherwise, they might not have a seat on the bus and you won't be able to go on the tour. If you have any questions about this, call or email the tour company to confirm your reservation.
The great thing about a guided tour is that your day is completely planned out for you. You don't have to think about where you are going or how to get there. Just sit back and enjoy. The flip side of this is that you and the kids have to go with the flow and your schedule is not your own. That's why I always pack water, lots of snacks and plenty of things for the kids to do while on the bus. On a day like this one, you're going to be on the bus for over 4 hours, so make sure that is something your kids can handle.
A guided tour means the tour guide is going to be talking while you're on the bus. When the guide is talking, the passengers need to be quiet so everyone can hear the information. If your kids aren't at a stage where they can do that, you might want to wait before taking one of these tours.
Don't be late! You're sharing a bus with 50 other people. Don't be the person that returns to the bus 5 minutes late. Not only is it rude, but it throws the schedule off for everyone.
These large coaches usually (not always) have a small restroom on board, so keep that in mind and plan accordingly.
Don't switch seats on the bus when you get back on after a stop. People get really irritated by this. Also, your driver will let you know if you can leave items on the bus and if it will be locked.
If you are booking back-to-back tours with the same tour company, they usually offer a discount, so don't be afraid to ask!
Last, but not least, take layers! Irish weather – I don't care what the weather forecast says – is unpredictable. Be prepared for wind, rain, sun…did I say rain? All of those.
---
Our day spent exploring the Cliffs of Moher and the Aran Islands was even better than I imagined it would be. Partly because we were going to an amazing place and lucked out with the weather, but also because we had a great tour guide who was funny and informative.
All in all, I'm so happy we finally visited this iconic spot in Ireland. Without a doubt it is a true treasure not just for the people of Ireland, but for the world. Be sure and put it on your bucket list!