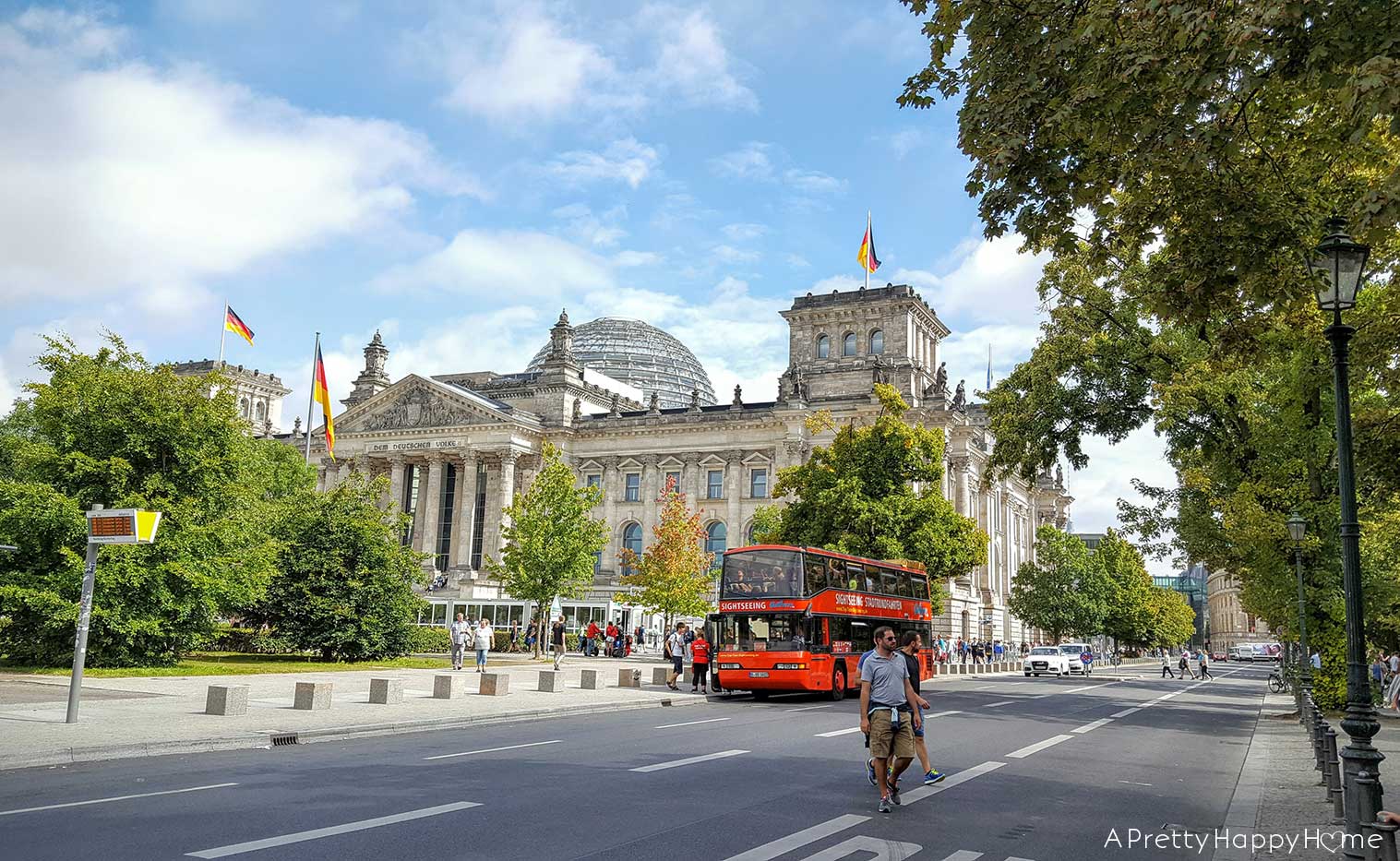 Travel: One Day in Berlin with Kids
One day in any city is never enough, but sometimes a quirk in your travel plans presents an opportunity.
For us, it was one day in Berlin or zero days in Berlin.
Of course we'll take the one day! Especially since it meant being able to see friends.
The biggest thing I learned? We need to go back!
---
Getting Into Berlin from the Airport
Getting from the Berlin Airport into the city involves either taking a taxi or a bus.
We took the bus. And then the train. And then walked to our hotel.
Figuring out the bus and train situation was not impossible – we did it after all, but it was a lot of stress. Especially at night with two kids in tow. Getting to and from the airport using public transportation wasn't as intuitive as other places we've traveled and the language barrier was hard for us to overcome. That could just be us though!
My husband visited Berlin for a solo business trip a few months after our family visit and called me to say, "I took a cab from the airport into the city and it was so much easier and not too expensive." Really?! Tell me more…NOT!
My recommendation, if it's in your budget, is to take a taxi to your hotel. After that, definitely use public transportation. It really is a great way to get around the city.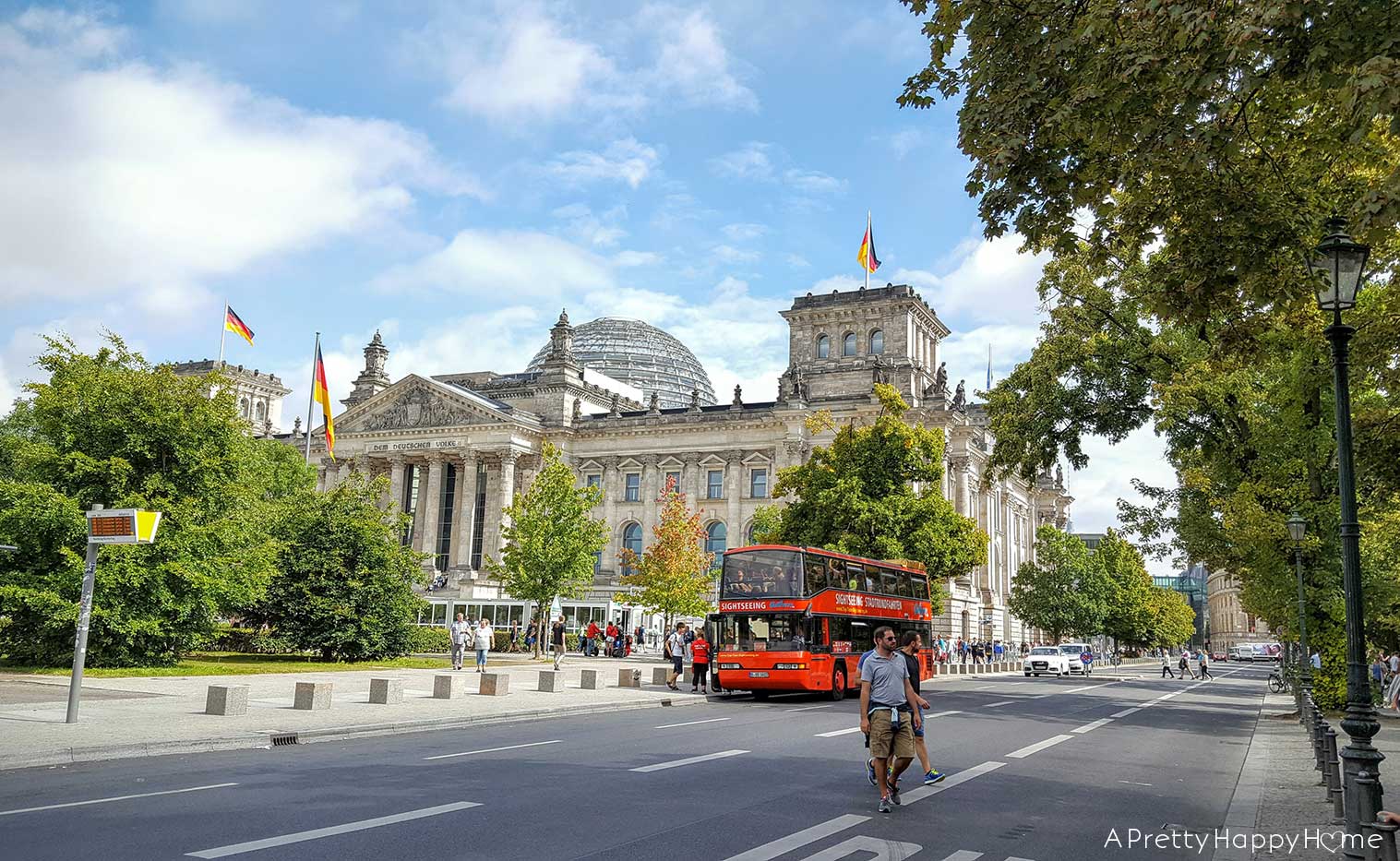 ---
Where We Stayed
We often end up staying in business hotels because of the rewards my husband builds up through work travel. Our Berlin trip was no exception. I find that the amenities are really nice – especially breakfast. We stayed at Hotel Novotel Suites Potsdamer Platz. If you want to see Checkpoint Charlie, Topography of Terror and Brandenburg Gate – this hotel is conveniently located to those attractions.
The Novotel hotels always have a gift for kids at check-in too. What's not to love about that?
---
Bikes
I was completely impressed by not only the number of bike lanes in Berlin, but the width and placement of said bike lanes. Many of the bike lanes are connected to the sidewalks instead of the roads. It felt so much safer!
I did have to keep reminding my kids not to walk in the bike lanes though!
If you want to take a bike tour around the city, here are some options to get you started. As an added bonus, Berlin is pretty flat, so it's all easy cycling!
---
What We Squeezed Into One Day
We walked 10 miles (even the kids!) and were able to see many of the city's major highlights.
Brandenburg Gate
Brandenburg Gate is one of the most iconic symbols of what was once a divided city. It was from this location in 1987 that Ronald Reagan famously said, "Mr. Gorbachav – tear down this wall!" It wasn't until 1989 that the Berlin Wall came down and people and traffic were allowed to cross between East and West Berlin through Brandenburg Gate.
Tiergarten and Potsdamer Platz
Across from Brandenburg Gate is an enormous park, Tiergarten, and at one edge is a popular pedestrian plaza, Potsdamer Platz. There are shops and restaurants at Potsdamer Platz and even a playground tucked alongside one of the buildings.
My favorite part about our day in Berlin was picnicking with our friends in Tiergarten. Wine never tasted so good from a plastic water bottle! What can I say? Sometimes traveling requires improvisation!
Checkpoint Charlie
Checkpoint Charlie is one of the more famous former border crossings between East and West Berlin. Allied forces crossed over here and the site was the scene of a tank confrontation in 1961 between the Americans and Soviets.
Clustered in this area is a museum and open air exhibition where you can learn more about the history of Checkpoint Charlie. We didn't have time to go into the museum, but we did get a feel for the history of the area by the outdoor exhibits.
Topography of Terror
The longest living section of the Berlin Wall is located at the Topography of Terror. The site, which is now a memorial and museum, was once headquarters for the Gestapo, the high command and security service of the SS, and the Reich Security Main Office.
I grew up on a farm in Oregon, so it's hard to wrap my mind around the atrocities that happened here. But I need to – we all do.
I had the humble honor of touring the outdoor area where the wall is located with a friend who grew up in Germany. She was a kid when the wall came down and I couldn't help but think how different her life experiences were from mine.
German Museum of Technology
The German Museum of Technology is much more than technology. It's a cultural time capsule of sorts covering transportation, computers, society and machinery of all kinds.
There's even an airplane resting on top of the building's entrance!
My son's favorite part of the museum was probably the train display, which is housed in the former engineering works of the Berlin-Anhalt Railway Company.
This site was built in 1874, damaged by bombs in the Second World War and closed in 1952. The engineering works was later incorporated into the museum's design when it opened to the public in 1982.
We visited this museum mainly because we were traveling with children. If you are visiting Berlin sans kids, I would recommend skipping this museum so that you can spend more time at Checkpoint Charlie or the Topography of Terror.
Memorial to the Murdered Jews of Europe (Holocaust Memorial)
Located very close to Brandenburg Gate is the Memorial to the Murdered Jews of Europe. This is also called the Holocaust Memorial.
It was VERY tempting for my kids to do parkour along the top of these concrete slabs, but that is NOT allowed. And for good reason.
The almost 5-acre site is covered with 2,711 slabs of concrete of varying sizes. While the memorial's designer has left the memorial up to interpretation, many say it resembles a graveyard.
---
Final Impressions
Berlin struck me as a very complex city. One that, clearly, has changed so much in the last 30 years. But also one that carries scars – in some cases literal marks on buildings – from war and conflict.
Coming face-to-face with history is a powerful thing. It's one of the most important reasons to travel. I observed the continuous line of bricks running through the city marking the exact path of the Berlin Wall. It was a stark reminder to me that history is full of examples of what not to do.
---
One full day in Berlin is not nearly enough, but I feel like we made the most of our time.
We walked 10 miles, we laughed, we caught up with friends and made the best memories. It was fantastic.
I'm so happy we made the trip. Next time we'll make it a longer one!
---
Thanks for reading! If you enjoy traveling, check out one of these posts!
Visiting Ireland: Kilmainham Gaol Museum
Visiting Ireland: St. Patrick's Day
Travel: The Weird Thing I Always Pack
Travel: Eiffel Tower With Kids
Travel: Copenhagen, Denmark With Kids
Visiting Ireland: The Cliffs of Moher and Aran Island With Kids
A Day in Malmo, Sweden With Kids
Visiting Ireland: Galway With Kids
Visiting Ireland: Kissing the Blarney Stone at Blarney Castle
Our Favorite Irish Castle Tour with Kids
Travel: Tips for Visiting the Dominican Republic
Travel: Fort Walton Beach and Destin, Florida with Kids