Hello, hello!
How was your 4th of July? Did you BBQ and watch fireworks? We had a good day celebrating the 4th by going to a parade. If you've been reading this blog for very long then you know that my crowd-avoiding self actually LOVES a parade. Go figure.
If you missed it and haven't already moved onto pumpkin spice everything, then I did share a burlap flag craft on Monday. On Wednesday I shared a different sort of flag – a memorial flag that I discovered on a hike.
Now, I don't usually start the Happy List with a warning, but Handy Husband's opinion makes an appearance somewhere on this week's Happy List. Are you ready? Read on!
---
INTERESTING ISLAND DESIGN
This home whose interior was designed by Cortney Bishop is a little fancy for my lifestyle, but one design detail caught my eye.
See that kitchen island? Super interesting way to add seating.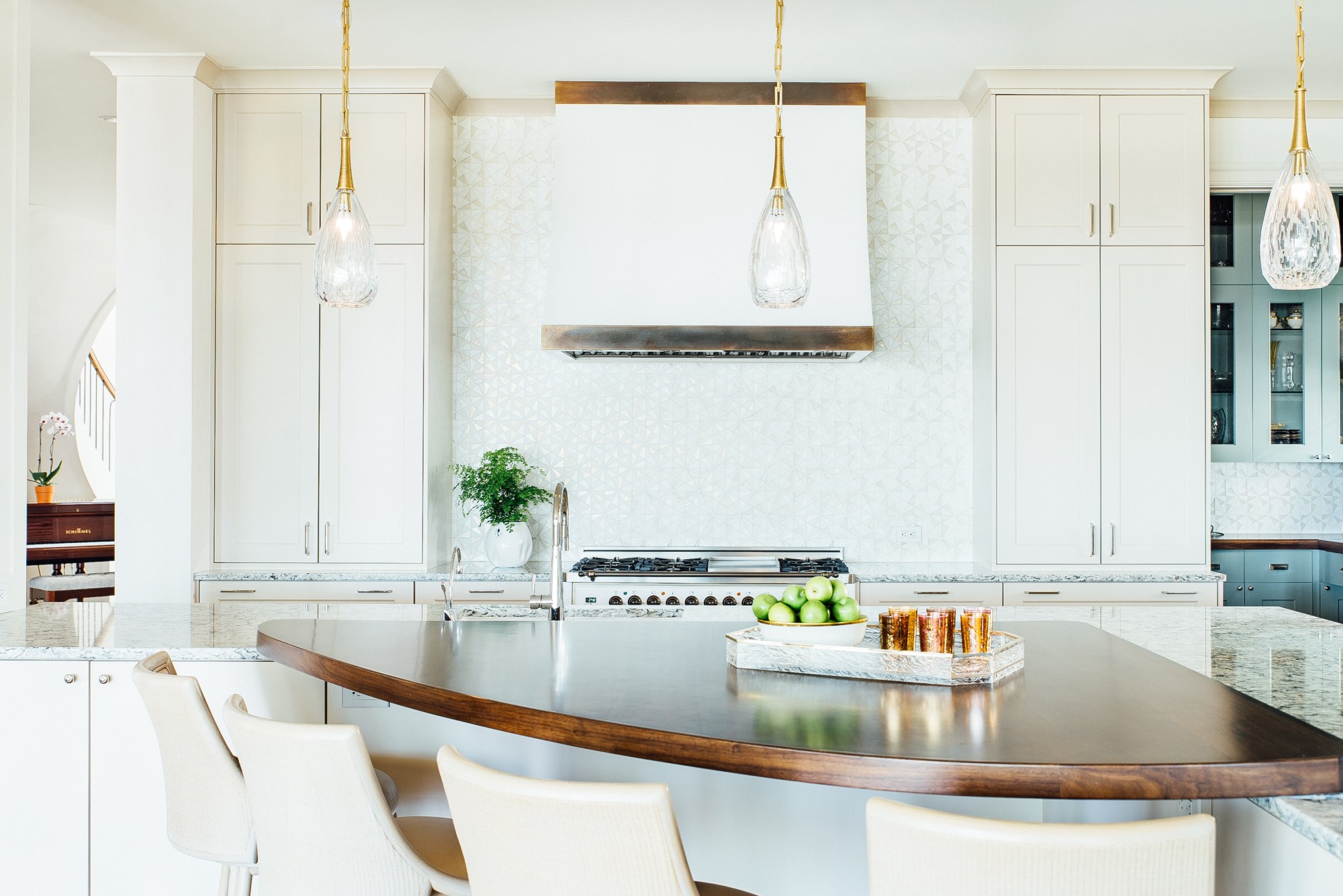 (image: Cortney Bishop)
---
USING GEL STAIN ON A METAL GARAGE DOOR
I love a good "how's it holding up" blog post, don't you?
Maryann from Domestically Speaking gave a 4 year later update on how her metal garage door is holding up after she applied gel stain to it.
And here I thought stain was only for wood!
(image: Domestically Speaking)
---
BRASS CORNER PROTECTORS
How have I gone my ENTIRE LIFE and didn't know brass corner protectors were a thing?
Look at Allison at The Festive Farmhouse's kitchen detail…
Are you dying over how cool that detail is too? Stick a fork in me. I'm done.
She got them from an English company called Stairods. They are called Skiffer Corner Protectors. It looks like they are just under $16 each.
---
FAUX MARBLE TABLE
I'd love to see this faux finish in person, but it's pretty cool in the picture. Even if green isn't your thing, the faux marble technique could be used with other colors.
The full tutorial is at Make Your Mark.
(image: Make Your Mark)
---
LOOK AT THAT RANGE
If there was anything that could make me WANT to cook (besides my hungry belly), this range would be it. Wowzers!
Also, let's give a shoutout to all the folks who have kitchens this light and bright. Nary a crumb could hide there!
---
HANDY HUSBAND THINKS YOU SHOULD ORDER THESE
Guys. I kid you not. On Monday night I hear Handy Husband ROARING with laughter and come to see what is so funny.
I thought maybe he was watching something funny on YouTube.
Do you know what he was doing? He was laughing at license plate frames he had found on Amazon.
I don't even know what to say about that…
Of all the things we "need" to buy, a license plate frame is not even on the back-up list. So, here are Handy Husband's favorite license plate frames. And he begs one of you to buy these. For your own car. Not mine.
Option 1
Option 2
Ouch!  I guess I won't order that stick figure family sticker now.
---
BACON WRAPPED CORN
Be. still. my. heart.
(image: Brie Passano for The Kitchn)
If you make this Bacon and Basil Wrapped Corn, will you please invite me to your house for dinner. I'll do the dishes.
---
Now, get out of here and go have fun! Wishing you the happiest of weekends!
*affiliate links in this post*