Hello, hello.
Thank you for thinking of me my kiddos this week. They are such troopers and roll really well with change – or as well as can be expected. It's been a learning curve, especially on the middle school front, but they had a fantastic week.
My son would probably say I'm overselling it with the 'fantastic' word, but he's 8 and school isn't his favorite thing in the world.
On the first day of school I predictably asked him, "How did it go? How was your day?" And he replied, "Great!" Then he followed it up by saying, "My teacher said you were going to ask that and to not tell you it was bad."
At least he listened to his teacher.
On Wednesday I shared a recent thrifting trip to Pennsylvania. I think I'm going to make this a series as I find neat shops or flea markets to share with you. If there's a place I should visit, let me know.
Let's get on with the Happy List!
---
30 MINUTE KOREAN BEEF AND PEPPERS WITH SESAME RICE
Doesn't this meal look divine?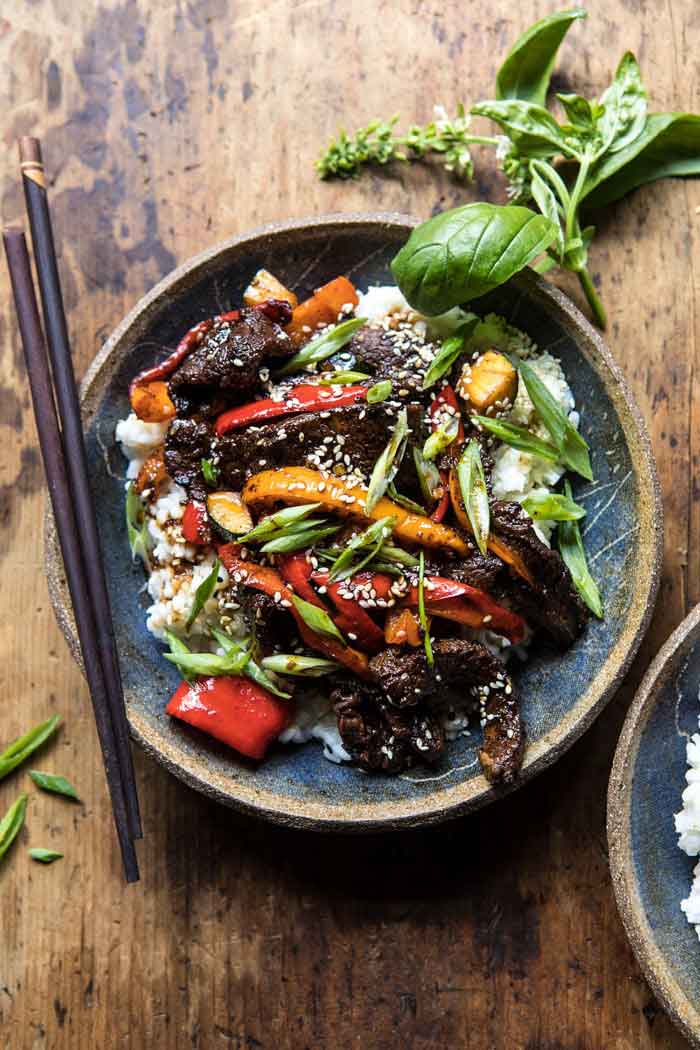 (image: Half Baked Harvest)
This 30-Minute Korean Beef and Peppers recipe is from Tieghan at Half Baked Harvest.
I haven't purchased flank steak or any steak lately, so I'm due for a recipe like this one!
Tieghan also has a cookbook out called
Half Baked Harvest Cookbook: Recipes from My Barn in the Mountains
, which looks like it is filled with more incredible recipes and photography. I've already made another of her recipes and you can probably guess that it was bread-related.
I'm predictable with my carbs!
---
VENDING MACHINES
Do you know where I could buy my steak for that recipe I just shared?
In a vending machine. A meat vending machine.
Apparently, that's a thing now and I'm not sure how I feel about it. I might be a slow adapter on this one. Here's an article about it on Food Network.
---
LAND USE
I love a good map.
Bloomberg recently published an article about how America uses its land. It was super interesting to see a graphic breakdown of how much land is used for crops, grazing, forests, urban areas, etc.
For instance, urban areas make up only 3.6% of the 48 contiguous states, but 4 out of 5 Americans live in those areas. Most of our land is used for grazing or range land. Interesting, right?
If you like a good sheet metal map, here's how I made this one.
---
BLUE TILE?
I broke down and actually read an article in Luxe Daily (usually I just look at the pretty pictures) to find out what color the subway tiles in the below picture are.
In this picture, they look slightly blue to me, especially with all the blue accents in the photo. And you know what? I kind of like that idea.
They are actually white subway tiles though.
(image: Luxe Daily)
---
START WATCHING
I've been watching two new shows.
First up is Amazon's Jack Ryan
. I've read a lot of Tom Clancy's books and have always been intrigued by his reputation for accuracy. Now, since he's not alive and this is TV and not a book, I don't know how true that is anymore.
Regardless, if you like CIA/law enforcement/action type shows, you'll like this.
The second show I've been watching with my kids is Magic for Humans on Netflix. The magic tricks by Jack Willman are INCREDIBLE. I have been floored in every single episode so far and have no clue how the tricks are done. A lot of what he does is just plain funny too – and not funny in a mean way.
We've watched 4 episodes together and by and large this is a family show. There have been a few questionable props that pass by really quickly and aren't referenced by name. Most of these visual references, if they haven't already learned what they are, just go over my kids' heads though.
(Edited to add: Just started Episode #6 and it starts off talking about sex. So, I might skip watching this episode with my kids!)
---
VERMONT MODERN FARMHOUSE
I tried (TRIED) to pick a favorite photo from Traditional Home's recent article about a farmhouse in Vermont.
The outside was so good. So, so good.
This side view of the entry and stairs makes me want to move in.
But it's this drawer by the stove that might have really sent my heart into palpitations.
Be still my clean counter loving heart. This is perfection.
(both images: Traditional Home)
---
PEEL AND STICK
See this reclaimed wood cube wall?
It's peel and stick!
Did you say, "NO WAY!" Because that's what I said.
It's not inexpensive, but it sure looks easy and is made by a company called Timberwall. They have all sorts of options – not just this cube version.
---
NOW I REALLY LOVE DIANE KEATON
Someone give me CPR. Have you seen Diane Keaton's home?
I'm not even showing you my favorite picture. There's one with a brick floor…you have to check it out.
(image: LISA ROMEREIN/ RIZZOLI via Country Living)
---
Thank you so much for being a part of my tribe.
Happy Friday!
*affiliate links in this post*