Travel: Hershey, Pennsylvania
Are you a chocolate fan?
Would it be blasphemy to say if you offered me a piece of chocolate or a gummy bear I'd probably take the gummy bear?
Yes?
Then I won't say that.
I'll just tell you we visited Hershey, Pennsylvania.
Do you know what's located in Hershey, Pennsylvania?
You do?!?!
Was the clue in the name? Did I give it away?
I did. I knew it.
That's right. Hershey is the home to The Hershey Company, which is known for its chocolate treats like Hershey Bars and Reese's Peanut Butter Cups. It is also home to several tourist attractions and since they all have the name "Hershey" in them, it gets a little confusing.
The biggest takeaway from this post and the realization that surprised me the most is that Hershey, Pennsylvania, is NOT JUST FOR KIDS. There is plenty to interest adults and, in my experience, finding tourist attractions that appeal to all age ranges is pretty rare.
---
HERSHEY HISTORY HIGHLIGHTS
This might blow your minds, but The Hershey Company did not start out making chocolate. WHAT?!?!
Nope.
Milton Hershey started in the caramel business in the 1880s. However, it did not go well for him. He went bankrupt more than once. On one of his last attempts at the caramel business he received a large order from Europe and realized his European customers were coating his caramels in chocolate. That's when Milton Hershey gave up the caramel business and went all in on chocolate.
Milton Hershey believed that happy workers made better workers and so he built a company town to improve their quality of life. The town included trolley systems, a zoo (now ZooAmerica) and a park (now HersheyPark).
Milton Hershey and his wife could not have children, so they built a school for orphan boys in 1909. The school still exists today (girls are admitted now) because Milton Hershey put his interest in the Hershey Company into a trust that would support the school long after he was gone. The school is now self-described as a cost-free, private, co-residential school and home for children from lower income families.
Milton Hershey was extremely proud of the fact that not one person in his company was laid off during The Great Depression. He used the money from his foreign sugar plantations to float the company and he put men to work on major construction projects in Hershey, PA.
Today, The Hershey Company employees over 15,000 full-time workers and has revenues exceeding $7 billion. Its products are sold in over 60 countries.
Learn more about the history of Hershey here and here.
---
MAJOR HERSHEY ATTRACTIONS 
Hershey Park: An amusement park with rollercoasters and a waterpark. Check before you go in fall and winter as the park may not be open or only a limited number of rides may be open.
Hershey's Chocolate World: An INDOOR place to learn all about chocolate. Admission is free, but most of the activities cost money. Open year-round.
The Hershey Story: A museum that presents the legacy of Milton Hershey. Also has a chocolate lab.
ZooAmerica: Zoo located on 11 acres with 200 animals in downtown Hershey.
Hershey Gardens: Opened in 1937, the gardens are now 37 acres of botanical beauty that overlook the town of Hershey. Also includes a butterfly garden and a children's garden.
The Official Resorts of Hershey: Not an attraction per se, but important to mention. There are two official Hershey hotels plus a "resort" for campers (tent and/or trailer). If you stay at a Hershey Resort you can also purchase packages that include admission to some of the attractions.
There are plenty of regular hotels within a mile or two of downtown Hershey as well.
ChocolateTown: Coming in 2020
---
WHAT WE DID ON OUR ONE-DAY VISIT
My kids (ages 8 and 11) are not on the same page when it comes to their love (or extreme dislike) of rollercoasters. Since I was taking the kids to Hershey by myself, we opted to NOT do Hershey Park. We will save that for when both kids enjoy rollercoasters.
Instead, we booked a whole day at Hershey's Chocolate World. You don't have to buy tickets in advance for the activities, but it is recommended. Everything at Hershey's Chocolate World operates on a schedule, so if all the time slots sell out you'll be out of luck.
---
Admission to Hershey's Chocolate World is FREE. Parking is also free if you are there under 3 hours or purchase certain ticket bundles. You can come into the Chocolate World building (it is all indoors) and take a FREE Chocolate Tour. This 'tour' is actually a ride that you sit on (it's not fast or scary or jarring) that shows you how chocolate is made.
To emphasize how not scary it is there are animatronic cows singing. Even though it is somewhat geared for the younger crowd, adults will learn something about the chocolate-making process too.
Plus, they handed out FREE mini chocolate bars at the end of the ride.
What more do you need?!
We visited on a Friday in the summer and hopped on this ride a few minutes after the attraction opened and there was no line. You're probably going to wait a few minutes if you come during peak hours though.
---
Next up was the Chocolate Tasting where you can learn how to properly taste chocolate. I was surprised by how much my kids got out of this activity including how different types of chocolate bars sound when broken in half.
The Chocolate Tasting is held in a classroom-type setting, but this was the best type of classroom EVER.
I enjoyed figuring out what flavors were in each type of chocolate we sampled. If you taste cheese when you eat a Hershey bar, there's a reason for that!
Our classroom was full of all different ages, but if you are an adult visiting the area this is something you would enjoy.
---
TROLLEY WORKS
The Trolley Works takes you on a tour of the town of Hershey. The tours are jam-packed with history and that's how I learned about the Hershey School and how Milton Hershey got into the chocolate business.
We took the Summer Trolley Show, which is offered seasonally. It's only 45-minutes long instead of the regular tour which is 75-minutes long. There's also some cheesy acting and a few group sing-alongs to songs like Sentimental Journey, but overall, the experience was charming.
Generally speaking, the trolley tour is something adults will appreciate a lot more than kids – especially super young kids.
While my kids weren't so much into the history of Hershey, they did appreciate ALL the chocolate handed out on this ride. There was a lot of it!
---
Next up is a 4-D Chocolate Mystery cartoon. If you're visiting as an adult without children (or your kids are older), you can skip this one.
However, it was entertaining and it's always fun to wear the 3-D glasses and see the images floating out in front of you.
Oh, and there's free candy at the end! Noticing a theme here?
Lots of free chocolate keeps people happy. HA!
---
CREATE A CHOCOLATE CANDY BAR
The last thing we did at Hershey's Chocolate World was to Create Our Own Chocolate Candy Bar.
Yep! You get to wear hairnets just like a real factory worker. You can also decide (at a touchscreen) what type of chocolate you want your bar to be. You can pick fillings for your chocolate bar and design your candy bar packaging too.
They have it set up so you can follow along as your bar is going through the assembly line.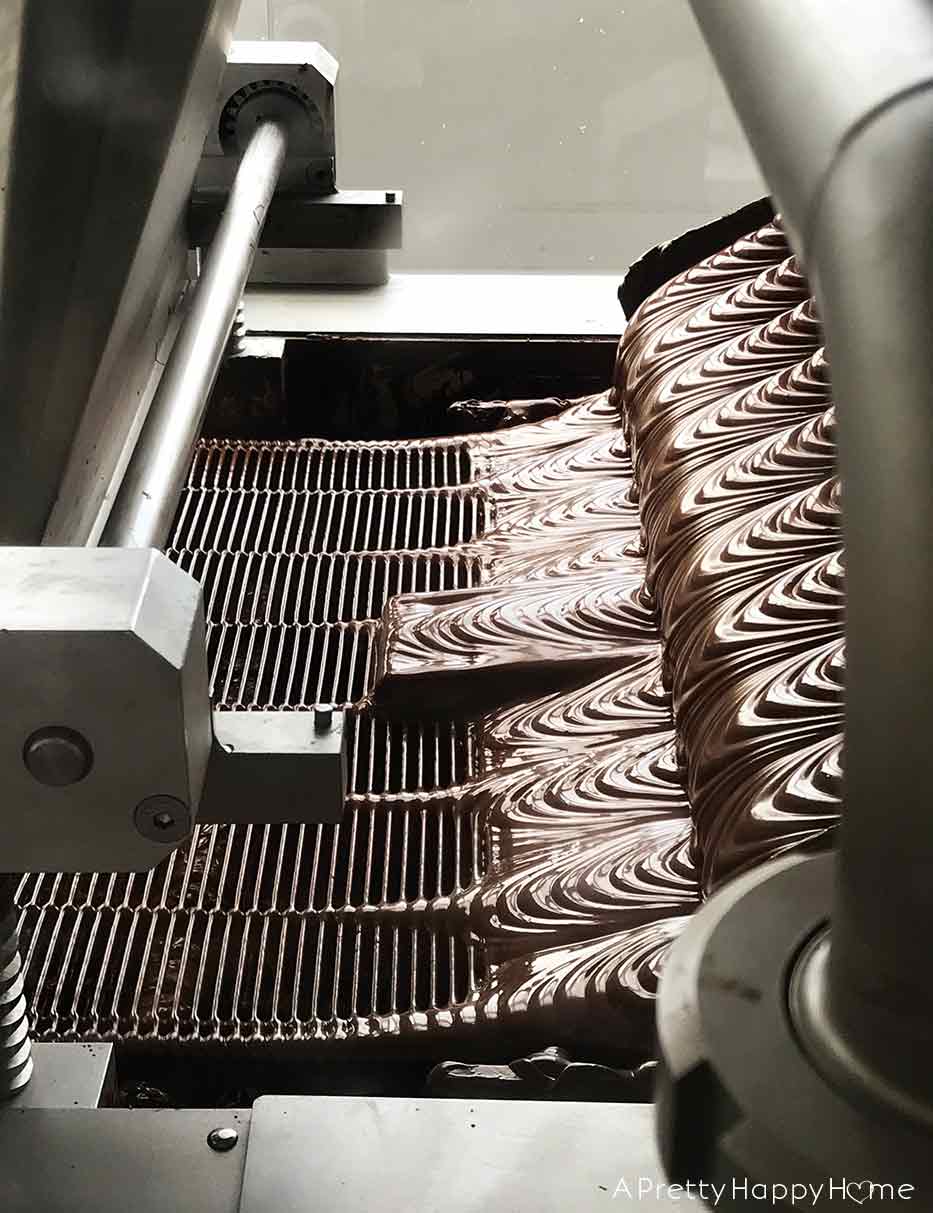 This was, by far, the most fascinating part of the Chocolate World experience. I can't explain why…maybe because we'd never done anything like this before and it was super fun to watch our individual bars being made.
My overall impression of Chocolate World is that it is a pretty efficient and well-run attraction. I think that's because of how everything is on a timed system. Your movie starts at 11:15, your trolley ride is at 12:20 – that sort of thing. Our Candy Bar experience was also at a set time, but it felt crowded and my kids got anxious that they weren't going to see the next step of their chocolate bar being made because there were people in front of us who were holding up the line taking selfies. It all worked out fine though!
For whatever reason, this attraction made me feel like a kid too. It was just super fun to watch. And in terms of value for your money, this is an activity that is interactive and you get a souvenir at the end. Win, win!
---
QUICK HERSHEY CHOCOLATE WORLD TIPS
If you buy tickets for the activities online, you don't have to print the tickets out. They can scan the tickets from your phone. Tickets are scanned at the entrances to each individual activity.
Since I was dealing with three tickets for 4 different activities, I asked the guest services desk to print me actual tickets when I arrived. It was faster for me to do that than to scroll through my phone for the right tickets each time.
If you are riding the trolley you will have to exchange your ticket for a wooden trolley token. There's a trolley ticket desk right at the main entrance. It seems like an unnecessary step, but it makes the whole process feel slightly more trolley-like.
There's a huge food court inside the building where we had lunch in between our scheduled activities. We all ordered pizza that was surprisingly good, but definitely over-priced. You can always bring a lunch and picnic outside the Chocolate World entrance if you want to save a buck on lunch.
The restrooms in the very back of the food court are less busy than the ones by the main entrance.
If you are booking more than one activity, use these suggested itineraries as a guide so that you know how much time you need between activities.
OVERALL IMPRESSIONS
If you had to select only two things to do at Hershey's Chocolate World, here are our favorites:
I enjoyed the Chocolate Tasting and the Create Your Own Candy Bar activities the most.
My kids (ages 8 and 11) both enjoyed the Create Your Own Candy Bar and the Free Chocolate Tour Ride the most.
As is usual for our travels, we also spent an hour at a local playground the night before our visit to Chocolate World. The playground was surrounded by beautifully-maintained, century-old homes and we could hear the high school marching band practicing in the distance. In that moment, away from the tourist attractions, I could see why people would enjoy living in Hershey, Pennsylvania.
I realize the marketing spin was in full force when we stepped foot into a Hershey attraction. That's their job to sugar coat things. Yet, it definitely felt refreshing to hear stories about an entrepreneur who was socially-conscious before that became a trend or dare I say, in some instances, a gimmick. Hershey certainly wasn't perfect, but it seems like he tried hard to do right by his employees, customers and the broader community.
"One is only happy in proportion as he makes others feel happy." – Milton Hershey
If you have a chance, definitely make the trip to Hershey, Pennsylvania. Let me know if you come away with the same impressions.
---
I found some books on Milton Hershey that I'm going to see if our library has the next time we visit. They may be of interest to you too.
In Chocolate We Trust: The Hershey Company Town Unwrapped (Contemporary Ethnography)
 by Peter Kurie
This one looked interesting because it was written by a Hershey native. It also examines the complex, present-day topic of capitalism and philanthropy – especially as it relates to the multi-billion dollar Hershey Trust.
---
Who Was Milton Hershey?
 by James Buckley
We've read several books in the Who Was series. These are perfect for kids, but truthfully, I always learn something too!
---
Hershey: Milton S. Hershey's Extraordinary Life of Wealth, Empire, and Utopian Dreams
 by Michael D'Antonio
Written by a Pulitzer Prize winning journalist, this book tells the rags-to-riches story of Milton Hershey.
*affiliate links in this post*
---
Thanks for reading! If you enjoy traveling, check out one of these posts!
Travel: Valley Forge National Historic Park
Travel With Kids: Safety Tips for Foreign Travel
Travel: West Point Military Academy
Travel: Paterson Great Falls National Historic Park
Travel: Mt. St. Helens National Volcanic Monument
Visiting Ireland: The Book of Kells
Travel: One Day in London with Kids
Travel: One Day in Berlin with Kids
Visiting Ireland: Kilmainham Gaol Museum
Visiting Ireland: St. Patrick's Day
Travel: The Weird Thing I Always Pack
Travel: Eiffel Tower With Kids
Travel: Copenhagen, Denmark With Kids
Visiting Ireland: The Cliffs of Moher and Aran Island With Kids
A Day in Malmo, Sweden With Kids
Visiting Ireland: Galway With Kids
Visiting Ireland: Kissing the Blarney Stone at Blarney Castle
Our Favorite Irish Castle Tour with Kids
Travel: Tips for Visiting the Dominican Republic
Travel: Fort Walton Beach and Destin, Florida with Kids
Travel: Charlotte, North Carolina with Kids