Travel: Franklin D. Roosevelt Presidential Library
History is fun to learn about! Especially if it involves a bit of travel, so let's get you prepped in case you are planning to travel to the Franklin D. Roosevelt Presidential Library.
If you've never been to a presidential library, the Franklin D. Roosevelt Presidential Library is a good place to start because it holds a special place in history.
---
Prior to Franklin D. Roosevelt's presidency (1933 – 1945), a president's documents and items procured from his time in office were considered personal property. As such, at the end of a presidency or at the end of a president's life, these items might be sold or dispersed. Many were lost or destroyed over time.
It's one reason why there are unanswered questions about early U.S. presidencies. No one kept the records in one central repository.
Roosevelt had a different view of presidential documents. He thought they were a part of America's heritage and should be accessible to the public. He designated part of his estate in Hyde Park, New York, to the federal government to be used as a presidential library and asked the National Archives to take custody of his presidential documents and other historic items.
---
Roosevelt was still in office when he dedicated his library on June 30, 1941. This is a portion of what he said that day, copied directly from the speech: (For full transcript click here.)
"To bring together the records of the past and to house them in buildings where they will be preserved for the use of men and women in the future, a Nation must believe in three things.
It must believe in the past.
It must believe in the future.
It must, above all, believe in the capacity of its own people so to learn from the past that they can gain in judgment in creating their own future."
---
At present, the United States has thirteen presidential libraries, which are a part of the National Archives and Records Administration (NARA). There are other museums and libraries dedicated to past presidents, but they are not administered by NARA. These sites are usually maintained by private foundations, historical societies or local governments. If you want an overview of which libraries are administered by NARA and how that all works, this site is helpful.
During Spring Break (because I'm such a fun mom) we visited the Franklin D. Roosevelt Presidential Library in Hyde Park, New York. If you are visiting this presidential library, here is what we learned that might help you plan your visit.
---
GETTING TO THE FDR PRESIDENTIAL LIBRARY 
The Franklin D. Roosevelt Presidential Library is approximately 2 hours from New York City. The best way to get there is via car. However, if you are visiting from abroad and do not want to rent a car, you can take a combination of train and taxi to get to the museum.
For more information on your transportation options click here.
---
HOURS, ADMISSION AND AMENITIES
This is not a free museum. As of spring 2019, admission fees are $10 for the museum/library and $10 to take a guided tour of Roosevelt's home. Tickets need to be purchased on site.
The good news is that kids 15 and under receive free admission, but it doesn't say that on the website. I learned that happy news when we arrived, so you may want to call to verify admission policies haven't changed before you visit.
The library is open daily except Thanksgiving, Christmas and New Year's Day. The library's hours are shortened during winter.
Click here for admission and hours information.
There is a cafe on site if you need sustenance during your visit. We ordered sandwiches and it's not going to be the best meal of your life, but it's not terrible either.
There is also a fantastic souvenir shop in the Visitor Center. I collect playing cards and was able to pick up a deck of cards to remember our visit.
---
TOUR ROOSEVELT'S HOME
Tours of FDR's home, Springwood, are offered on an hourly basis and are guided. You will meet your tour guide in the Visitor Center near where you pay your admission fee.
You'll end up walking about 1/4-mile from the Visitor Center to FDR's home.
The tour starts with an overview of the home and life of FDR (similar to the one below) from your tour guide. There's a richness to this part of the tour that will bring real perspective on the lives of Franklin and Eleanor Roosevelt. Then you can go inside and tour each room that's open to the public.
If you are traveling with kids, the tour of FDR's home might not be as exciting to them as the library portion of your visit. In all honesty, my kids (3rd and 6th grade) do not find old homes as interesting as I do. Just remember…kids go free!
---
VISIT THE PRESIDENTIAL LIBRARY
While presidential libraries do store all the papers and records from a presidency, the term library is a bit of a misnomer when it comes to what you'll experience as a tourist.
Presidential libraries (at least the two I've visited) are highly interactive, engaging museums that tell the story of the life and political career of the president. Think of it as a highlight reel.
I toured the Franklin D. Roosevelt Presidential Library with my 3rd and 6th grader and there was plenty for them to engage with in the museum. My kids didn't stop to read every single display, but they definitely picked up information from the library's movies, digital kiosks, and artifact displays. I even got to introduce them to a rotary telephone! They knew nothing about FDR and Eleanor Roosevelt when we arrived at the library and they walked away with a basic understanding of their roles in history.
Make sure you go into the basement of the library. FDR's car, a 1936 Ford Phaeton, is on display. The car has hand controls so that FDR could drive. Remember, while it appeared in many photos and videos that FDR could walk, he really couldn't. He could take a few "steps" with a cane and the arm support of an assistant. The media was generally kind about not photographing him in his wheelchair, but the truth is polio, contracted when he was 39, wrecked his legs.
The basement of the library is also where you can learn more about Eleanor Roosevelt. FDR established his presidential library with the intent that it would also hold Eleanor's papers when she died.
For fans of both Roosevelts, this presidential library is a real treat because Eleanor played such a prominent role in American politics. She was the United States' first delegate to the United Nations. She fought tirelessly for civil and human rights and is among one of the most highly regarded people of the 20th century.
Her collection of papers totals 2 million pages and they are stored in the library and online. These include correspondence from her time as First Lady and all her work in the 17 years after Franklin died until her death in 1962.
---
ADDITIONAL RESOURCES
If you would like to take a virtual tour of the Franklin D. Roosevelt Presidential Library, click here. You can see just what we saw on our visit! It's really a neat place.
If you would like to access the digital archives of Franklin or Eleanor Roosevelt click here. I went down a rabbit hole reading some of the correspondence with Churchill and it was incredible and oddly normal too.
For the Franklin D. Roosevelt Presidential Library main website, click here.
---
FINAL THOUGHTS
I thought the Franklin D. Roosevelt Presidential Library was one of two things. It could be an excellent jumping off point if you did not know much about the Roosevelts. It could also be an engaging refresher course on this period in history, especially as it relates to The Great Depression, The New Deal and World War II.
Just remember that this museum is presented with a bit of bias and the benefit of hindsight. All presidents, just like all people, are a mixed bag. If you like the FDIC and Social Security, you have FDR and his liberal policies to thank for that. If you question whether or not FDR was right for trying to pack the Supreme Court or for developing the atomic bomb, you're not alone.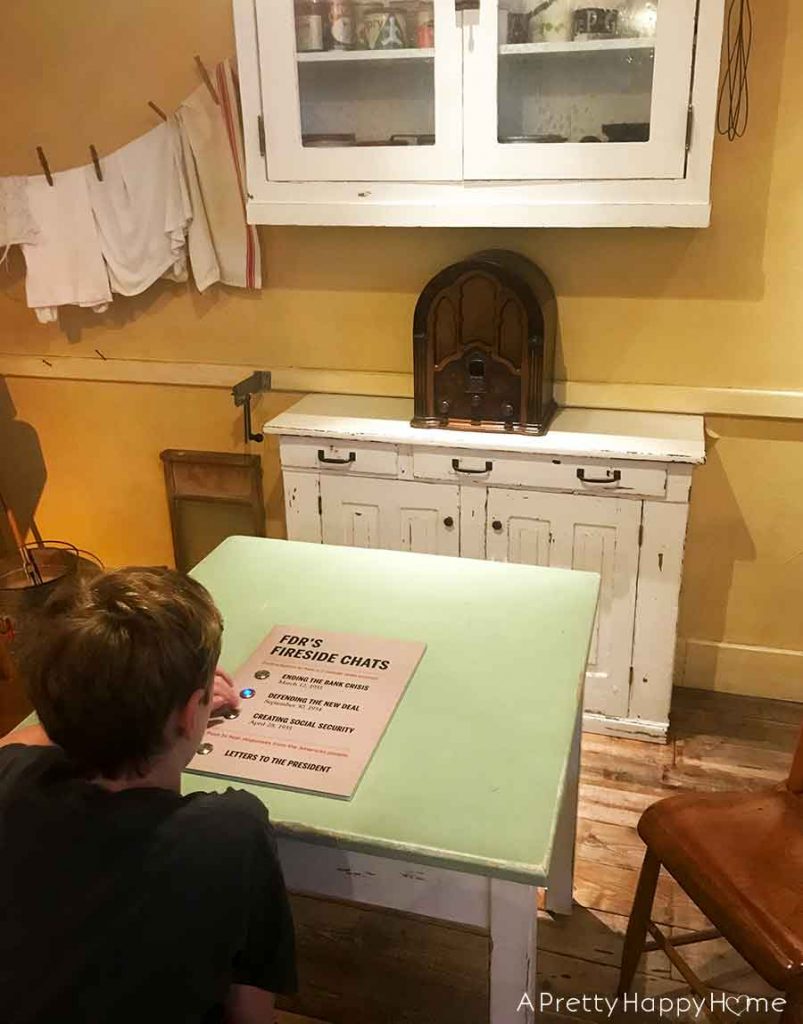 The issues are complicated and nuanced, but without a doubt, there is so much to learn and glean from this library to apply to the decisions we make today. And, really, isn't that Roosevelt's point?
He continued on in the speech dedicating his library to say:
"Among democracies, I think through all the recorded history of the world, the building of permanent institutions like libraries and museums for the use of all the people flourishes. And that is especially true in our own land, because we believe that people ought to work out for themselves, and through their own study, the determination of their best interest rather than accept such so-called information as may be handed out to them by certain types of self-constituted leaders who decide what is best for them."
---
If you have a chance to travel to New York's Hudson River Valley, please visit the Franklin D. Roosevelt Presidential Library. It is well worth your time. The Roosevelts' legacy is a long-lasting one and their work is still relevant today.
Happy travels and happy learning!
---
We regularly travel to learn. If you do too you might enjoy one of these posts!
Travel: Valley Forge National Historic Park
Travel: Mt. St. Helens National Volcanic Monument 
Travel: One Day in Berlin with Kids
Many more travel posts including a bunch on Ireland on my Travel Page.