10 Must See Places in Ireland if You Like Castles and Nature
I routinely receive emails from people asking what they should do when visiting Ireland. It's an impossible question! Especially if you are only visiting for a week.
For a small country, Ireland has a lot to see, experience and savor. I should know – I lived there for two years and didn't see or do everything on my list. Oh, the regrets!
With St. Patrick's Day only a few days away, I thought it would be fitting to round up my favorite, must-see places in the Republic of Ireland especially if you like castles and nature. I'm leaving Northern Ireland off the list (this time!) only because I'm trying to help you prioritize.
I have visited all of these places (except one!) with children in tow, so these are places with broad appeal and historic or cultural significance. Also, this is by no means an exhaustive list of must see places. I can rattle off a dozen more castles, museums, churches, natural landmarks, etc. that you should see too!
Since I'm starting to sound way too apologetic about even picking a 'must-see' list, let's call it round one of places we've enjoyed that help tell Ireland's story.
I know you will enjoy these places too.
---
Why I Loved It: The cliffs rise 702 feet above the Atlantic Ocean, so you can see why they were called the "Cliffs of Insanity" in the Princess Bride movie.
Word of Advice: Be prepared to be blown away. Literally. The winds off the Atlantic Ocean can be brutal, so pack the right jacket and hat – even if you are visiting in August. But it is totally worth it!
Read more about our experience seeing the cliffs from the top and from the water here. Seeing them from below might have been my favorite part!
---
Why I Loved It: Confession! I don't drink beer, so I didn't think a brewery tour would be of interest to me and certainly not to our kids. WRONG!
There's an entire museum-quality experience to the self-guided Guinness Storehouse tour that not only discusses the process of making Guinness, but also the history of the company and the Guinness family.
If you're wondering why Guinness is on a list about 'nature,' well, they place a lot of emphasis on the quality of their water, barley and hops and where those ingredients are grown. Sounds nature-y to me!
Plus, the whole Storehouse is just so darn visually-appealing! It kept all of us (kids and adults alike) engaged and we visited more than once when guests came to town.
Definitely Try: The food in their cafe is really good! I sampled a whole bunch of salads and Handy Husband loved the Guinness Stew.
For more information on tickets, click here.
---
Why I Loved It: Ireland's most famous prison looks like an intimidating fortress and is an eye-opening experience to the reality of being incarcerated in the 18th and 19th centuries. They even locked up kids!
The prison also played a central role in the 1916 Easter Rising for Irish independence. I learned so much about Irish history and architecture from this tour.
Fun Fact: U2 filmed the music video for their 1983 song "A Celebration" here.
Read more about our visit and what our kids thought of Kilmainham Gaol here. Their initial reaction was priceless!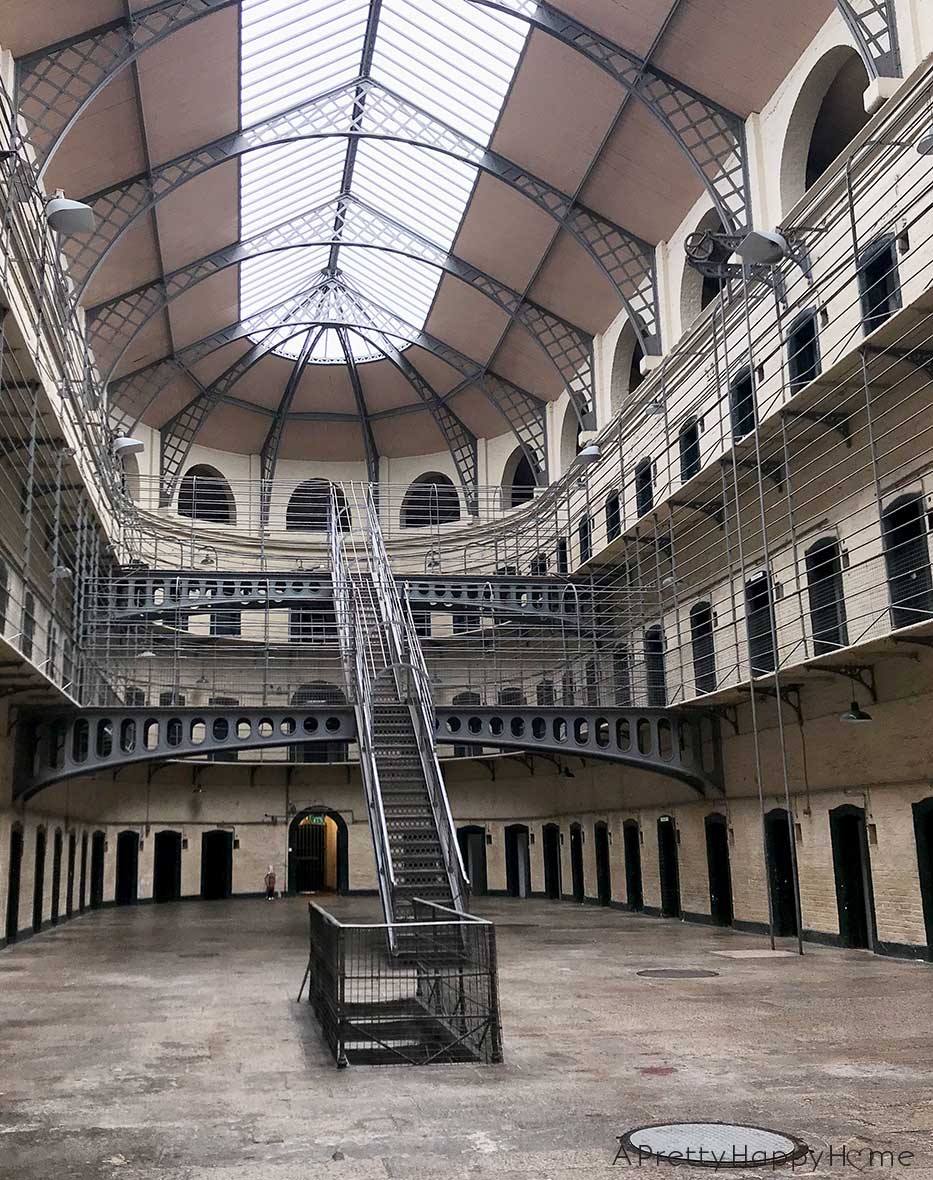 ---
Why I Loved It: Blarney Castle might not be as intact or as impressive as some of the castles in Ireland, but you get to kiss the Blarney Stone! Winston Churchill kissed the Blarney Stone and became one of the most famous orators in history, so if it worked for him…
Don't Miss: The grounds of Blarney Castle are some of the most intriguing that I've seen in Ireland. You'll definitely want to check out the connections to witches and fairies. Oh, and don't forget to carefully tour the poison garden.
For more tips on visiting Blarney Castle especially with kids, read about our experience here.
---
Why I Loved It: You cannot travel all the way to Ireland and not dip your toe into the Irish Sea. You can't! The sea can be so calm that it looks like a lake. The town of Bray is one of our favorite places to experience the sea, the beach, cute restaurants, and a boardwalk. It's the whole package.
Notice the hill in the below picture? You can hike to the top (Bray Head) and have the most sweeping views of Ireland. In fact, you can hike all the way to the next train station in Greystones if you want!
Half the Fun is Getting There: Take the DART all the way from Dublin to Bray. Make sure you sit on the left side of the train so that you have views of the Irish Sea. It's pretty the entire way, but especially between Dalkey and Bray. The views will make your heart sing!
For more information on hiking to Bray Head, click here.
---
Why I Loved It: Malahide Castle is neat, but the real treasures are outside in the gardens. A 400-year-old tree with branches that stoop to the ground? I'm all about that. A butterfly garden which is the perfect place to warm up on a blustery Irish day? I'll be there until closing time.
Don't Leave Without: Having lunch at the Avoca cafe onsite. The scones are TO DIE FOR. Definitely order one with clotted cream.
---
POWERSCOURT ESTATE AND GARDENS
Why I Loved It: The gardens at Powerscourt were voted #3 in the WORLD by National Geographic. If NatGeo says it, you'd better take it to heart! Even if you don't have a green thumb, you'll appreciate the immenseness and creativity of this place. You can see trees that were gifted to the garden by the likes of people such as Jackie Kennedy too.
Brush with Fame: Powerscourt has been the setting for many a film and movie. I was having lunch onsite at the Avoca Cafe and looked out the window to see people dressed like warriors walking by covered in dirt and blood. Turns out they were actors from the show Into the Badlands on AMC. It was so cool to see and, yes, they waved!
Learn more about Powerscourt Estate and Gardens here.
---
Why I Loved It: Dalkey Castle was our favorite guided museum tour in Ireland. This is partly due to the entertainment factor as the guides are actors dressed in period attire. However, the education factor was off-the-charts too. We learned more (kids and adults alike) about life in a 15th-century castle and how you would defend such a place on this hands-on tour than on any other tour in Ireland.
Added Bonus: Dalkey is the most charming town from the minute you step off the train and walk the 5 minutes to the castle. Leave time in your day to browse the cute shops and pop into any of the cafes for a delicious lunch.
Read more about what to expect during a Dalkey Castle tour here.
---
Why I Loved It: When you're done touring castles for the day, you might want a taste of Dublin's nightlife. Temple Bar is a famous pub with nightly live music, but also a touristy area of Dublin.
If you're not into the pub scene (I'm not!), go during the day just so you can walk the cobblestone streets and see the area. If you want to see the pub and cram yourself in with a bunch of other tourists for a pint, then go at night.
If you want the full experience, walk over the Ha'Penny Bridge (it crosses the River Liffey) and through Merchant's Arch to enter the Temple Bar area.
If you want a live view of what is happening right now at Temple Bar, click here for the Earthcam. It's quite entertaining to watch.
Tourist Tip: This is a place where you'll find street performers and you'll make friends from all over the world. Just keep your possessions close to you when you go.
Learn more about Temple Bar here.
---
BOOK OF KELLS AND LONG ROOM AT TRINITY COLLEGE DUBLIN LIBRARY
Why I Loved It: I had to see a book that had survived 1,200 years! The Book of Kells is an illustrated version of the four gospels from the 9th century and has been described as the most famous medieval manuscript in the world.
After you view the Book of Kells, you will walk through the Long Room at Trinity College Dublin Library. Inside the Long Room is a rare copy of the 1916 Proclamation of the Irish Republic and the Brian Boru harp from the 15th century.
This is the one place on this list that we did not take our children. It wasn't that they couldn't have handled it, but they wouldn't have appreciated it as much as we did. Plus, we had a babysitter!
Save Time: The line to get into the Book of Kells can be an hour long. It's crazy! And unnecessary. Do yourself a favor and buy tickets online. Then just show up at your appointed time. I wouldn't have liked the Book of Kells so much if I had waited for an hour in the rain to get tickets.
Read more about what to expect when visiting the Book of Kells here.
---
With the exception of the Book of Kells, Kilmainham Gaol and Blarney Castle, we visited each of these destinations on my "10 Must See Places in Ireland' list more than once.
I hope you love them as much as we did!
Happy Travels and Happy St. Patrick's Day!
P.S. If you want to know what to expect IN Dublin on St. Patrick's Day read this post. 
---
If you want to know more about our experience of moving to and living in Ireland, check out these posts:
Living in Ireland: Practical Advice for Americans
Living in Ireland: When to Move Back to the U.S. 
Living in Ireland: Surviving a Snowstorm
Living in Ireland: Life Without a Car
Living in Ireland: Inside My Kitchen
Living in Ireland: Christmas in Retail 2017
Living in Ireland: Storm Ophelia
Living in Ireland: That Time a Tree Came Down
Living in Ireland: Pediatric Emergency Medicine
Living in Ireland: Back After A Month in the United States
Living in Ireland: As Seen On My Commute
Living in Ireland: A Trip to the Hardware Store
Living in Ireland: Spring Flowers In Our Yard
Living in Ireland: Grocery Shopping
Living in Ireland: What to See my Hot Press?
Living in Ireland: Merry Christmas 2016
Living in Ireland: Christmas in Retail
Living in Ireland: Exploring Our New Country
Moving to Ireland: Grocery Item Look Alikes
Moving to Ireland: Primary School 101
Moving to Ireland: First Week of School
Moving to Ireland: A Day Out and About
Moving to Ireland: The Great Purge
Moving to Ireland: Human Kindness is Overflowing 
Moving to Ireland: House Viewing #1
Moving to Ireland:  House Viewing #2
Moving to Ireland: House Viewing #3
Moving to Ireland: Temp House First Floor
Moving to Ireland: Temp House Second Floor
Thinking about visiting Ireland? Read on!
Visiting Ireland: Book of Kells
Visiting Ireland: Kilmainham Gaol Museum
Visiting Ireland: St. Patrick's Day
The Cliffs of Moher and the Aran Islands with Kids
Our Favorite Irish Castle Tour with Kids
Kissing the Blarney Stone and Blarney Castle