Hey, hey, hey!
We've been having half days!
That's right. It's school conference week and our schedules are all whack-a-doodle this week.
Thankfully, I've had some homemade ginger ale to keep me hydrated while entertaining the kiddos this week. Still obsessed! With the ginger ale…and, okay, my kids too. I also shared a bookrack makeover I did in my son's room. I've been working on his room a lot lately and have some more projects to share from that space.
Here's the Happy List!
---
MATH FOR THE WIN
I had to share this with you because it was a neat, inspirational moment that I shared with my kids this week.
You probably heard that Karen Uhlenbeck, professor emerita of mathematics at The University of Texas at Austin, is the first woman to receive the Abel Prize. It is mathematics' top international award.
Like many parents, I routinely pull my hair out while my children do their math homework. What encouraged me beyond the fact that a woman won this prize is what was mentioned on the University of Texas website:
"She transformed the fabric of the department with her broad view of mathematics and beyond," said Thomas Chen, chair of the Department of Mathematics at UT Austin. "Her insatiable curiosity fuels both her deep vision in mathematics and wisdom in the human sphere, which is evident in her legendary generosity and attention to mentoring young mathematicians."
Who knows? Her greatest accomplishment might just be in the legacy of all the students she mentored.
(image: of Karen Uhlenbeck via University of Texas)
---
SPRING ROLL BOWL
This Spring Roll Bowl from Pinch of Yum looks really tasty.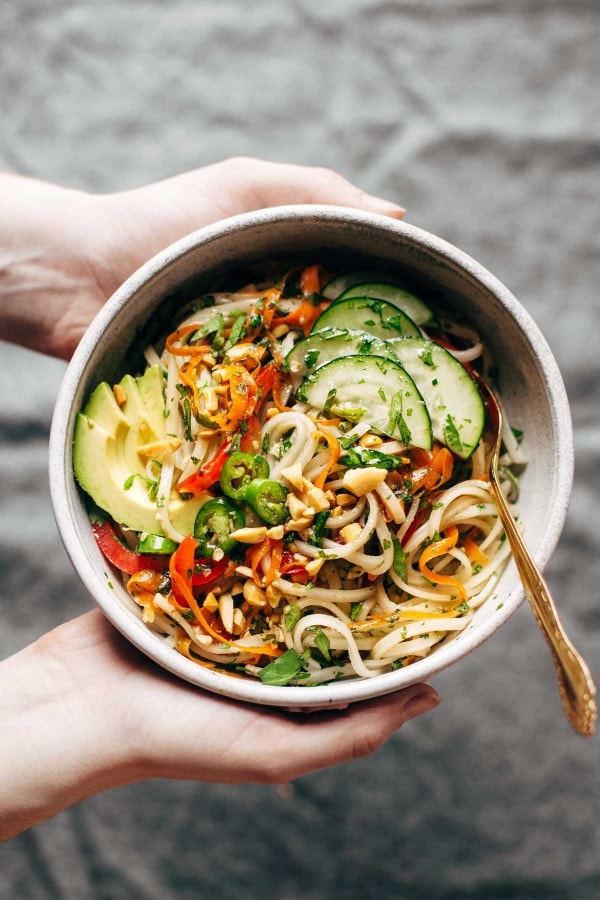 ---
LEAST VISITED NATIONAL PARKS
Um…I don't want to make this awkward, but this is my kind of list! Unless the list ruins it and now people are flocking to these areas!
A large number of the least visited national parks in the USA are in Alaska and that does make sense from a location perspective.
The park I would love to check out is Virgin Islands National Park because it is in the Virgin Islands! Doesn't this look heavenly?
(image: Trunk Cay by William Archer via NPS/Virgin Islands National Park)
For the full list visit Travel and Leisure.
---
CLEVER BASEMENT ACCESS
This idea probably applies to very few people, but if you need floorspace more than you need access to your basement, this is a clever idea.
---
FOREGO A BATH TOWEL?
Does anyone NOT use bath towels? Should I give them up to help my skin stay moisturized?
That's what the author of this article in Domino does. She swears by it! Her argument does make sense…I'd just need a warmer bathroom!
---
PINEAPPLE 'HACK'
For all you pineapple lovers out there, do you eat your pineapple this way?
---
LIVING ROOM
I love a living room with a lot of light and a little bit of architectural quirk.
I had to look at the other photos of this room on Houzz to see that those doors on the right open all the way out for that indoor-outdoor living that I crave. However, I've never lived somewhere where that is possible. Always foiled by bugs, heat, or pollen.
---
SKI (YES, SKI!) ON TOP OF A POWER PLANT
There's a new power plant in Copenhagen that burns garbage to produce electricity. Nothing noxious is released from the plant's chimneys.
If that wasn't impressive enough, the architect also built a ski slope on the top of the power plant! It's one of the world's longest artificial ski slopes.
They even have hiking trails and a restaurant on top of this power plant.
The plant can power 60,000 homes and heat 160,000 homes by burning garbage that isn't recycled. It's called Copenhill. With all of the news about China not buying our recyclables, I have to wonder if these type of power plants will be built in the U.S.?
---
FEATHER DOORMAT
Lest you think I have it all together, I don't.
I have had a Halloween doormat out since, well, before Halloween.
Never fear. Spring is here and I finally found a doormat that called me with its siren song. This feather one from Target. It was $12.99 and the relief I now feel is priceless.
---
WORDS TO PONDER
"Finish each day and be done with it. You have done what you could. Some blunders and absurdities no doubt crept in; forget them as soon as you can. Tomorrow is a new day. You shall begin it serenely and with too high a spirit to be encumbered with your old nonsense." – Ralph Waldo Emerson
---
Thanks for reading the Happy List! I hope you have a fantastic weekend!
Until we meet again, you can definitely find me on Instagram and Pinterest.  This photo of Bock Casemates in Luxembourg was my favorite photo I posted on Instagram this week.
Sometimes I make an appearance on Facebook too. Thanks for all your likes and pins. You guys are the best.
*affiliate links in this post*