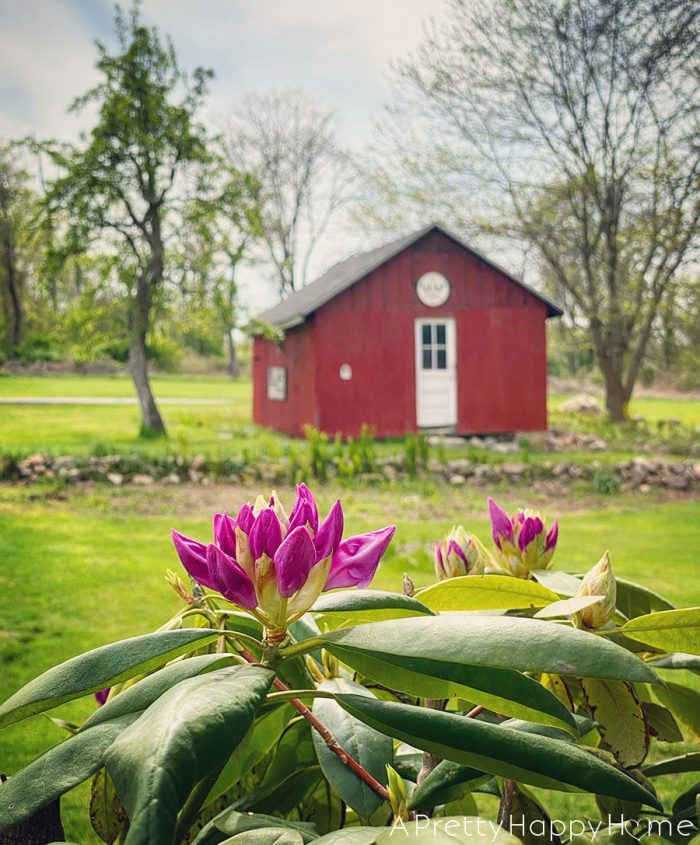 Hello, hello!
In case you missed it, this was birthday week in our house. My kids were born three years and one day apart. Emphasis on the ONE DAY part. Back-to-back birthdays means a lot of cake.
On the blog this week I shared the 13th birthday tradition that I had the extreme privilege of carrying on with my daughter. I won't divulge the details of our conversation, but I'm pretty sure, in good mom fashion, I embarrassed her with my speech. Ha! Any embarrassment aside, it was a beautiful moment and I will treasure it forever.
I also shared the vintage game gallery wall that I worked up for my son's room. I big fat love that wall.
If you'd like to follow along with our weekend antics, feel free to connect with me on Facebook, Instagram and Pinterest. Last weekend we found a 3-foot long snake and dug up our front yard. Those two things were not related.
You never know what will be happening around here. Frankly, we don't know either.
Now, here's the Happy List!
---
GREENHOUSE DINING ON THE WATER
An Amsterdam restaurant called Mediamatic has installed greenhouses along the water to keep guests safe while dining.
I think I'd like this concept even if there wasn't a pandemic. I love sitting outside to eat, but it can be a real bummer on a windy day or when the temperature drops. This seems like it could be a good compromise.
(image: My Modern Met)
---
QUARANTINE HAIR CUTS
In case you need some help with your quarantine hair cut here is this blast from the past from one of my favorite Instagram accounts.
---
FROG BREAD
The internet is so weird and entertaining right now.
Frog Bread is apparently a thing during the pandemic. I have no idea why. Has anyone tried making frog bread?
Go see all the pictures at Bored Panda, but fair warning, you might be tempted to bake a frog-shaped loaf!
(image: via Bored Panda)
---
HOGWARTS DIGITAL ESCAPE ROOM
If you want to do a fun, free brainteaser, try the Hogwarts Digital Escape Room created by Peters Township Public Library in McMurray, Pennsylvania. I tried and was terrible at this one. Ha!
Here is a list of other digital escape rooms – some free, some not.
---
EGG DROP SOUP
I made this Egg Drop Soup recipe from Gimme Some Oven (great website name!) last week and we all loved it.
I can barely remember eating in restaurants at this point, but it sure tasted better than restaurant Egg Drop Soup. I think it was the ginger powder or maybe the sesame oil.
Regardless, it is SO easy and quick to make.
(image: Gimme Some Oven)
---
POTTING SHED IDEAS
Can you say 'jaw drop' on potting shed goals? Those arched windows alone.
But that's not the idea that caught my eye. It was the pipe rail suspended from the ceiling. That's a good idea for hanging plants and baskets!
More photos of this home – you have to see the outside of this room – are on
Houzz
.
---
HOP SCOTCH
This video made me smile. I watched it more than once.
It is hard to resist a hop scotch game.
---
A BEAUTIFUL POEM
birth-day by Lucille Clifton
today we are possible.
the morning, green and laundry-sweet,
opens itself and we enter
blind and mewling.
everything waits for us:
the snow kingdom
sparkling and silent
in its glacial cap,
the cane fields
shining and sweet
in the sun-drenched south.
as the day arrives
with all its clumsy blessings
what we will become
waits in us like an ache.
---
Thanks for reading the Happy List!
Go forth and have a fantastic weekend.
*affiliate links in this blog post*