5 Practical Uses for Soda Crates
I'm a big fan of using what you have on hand to decorate and organize your home. I happen to own some vintage soda crates, so today I'm sharing 5 practical uses for soda crates.
None of these practical uses involve soda. Or pop. Or soda pop. Or Coke. Or whatever that bubbly goodness is called where you live.
Such a shame.
---
Practical Uses for Soda Crates #1: Sunscreen Caddy 
With a pool in our backyard, we need a sunscreen caddy to control the various bottles of sunscreen and bug spray that summer requires.
I keep the sunscreen right by the pool towels, so everything we need for an afternoon in the sun is easy for everyone to find.
I'm pretty happy at this point in our kids' lives they are much more likely to forget to grab a towel than they are to apply sunscreen.
When I was a kid we didn't have a pool. We had a creek and boy did we get in trouble if we took a company towel (never mind that we never had company stay overnight) to the creek instead of the threadbare towels specifically designated for creek usage.
Also, our parents never went to the creek with us. We swam without adult supervision. To make matters worse, we never applied sunscreen. In fact, I don't recall my mom ever buying sunscreen. If that doesn't explain a lot about my generation, I don't know what does.
---
Practical Uses for Soda Crates #2: Rag and Plastic Bag Storage
I keep all of my cleaning rags in a soda crate in the pull out drawer below my washing machine.
Be prepared to behold my washing machine drawer in all of its glamour.
You were blown away, I can tell.
Also, a couple of years ago I decided to ditch the plastic bag that holds my plastic bags. Don't even try to tell me you don't have a plastic bag for your plastic bags!
Instead, I took a tip from my mother-in-law and I roll the bags up nicely and put them in the soda crate too.
I have so much to thank her for…plastic bag storage tips and, oh yeah, raising a great son.
---
Practical Uses for Soda Crates #3: Clothing Divider 
I have used soda crates for years as a clothing cubby or divider for my son's clothes.
It keeps drawers or shelves much better organized because all the child has to do is shove one article of clothing into each cubby.
I won't even try to pretend my then 8-year-old rolled up his shorts nicely for this photo.
This storage solution works best for little kid clothes or for socks and undies. Please be mindful that the wood crate will make a drawer heavier.
---
Practical Uses for Soda Crates #4: Water Bottle Storage
How many water bottles does one family need?
Asking for a friend.
I'm only photographing the ones that aren't in use at the present time. I really need to check under the seats of my car to find the rest.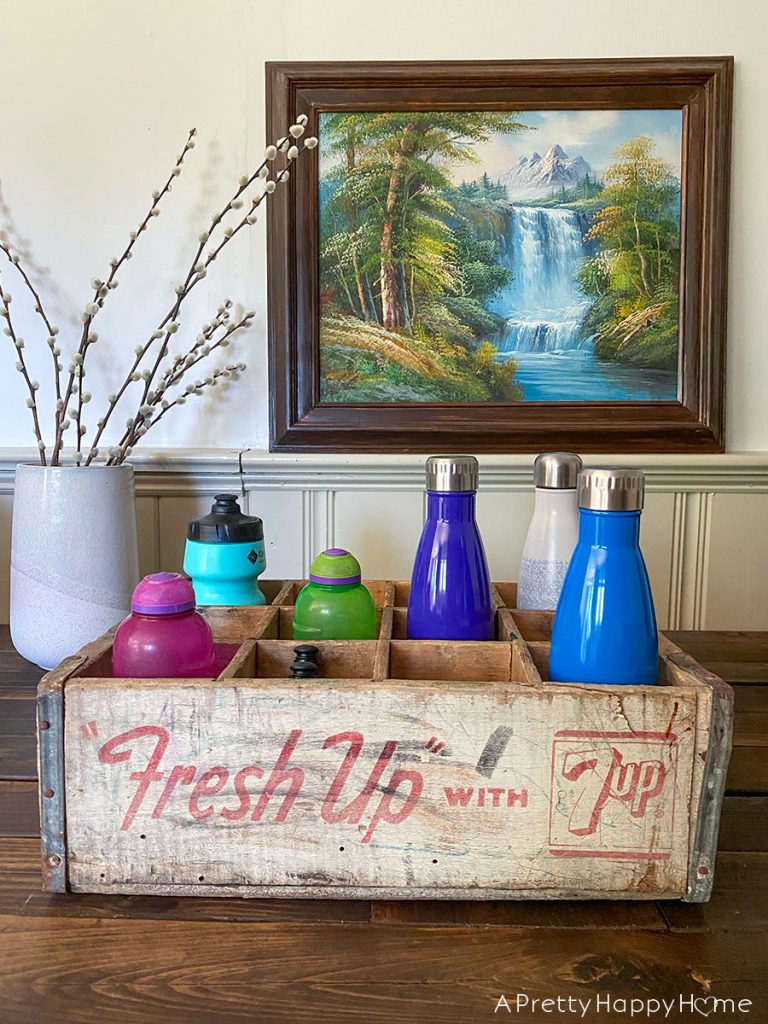 Also, do you know how many times I've reached into a cupboard for a water bottle and knocked over the whole lot of them?
Too many.
You'd think I'd be good at bowling given my propensity for knocking down all the pins water bottles in one go, but NOPE!
The soda crate keeps water bottles corralled and upright in one place.
---
Practical Uses for Soda Crates #5: Art Supply Caddy
I wrote this entire post thinking I only had four ideas for how to use a soda crate.
WRONG.
It seems I banished from my mind that season of life when one of my children had the propensity to color on everything except paper.
I used to use one of my soda crates as an art caddy for pens, pencils, and crayons. If you use this idea, I recommend using a jar to corral the art supplies in each cubby.
---
Well, there you have it.
Those are my 5 practical uses for soda crates thus far.
I can't seem to quit these things though, so give me another couple of years and I might come up with some other ideas.
Happy organizing!
---
P.S. Prices on soda crates very, but on Etsy they sell for $35 and up depending on brand and condition.
---
Thanks for hanging out with me today! It's been fun! Before you go, here are some other posts you might enjoy.