Gold and Copper Christmas Tree
Every year I like to decorate my Christmas tree a little differently and my 2020 tree ended up being a Gold and Copper Christmas Tree.
That wasn't my intent when I lugged the Christmas boxes down from the attic, but that's where the creative journey took me.
The only goal I had for this tree, besides making it something I want to look at for a month, was to not buy anything new for this tree.
Reusing, repurposing, and making over whatever I had on hand was fair game though.
Handy Husband kept saying, "Why don't you go buy blah, blah, blah."
To which I replied, "That would ruin my fun! Maybe next year I'll buy blah, blah, blah."
If you haven't noticed, I'm the thrifty one in this relationship. We balance each other out well.
To fill in the tree, I used the faux greenery and flowers I had on hand. I bought this stuff before we had kids and I don't use it every Christmas, but for quite a few of them I have. My thriftiness runs deep. 
My worst best idea was to cut decorative grass from outside to further fill in the tree when the faux greenery didn't quite do the trick.
It was the best idea because the pampas-type grass looks amazing in the tree. It was the worst idea because do you know what a mess that stuff makes when you shove it into a Christmas tree?
It's akin to a glitter bomb.
*shudders at the mere mention of the word glitter*
Every time I shoved a stalk into the tree I muttered, "I have regrets. So many regrets."
But, dang, that decorative grass looked pretty in the tree.
I hope it's still worth it when I have to take it all out!
*shudders again*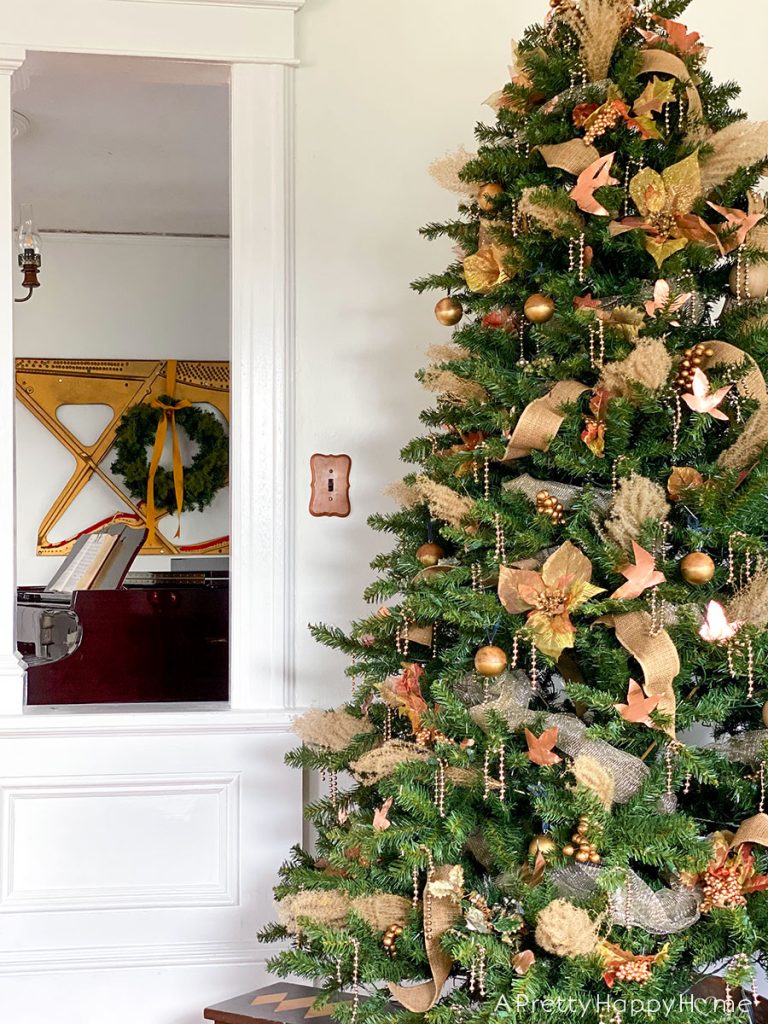 The Gold and Copper Christmas Tree received some more filler in terms of ribbon. I had some gold and burlap ribbon that was left here in the house when we moved in. Seemed appropriate to finally let that ribbon have its moment to shine on my Gold and Copper Christmas Tree.
I also spray painted some silver mesh fabric I had gold…as one does.
Watch. Next year I'll probably be spray painting that mesh fabric back to silver. Ha!
It was at this point in the tree decorating process that my tree smelled like spray paint that I had the brilliant idea to hang some beaded gold garland. All the fa-la-la-las in the world did not give me enough patience to painstakingly drape that garland in such a way that it looked effortless. Perhaps because it was disturbing my glitter bomb pampas grass? 
Instead, I did the rational thing and cut it all up into small pieces in order to turn the garland into ornaments of sorts.
Between you and me, cutting up that garland brought me a tremendous amount of Christmas joy. I'm a rebel that way. 
When I looped the various beaded strands around the branches, I thought it looked like my tree was dripping with gold. I'm not so sure that description captures the spirit of the season, but let's not dwell on that.
It was at this point in the decorating process that I realized I had zero proper ornaments on my Gold and Copper Christmas Tree. Everything had to come to a screeching halt while I made over some wood ball ornaments I had on hand.
Why, yes. This became a multi-day decorating project. It's fine! I was having fun following my creative muse and no humans were injured tripping over the Christmas stuff lying everywhere.  
After the wood balls were added, the tree still needed one more thing. 
What was that one thing? I'm so glad you asked.
It needed my new favorite thing – copper deck flashing – incorporated in some fashion. I still had a bit leftover from our house project and my Copper Christmas Tree project and couldn't resist turning that copper flashing into ornaments for the tree.
I ended up cutting a variety of bird shapes out of the flashing. They are so light that I just perched the copper birds here and there on the tree. No need to use a hook since I don't have little kids who will disturb the tree decor.
Finally, I called this Gold and Copper Christmas Tree done.
Actually, Handy Husband lugged all the Christmas boxes back up to the attic, so I guess that's what really made me call this tree done. 
I hope you love it as much as I do.
Happy Christmas! 
---
I truly wish you all the best this holiday season. No matter how or what you celebrate, it is fun to share this time of year with you. If you'd like to see Christmas trees from past years, here you go. 
*affiliate links in this blog post*