In Praise of Pretty Advent Calendars
The holidays are rapidly approaching! If you celebrate Christmas, do you use an advent calendar?
We do not have a pretty advent calendar that we reuse year after year. I usually buy the kids a chocolate advent calendar. At no other time during the year do they get to start their day with a piece of chocolate, so those advent calendars are a big hit.
I do like the idea of having a pretty advent calendar that doubles as Christmas decor though. Here are some pretty advent calendars that made me stop in my tracks. I think we could DIY a couple of them!
---
Tabletop Advent Calendar | Grandin Road
This tabletop advent calendar from Grandin Road is 2-ft tall!
(image: Grandin Road)
---
Hansel Village Advent Calendar |  Anthropologie
The Hansel Village Advent Calendar from Anthropologie lights up with batteries and plays Deck the Halls. I'm not sure it gets better than that.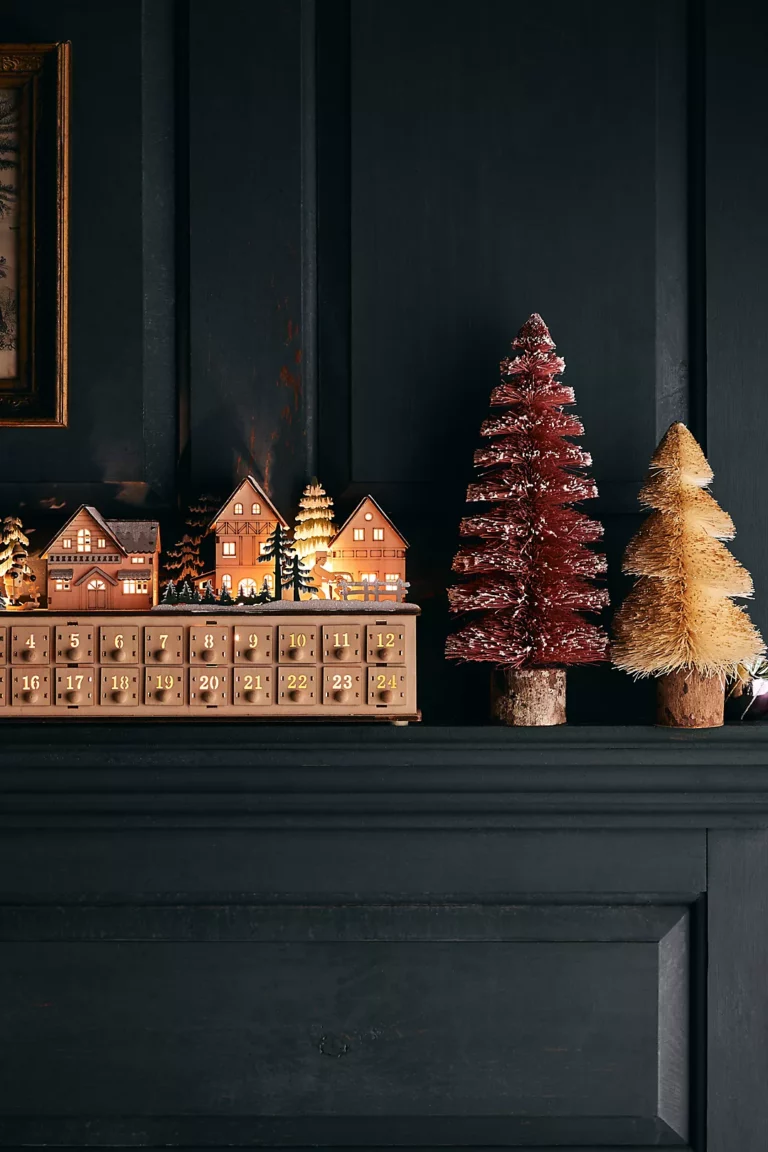 (image: Anthropologie)
I was really taken with the dark mantel and the way Anthropologie styled this advent calendar.
---
Lit Glitter House Advent Calendar | Pottery Barn
Pottery Barn can usually do no wrong in my book, but the glitter on this pretty advent calendar does give me pause.
Some of you are less squeamish about glitter than I am, so this might be perfect for your house.
(image: Pottery Barn)
---
North Pole Village LED Advent Calendar | JC Penney
Fun fact! I worked at JC Penney when I was in high school. It was so boring, but a good life lesson to choose your career wisely.
This North Pole Village Advent Calendar is super cute and almost 32 inches long.
(image: JC Penney)
---
Customized Advent Calendar | Love and Luxe Handmade, Etsy
I like this advent calendar because it is customizable for your family and it's more affordable than most of the advent calendars on this list. Go figure.
(image: Love and Luxe Handmade, Etsy)
---
Nativity Advent Calendar | Country Squared, Etsy
Here's a fun combination of a nativity set and an advent calendar. The angel moves to mark each day of the month.
(image: Country Squared via Etsy)
---
Wooden Advent Calendar | Buzy Puzzle, Etsy
I love the simplicity of this wood advent calendar.
It also has options. Light wood or dark wood. It can have hooks or no hooks. You can also purchase nativity figurines to position around the calendar.
(image: Buzy Puzzle via Etsy)
---
Christmas Tree Advent Calendar | Rifle Paper Co.
I always love the designs from Rifle Paper Co. and this Christmas tree advent calendar is no exception.
It would look pretty sitting on a table, mantel, desk, or even your kitchen counter.
(image: Rifle Paper Co.)
---
Magnetic Dove Advent Calendar | Target
Did I already say I had a favorite advent calendar on this list? This one might be it.
The dove magnet on this advent calendar made my heart swoon. I might have to recreate something like this in my house.
(image: Target)
I'm not kidding about the dove. Check out my wood dove here.
---
Did you know the advent calendar was first used by German Lutherans in the 19th or 20th century before spreading to other Christian denominations? (source) I learned that this week!
I know for sure I'll be purchasing chocolate advent calendars for the kids. I do that as soon as I see them in the grocery store because I learned the hard way one year that they sell out fast!
I still haven't decided if I want a pretty advent calendar that I can reuse year after year mainly because I'm not sentimental about our Christmas decor unless it's something the kids or Handy Husband has made. If I pull the trigger on one, it will probably be one without treat boxes. Or maybe we will make our own because the ideas in this blog post have inspired me!
Happy (early) Christmas!
---
Do you have or use an advent calendar? Which of these is your favorite? I'd love to know. You can always comment on this blog post. I think Handy Husband fixed the comments so that it will go through more easily now. Test it and let me know!
You can also email me here or reach out via Instagram or Facebook.
---
Thanks for being here today! It's always fun brainstorming new ideas and sharing what I've found on the internet with you. Here are some other blog posts in this series that you might enjoy. 
In Praise of Ceramic Colanders
In Praise of Historic Homes in Salem, MA
*affiliate links in this blog post*