Welcome to this week's Happy List!
I thought my kids would be starting their holiday break today, but NOPE! They have a few more days to attend next week too. *sigh* I really need to start looking at the school calendar more closely. Ha! 
This week I shared pictures of our newly organized under the stairs closet in the music room. Much to Handy Husband's dismay, no closet is safe from my critical eye now. 
I also shared our festive holiday tradition of having Christmas trees in the kids' bedrooms. As a side note, Christmas lights are the best night lights! 
Here's the Happy List!
---
LEAF ART
My jaw is on the floor.
Artist Kanat Nurtazin cuts designs out of leaves. Yes, leaves. Then holds the cut leaf against a natural backdrop like the sky to make his art come to life. Read more about his process and see more photos in this My Modern Met article.
Follow him on Instagram for a regular dose of jaw dropping art.
(image: Kanat Nurtazin via My Modern Met)
---
BLUE CHRISTMAS
I love all of the traditional elements in this English bedroom paired with the electric guitar.
More pictures of this home can be found at The Nordroom.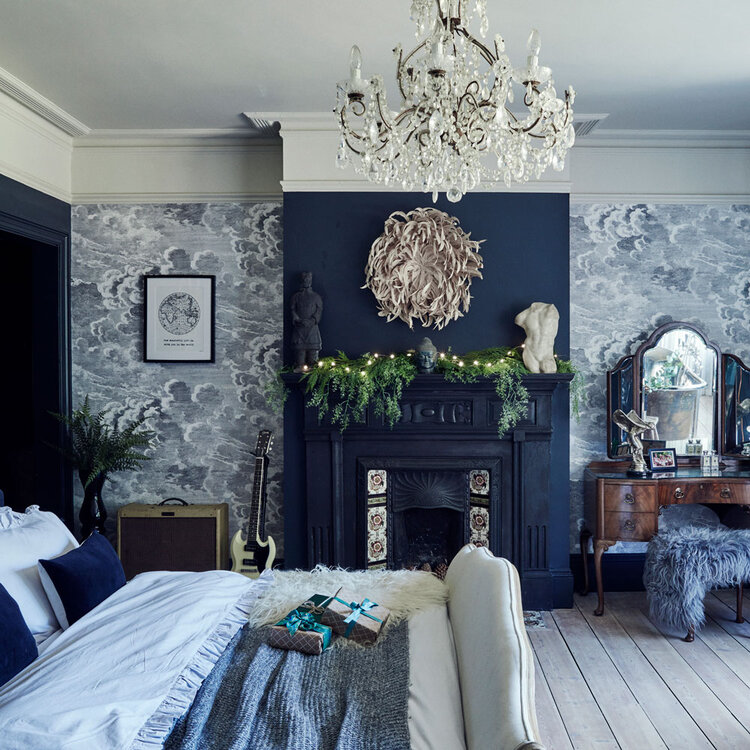 (image: The Nordroom)
---
KID ENDORSED JACKET
One of my children is not a fan of jackets, long pants, socks, or shirts. Also, buttons. Anything scratchy is also a no-go. Shoes are also hit or miss.
This child is okay with shorts.
So imagine my surprise when this child said the Amazon Basics light-weight winter jacket was pretty great because the "pockets were deep and kind of angled down so things didn't fall out."
Clearly, this child did not care about warmth or staying dry, but if pocket design makes this kid wear the jacket, I'll call that a win.
Choosing your battles is an important parenting strategy. I chose a long time ago not to have the daily fight about wearing a jacket. So, my kids don't have to wear a jacket to school, but they have to take a jacket in their backpacks so their teachers don't think I'm a bad mom. Hahahahahahaha!
But seriously. 
---
CYCLING THROUGH THE TREES
There is a raised, circular bike path in Belgium that lets cyclists ride amongst the treetops instead of on the ground. How cool is that? 
They did have to cut a few trees down to make this path and you can see what they did with them in this video and it is SUCH a clever idea. If the video doesn't load, here is the link. If you'd rather read about it, here is the link to their tourism site. 
---
BE CAREFUL
I hope you don't end up like this guy over your Christmas break!
(image: original source unknown via Sad and Useless)
For more hospital Christmas creativity, visit read this article.
---
CANES AND UMBRELLAS
First of all, I am a sucker for old man hats. I hope Handy Husband adopts that style someday. 
Second, I like the clever cane and umbrella storage in the back of this bench by Humphrey Munson. If you need storage and style inspiration, their portfolio is chock-full of it and it's worth your while to check it out. 
(image: Humphrey Munson)
---
FESTIVE
I Spy DIY 's barnhouse is delightfully festive this year! You should see the inside! 
(image: I Spy DIY)
---
SOMETHING TO PONDER
"What do you love doing so much that the words failure and success essentially become irrelevant?"
– Elizabeth Gilbert from the book Big Magic
---
ONE FOR THE KID IN US
Q. How much did Santa pay for his sleigh?
A. Nothing—it was on the house!
---
That's it for today's Happy List! 
I hope your weekend is full of holiday cheer. If you want to see what we are up to this weekend, please hop on over to Facebook or Instagram stories. 
I will see you back here on Monday for a holiday-themed post!
Take care and be good to yourself and others. 
*affiliate links in this blog post*