Our 2021 House Project Plans
Our 2021 House Project Plans are a bit laughable.
Don't get me wrong, they are solid plans coupled with good intentions to improve this old house we live in. 
But let's all remember who is in charge here. 
The house.
The house is in charge.
We will do our best to tackle our 2021 House Project Plans, but we've also learned to roll with the punches this house and life, in general, dishes out. 
In no particular order, here are our 2021 House Project Plans.
---
#1: Hope That Nothing Catastrophic Happens
Hope doesn't cost us a thing. 
We'll also add praying, begging, and crossing fingers to the list.
---
#2: Replace Sunporch Floor
We like to play a fun game in our sunporch. Instead of "the floor is lava," we play "the floor is rotten!"
Fun game, right?  

*sigh* 
We knew there were soft spots in the sunporch floor when we bought the Colonial Farmhouse, but fixing the floor wasn't a priority until Handy Husband put a foot through a board one day.
Don't worry. I covered the hole up with a heavy music book and wooden stool. Classy as always.
The floor is tongue and groove wood planks, so it's a little tricky to replace one rotten board smack in the middle of the floor.
The floor is also sloped, so that means the exterior door doesn't open all the way because it can't clear the floor slope. It's not like we use that exterior door, but we might if we didn't have to suck in our gut to shimmy our way through it. 
---
#3: Start Planning for Window Replacements
Old houses aren't necessarily known for being energy efficient.
We lose a lot of heat in the winter and let in a lot of heat in the summer with our old windows.
We do have storm windows on the outside of our old, single pane windows. However, they fog up and we can't see out of them half the time. That right there is a good reason to have them replaced. 
I don't know if we'll be able to afford to do all the windows at one time, but we'd like to get it priced out so we can put a window replacement plan in place.
If we were just talking one window, we could replace it ourselves. But since we have a lot of windows to replace, we'd like to hire that job out. 
---
#4: Back Porch Roof
We need to figure out once and for all what is going on with the roof over our back porch.
If the wind is blowing when it rains and it is a Thursday and there's a half moon then the back porch roof leaks. If it is raining any other time, it doesn't seem to leak. 
We suspect a flashing problem.
Even though this roof is less than ten years old, we don't think it was installed well or with the correct material for the roof pitch. It definitely shouldn't be leaking.
We probably just need a new roof. 
However, we keep flip flopping on whether or not our kitchen remodel plans involve tearing off the back of the house where this back porch is located and starting from scratch. It would be a shame to put a new roof on the house only to turn around and have to rip it off in a few years. 
If we can figure out a simple solution (even if it is inelegant), if would buy us more time and money to figure out our kitchen plans. 
---
#5: Upstairs Bathroom Mini Update
There's a whole bathroom upstairs that I haven't showed you because, dude, I'm at a loss for what to do with it.
It has a blue toilet, blue sinks, and blue shower. 
And those things aren't even the problem!
The cosmetic stuff would be easy to deal with.
It's the behind-the-walls stuff that is the big dollar, pain-in-the-patootie problem.
The biggest one being that we don't think they vented the plumbing correctly.
However, the least I could do this year is remove the wallpaper that's on the walls. It is the last room with wallpaper left in this house. 
I'd also like to rip up the linoleum and see what's hiding under there. I hope it's a bag full of cash. 
---
#6: New Window Blinds Upstairs
We need to get rid of the broken mini-blinds upstairs. I'd like to replace them with woven blinds that have a privacy liner. Maybe add some curtains?
Whatever we do, I'm sure our neighbors will appreciate it! 
---
#7: Pool Area Updates 
I'm already over winter and looking forward to those hot summer days when I can complain about how hot it is in this house with terrible windows. 
We might not have double-paned windows, but we do have a pool to cool off in. It's kind of funny if you think about it. 
The green chainlink fence around our pool really bothers me.
I don't want to replace it because I'm saving my money for things like windows, but I'd like to give it an update. Can you paint chainlink? I guess we'll find out.
I'd also like to address the problems with our pool pump house.
I've never shown a picture of it, but the backside of our pool pump house has zero siding. It's like whoever built it ran out of materials, left the house wrap exposed, and then planted a big, fat pampas grass there to hide the fact that they never finished the siding. It's kind of funny if you…no. No, it isn't funny. 
The siding that was installed could use a little TLC too. It's pretty tired looking in person.
---
#8: Replace Beam in Basement 
There's a beam in our basement that has been damaged by bugs and needs to be replaced.
Don't worry. This is old damage. We don't have a current bug problem, unless you count those of the lady and stink variety. Fortunately, ladybugs and stinkbugs don't eat wood. They just eat away at my patience. 
I say "don't worry" a lot when sharing stories about this old house, don't I? Ha! 
Our washing machine sits on top of this beam and we suspect it is causing our washing machine to have movement problems. Either that or all of the repairs we've done to that washing machine have not worked and we need a new washing machine that won't shake the house down. It's a conundrum.
Don't worry. We'll figure it out eventually. 
---
#9: Start Planning Whole House Electrical Update
While our house was rewired in the 1970s (thank goodness), it has so many quirky electrical issues.
The outlets in our bathrooms only work if the light switch is turned on.
A huge section of the house is on one breaker.
In certain parts of the house I have to fake lighting with battery operated puck lights.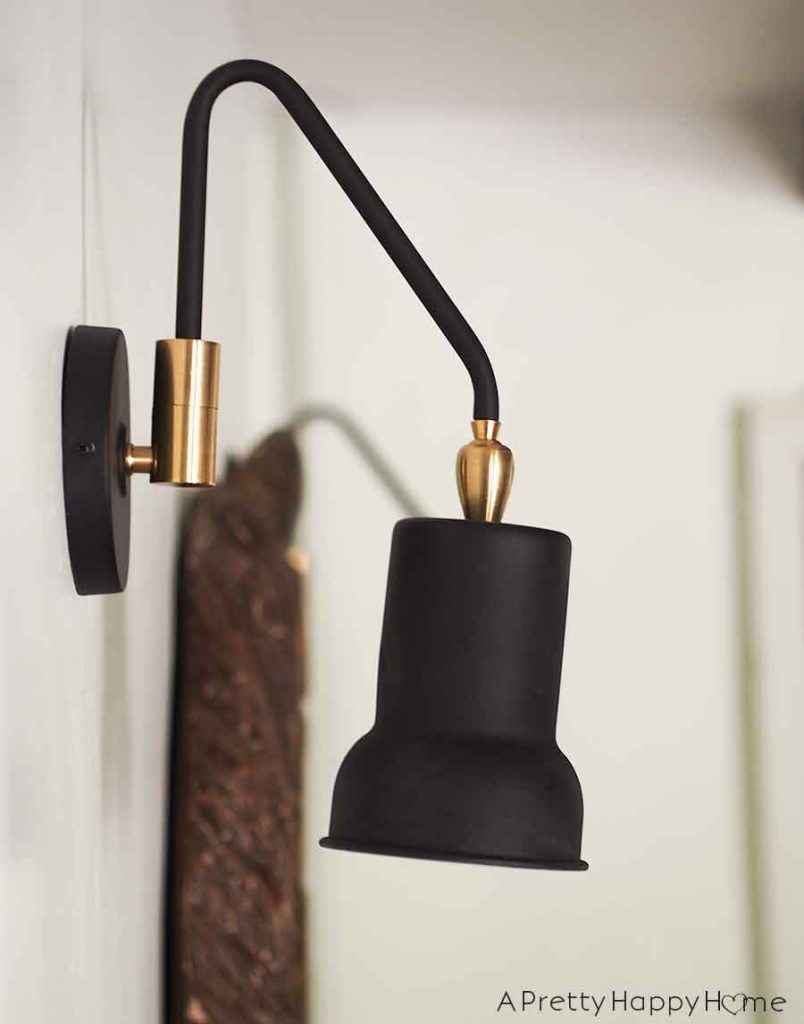 We have to be careful about running the air conditioners and the vacuum at the same time.
We don't have light switches in our bedrooms.
Don't even get me started on the outlet situation or lack thereof.
Our house probably needs to be completely rewired and that's going to be a lot of money.  Like all things that are going to cost oodles of money we need to figure out a plan so that we can start saving for it. 
---
#10: Paint Carriage House Exterior
Oh, yeah! Painting the Carriage House is definitely on the list to tackle this summer.
What color? I don't know. Probably white. I'd like all of our buildings to coordinate so we have that 'estate feel' instead of that 'hodgepodge feel' happening around here. 
---
That's not the entirety of our 2021 House Project Plans, but I thought ten was nice round number to end the list. 
Plus, I said 'don't worry' at least three times in this post and I didn't want you to think this was a downer post. 
Quite the contrary! 
This is a 'life is an adventure when you're living in an old money pit' post. None of the things I mentioned on this list are surprises to us. That's right. We KNEW what we were getting into when we bought this fixer upper and we still went for it. Happily. 
Just think of all the stories I'll be able to tell you this year! 
I have no idea how much progress we'll make on our 2021 House Project List, but this is a marathon not a sprint. We're pretty fortunate to even be able to make these sort of plans. I'll be happy if we knock a handful of them off the list. 
It is our privilege to be able to live in and work on this Colonial Farmhouse. We are its caretakers for awhile and we'd like to do a bang up job of it. In return, this old house has already given us so much, including a safe haven during a pandemic. Seems like a fair trade if you really think about it. 
---
Thanks for following along on our home improvement journey. Here are some other posts you might enjoy.
Colonial Farmhouse One Year Anniversary
Colonial Farmhouse Kitchen Mini Update
Colonial Farmhouse Outdoor Update
*affiliate links in this blog post*