Colonial Farmhouse Upstairs Bathroom Before
Our Colonial Farmhouse upstairs bathroom has remain untouched since the day we moved in.
In many ways, this upstairs bathroom has likely remained untouched for at least half a century. 
It is a bathroom time capsule!
We all know in every time capsule there is something tucked inside that makes you say, "Why was that put in there?" All the things in this time capsule make me say that. 
After almost two years of living in the Colonial Farmhouse, I'm finally ready to give this upstairs bathroom a small update. 
Here's a taste of how the upstairs bathroom looks in all its "before" glory. Hmm…was taste the wrong word to use for a sentence about a bathroom? My apologies.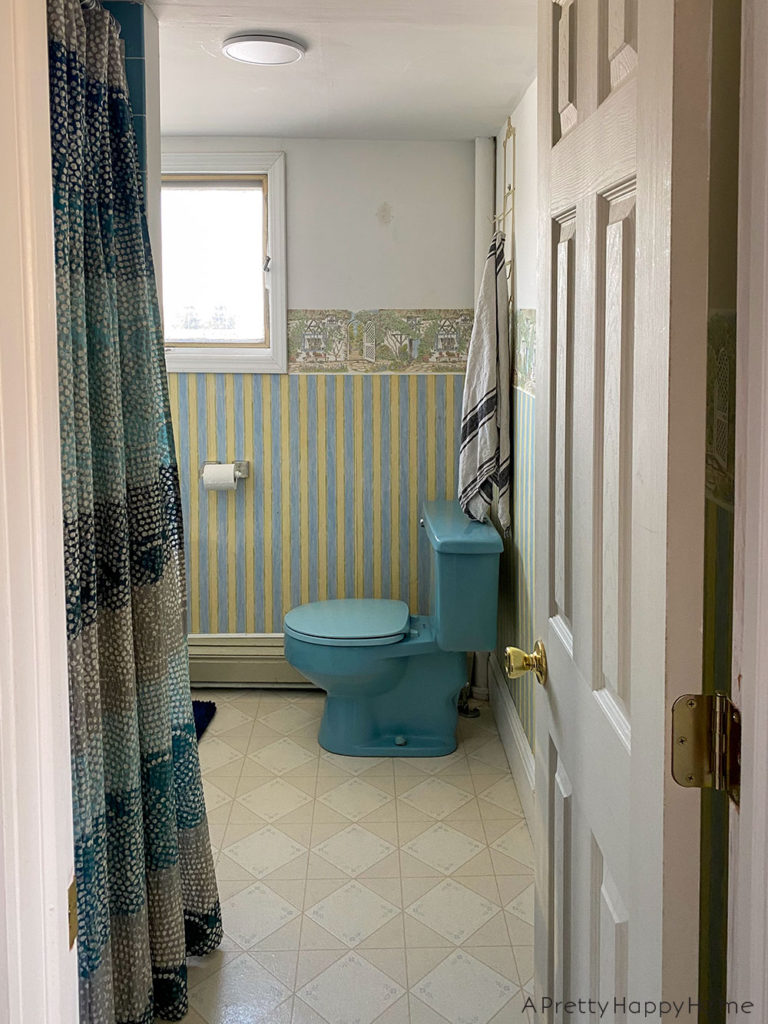 At the risk of stating the obvious: this is a blue bathroom! All of the fixtures in this bathroom are blue: sinks, toilet, shower, tile.
Blue bathroom fixtures were popular from the 1940s – 1960s. That's as close as I can get to nailing down a date on this bathroom origin story.  
The previous homeowners had three boys. After the boys grew up and moved out, it appears many of the upstairs spaces in this home received a decidedly more feminine makeover. I suspect this "update" that included a new mirror, flooring, and wallpaper occurred in the 1990s. 
However, this upstairs bathroom had not been used in years. YEARS. When we moved in and started using the bathroom we quickly realized the toilet was leaking! *insert creative swear words here*
The wax seal on the toilet had dried out, so every time the toilet flushed it leaked a little. There's no way to anticipate that problem, but, thankfully, it was one of the easier things to fix around this old house. 
We do not use this upstairs bathroom much since there is a larger bathroom downstairs. 
This bathroom is also on the list of rooms in our house that we'd like to have rewired. The one outlet in this space only works if the light switch is turned on. The light switch also controls the stairwell light. If you wanted to be mean, you could turn out the light on the stairs and plunge the person in the bathroom into darkness.
But no one in this house has ever done that to their sibling. 
The bathroom also doesn't have a fan, which boggles my mind since I'm assuming the bathroom was actively used at some point. 
But we knew all this when we bought the house, so it isn't a surprise. Just an opportunity for future improvement.
Are you waiting for me to dazzle you with a makeover plan?
Get in line! I'm waiting to dazzle myself with a makeover plan. 
The reason I haven't touched this space in almost two years of living here is there has been zero dazzle when it comes to makeover ideas. The dazzle well has run dry. I've been so hung up on wanting to rip this room down to the studs and start over that it has blocked my short term creativity.
In reality, a complete bathroom remodel is low on the list of priorities for this house. So low. Maybe #523 on the list.
However, I don't have to be stuck with a mish-mashed time capsule of a bathroom. I can take down the wallpaper and apply a fresh coat of paint. Maybe add a towel bar for functionality. I'm dying to see what is under that linoleum flooring. We could throw caution to the wind and get a new toilet. 
So many possibilities to make this space a happier place to potty. 
Stay tuned…
---
P.S. If you've been following along on social media, you'll know we already started working on this bathroom and it has spiraled beyond just removing the wallpaper. Of course it did! 
P.P.S. We are constantly balancing modern convenience and style with historical accuracy as we work to maintain and update this old house that dates back to the 1780s. The two don't often mesh well. 
As it relates to this bathroom, we don't think the blue fixtures were original to the house. We surmise that this part of the house was added in the early 1900s. Plumbing fixtures in that era, if a house had them, likely would have been white. I'm guessing the blue fixtures in this upstairs bathroom were an "update" and that's why I don't feel too bad if we do decide to remove any of the blue fixtures in this bathroom.
That said, I don't think we want the look and feel of this bathroom to end up being super modern either. As much as possible, I'd like to incorporate classic finishes into this space that can survive the test of time. 
If you'd like to know more about antique bathrooms, I found this article in Antique Home Style helpful. 
---
Thanks for following along as we breathe life back into this old Colonial Farmhouse! Here are some other posts you might enjoy.
The 1971 MLS Listing for our Colonial Farmhouse
Colonial Farmhouse Curb Appeal Update
New Metal Roof for our Carriage House