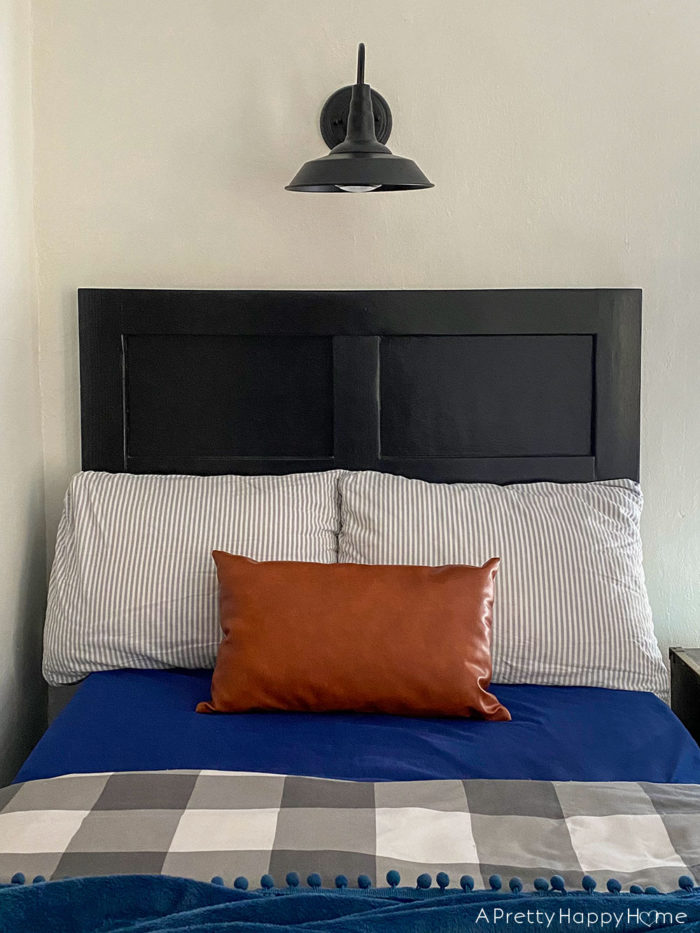 Aren't Bedside Wall Sconces the Best? And How We Make These Lights Work Without Electricity.
Aren't bedside wall sconces the best?
I'm not speaking from personal experience so much unless you count hotel stays.
It's probably why I like staying in hotels so much. Those rooms have something my bedroom does not have – bedside wall sconces.
When I say bedside wall sconce, I don't care much about the actual location of the wall sconce as long as I can reach it with my arm without moving any other part of my body. Yes, I'm that lazy.
Above the bed or next to the bed is all fine for me when thinking about bedside wall sconces and their location.
The beauty of bedside wall sconces is that they don't take up any of your precious nightstand real estate like a lamp would. That means more room for a glass of water, your glasses, your book, your phone, or whatever else goes on your nightstand.
We recently installed a bedside wall sconce above my son's headboard (the kids get all the good stuff) and it was not only practical, but the perfect finishing touch to this part of his bedroom.
Like a cherry on top of a sundae.
Here's the secret though.
We don't have any electrical wires on this wall.
Zip. Zero. Zilch.
No wires, no problem.
We can still make this light functional.
Instead of a regular lightbulb, we have a battery-operated puck light installed in this bedside wall sconce.
There are a bunch of ways that you can attach a battery-operated puck light inside a light fixture.
I've used Command Strips and that can work okay if you have enough surface area for the Command Strips to attach to.
The best thing I've found to do is an idea from Brooke at Nesting With Grace. The idea is to glue a threaded piece of PVC pipe to the back of the puck light and then screw that into the light socket.
I've found that a 3/4″ threaded PVC male adapter or coupler from the electrical section of the hardware store works well for this. I attach mine to the puck light with e6000 glue. That glue is strong!
They may have these 3/4″ couplers or adapters in the plumbing section too. I just haven't looked. Either way, one of these adapters should be super inexpensive – around 50 to 75 cents.
Keep in mind that the shape of your light shade does matter when determining how long that piece of threaded PVC adapter needs to be. Your light shade also has to be wide enough for a puck light to fit up inside it too!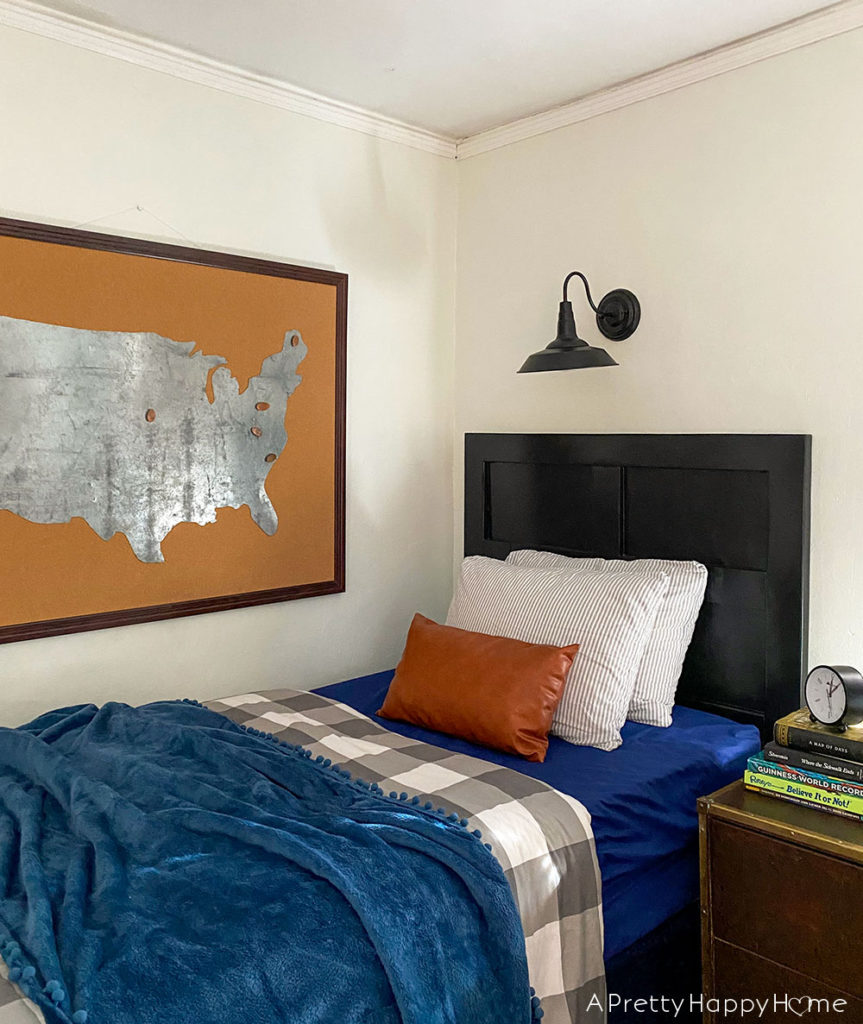 If you're that person who walks around the house muttering about the electrical bill while turning off all the lights that everyone else has left on, then you might be very opposed to the idea of giving your kids a battery-operated light.
I get it because I'm that person!
Batteries are expensive. If your kids are like mine, they are going to leave the lights on when they aren't using them.
To solve this problem we use rechargeable batteries. It was well worth it to spend a little more initially so that I can let go of the role of battery monitor. It sounds like a glamorous job, but it's not as much fun as you'd think.
I'm not sure yet if I'll get to bask in the luxury that are bedside wall sconces for my own bedroom. Our bed is on a window wall and those windows make having a spot for a wall sconce tricky.
In the meantime, our other kiddo has requested a bedside wall sconce too!
I've introduced my family to the joy of having bedside wall sconces and I'm pretty darn happy about that. My work here is done.
---
Product References:
3/4″ threaded PVC male adapter GREY (Home Depot) This one is the least expensive.
3/4″ threaded PVC male adapter WHITE (Home Depot)
3/4″ threaded PVC male adapter WHITE (Amazon) A few cents more, but you don't have to leave your house. Ha!
Puck lights (Amazon) They come with a remote and a timer too! Please note that I spray painted my puck light in this post black to match the light.
Gooseneck Barn Light (Amazon)
e6000 glue (Amazon)
AA Rechargeable Batteries (Amazon)
Battery Charger for AA and AAA Batteries (Amazon)
*affiliate links in this blog post*
---
Thanks for being here today! Here are some other posts you might enjoy!
Magnetic Sheet Metal USA Map Bulletin Board – How We Made It
DIY Farmhouse Pottery Barn Bed With Trundle Knock Off