Happy April Fool's Day! Welcome to the Happy List!
I hope the last week of March treated you well.
This week on the blog I shared a round-up of brooms that will look good in anyone's broom closet. I also shared the hacks I used to make sink skirts since I don't use a sewing machine.
When I'm not here on the blog I usually share a daily project or idea on Instagram and Facebook stories. I'd love it if you joined me there and please tell your friends too!
Here's the Happy List!
---
PAPER ARTIST
Artist Lisa Lloyd uses strips of paper to create the most amazing art of birds in motion.
See more photos of Lloyd's work at My Modern Met.
You can buy prints of her work here.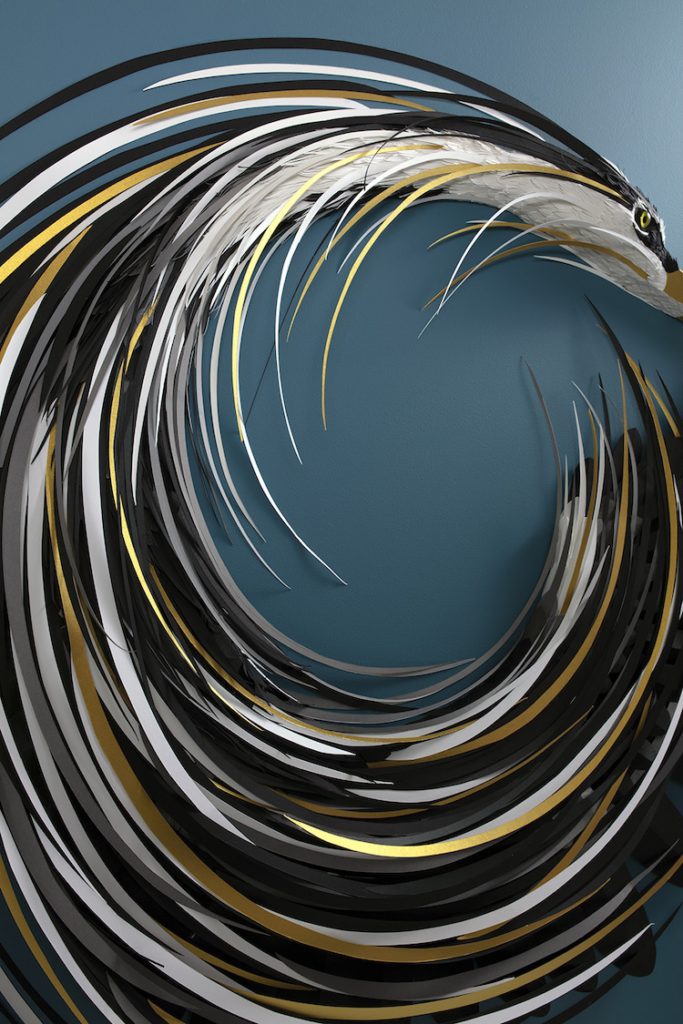 (image: Lisa Lloyd via My Modern Met)
It's always the most humble of mediums that impress me the most. An artist saw an everyday object and reimagined it in a different way. Wow.
---
PISTACHIO CAKE
I don't think I've ever tried pistachio cake. That seems like an oversight I need to rectify!
Doesn't this one from Sally's Baking Addiction look delicious? I've tried several recipes from this site and they've all been worth making again…and again.
(image: Sally's Baking Addiction)
---
DINING TIME
I love this room by Sophie Rowell of Côte de Folk.
The grouping of flowers in the terracotta pots is something that would look good in anyone's home.
(image: Côte de Folk via Desire to Inspire)
---
PRETTY DOORMAT
I found flowers for your front porch that won't die. Ha!
This doormat from Wayfair is so pretty for spring and summer. Plus, it is 40 inches long!
(image: Wayfair)
---
TRAVEL
I'd like to visit the Lady Bird Johnson Wildflower Center in Austin someday.
In 1968 Lady Bird Johnson said, "Beautification is far more than a matter of cosmetics. For me, it describes the whole effort to bring the natural world and the man-made world into harmony; to bring order, usefulness — delight — to our whole environment, and that of course only begins with trees and flowers and landscaping."
In 1982 Lady Bird Johnson and actress Helen Hayes set about creating a national wildflower research center. Today, the wildflower center is 284 acres and is part of the University of Texas at Austin.
(image: Lady Bird Johnson at the center in 1995 | Lady Bird Johnson Wildflower Center)
---
APRIL FOOL'S PRANK
I'm going to do this April Fool's Day prank on my kids today.
(image: Imgur)
More April Fool's Day pranks can be found at Bored Panda.
---
STILL SINGING AND DANCING
I absolutely adored this video of Dick Van Dyke and his wife, Arlene Silver, singing and dancing. There's a funny bit at about the 2:25 mark that made me chuckle.
Watch the video here on YouTube.
(image: via YouTube)
P.S. He has the best hair.
---
EASTER TABLE
I like this sweet and simple idea for setting an Easter table using old medicine bottles from Driven by Decor.
My daffodils will be blooming at Easter. I know many of your daffodils bloomed ages ago, but any flower would look pretty in a small bottle. The twine around the bottleneck is a nice touch too.
For more Easter table ideas from Driven By Decor, click here.
(image: Driven By Decor)
---
POETRY MOMENT
I don't know about you, but small acts of kindness really make my day.
Small Kindnesses
by
Danusha Laméris
I've been thinking about the way, when you walk
down a crowded aisle, people pull in their legs
to let you by. Or how strangers still say "bless you"
when someone sneezes, a leftover
from the Bubonic plague. "Don't die," we are saying.
And sometimes, when you spill lemons
from your grocery bag, someone else will help you
pick them up. Mostly, we don't want to harm each other.
We want to be handed our cup of coffee hot,
and to say thank you to the person handing it. To smile
at them and for them to smile back. For the waitress
to call us honey when she sets down the bowl of clam chowder,
and for the driver in the red pick-up truck to let us pass.
We have so little of each other, now. So far
from tribe and fire. Only these brief moments of exchange.
What if they are the true dwelling of the holy, these
fleeting temples we make together when we say, "Here,
have my seat," "Go ahead—you first," "I like your hat."
---
Thank you for reading today's Happy List!
Be good to yourself and others this weekend.
I'll see you back here on Monday.
*affiliate links in this blog post*