Hello! Welcome to the first Happy List of July!
This week on the blog I shared a 4th of July craft. I made a cross-stitch American flag on a grain sifter as one does. It's not the first thing I've made with that grain sifter. It probably won't be the last. Send me your ideas on what I should make next!
I also shared a very niche idea on how to hide cords on a standing desk. For all you work-from-home people, this post was for you. I think this idea would be adaptable even to a normal, stationary desk too.
As always, thank you in advance for reading today's blog post, saving and sharing things you like, encouraging us, and even engaging with us on Instagram or Facebook. Your support helps keep this blog on the internet! Truly. Even if you never buy a thing from one of the affiliate links we share, eyeballs on pages matter to bloggers. So, thank you.
Now, here's the Happy List!
---
BBQ CHICKEN SALAD
This BBQ Chicken Salad from Jessica Gavin looks like summer to me!
I like that she gave a ratio for making your own BBQ Ranch dressing in this recipe too.
(image: Jessica Gavin)
---
REMINDERS FROM MORGAN HARPER NICHOLS
Loved this Instagram post from Morgan Harper Nichols with these reminders:
9 things that are easy to forget right now:
1 – You're allowed to change your mind
2 – You're allowed to redefine success
3 – Your social circle is allowed to change
4 – It doesn't make you needy if you're desiring intimacy, belonging, or community
5 – Being sensitive doesn't make you weak
6 – Needing alone time doesn't make you selfish
7 – Being different doesn't mean something's wrong with you
8 – You might need more rest and recovery time than you thought you needed and that's okay
9 – You're allowed to say things like this more:
"I don't know."
"I need some time."
"I'll come back to this later."
…
See the Instagram post or follow Morgan Haper Nichols here.
---
SIDEBOARD
The two-tone sideboard featured in this vignette from Hadley Wiggins is so neat. You could make doors like this for an existing sideboard.
I was unfamiliar with Hadley Wiggins' work but dived into all the inspiration to be found in this post from Desire to Inspire.
(image: via Desire to Inspire)
---
BALD EAGLE CUPCAKES
Rarely am I surprised by a dessert anymore, but this one got me with its cleverness!
Can you guess how the folks at Make Every Day An Event made the eagle head? It's easier than you think!
(image: Make Every Day An Event)
---
SPORTS NET
We ordered this sports net combo set a few weeks ago because we are a badminton-playing family now. HA! It has been awesome.
The net is easy to move to mow the lawn because it doesn't need to stake into the ground. It stays up really well unless it is super windy. Plus, the kids can raise or lower the net so it can be used with the soccer ball too.
Our mistake was we only got the 10-ft wide net. You really need the 17-ft wide net if you want to play a real game of badminton. Since we stink at badminton and what's considered out-of-bounds is subjective, this hasn't really been an issue for us. It's all just fun and games here.
(image: Amazon)
P.S. Handy Husband approves of how these badminton racquets are welded together for maximum durability. In terms of the net itself, I can't yet speak to its long-term durability since we've only had it since the middle of June. *crosses fingers*
P.P.S. This net does not go high enough for volleyball, but that doesn't stop us from playing volleyball either. As you can tell, we are lucy-goosey on game rules around here. Ha!
---
JAMBALAYA 
I made this jambalaya recipe (minus the okra and some of the protein sources) from Cafe Delites this week and everyone in our house ate it without complaint. That's a big win when I try cooking something new!
I did go easy on some of the hot spices for the kids' sake and then Handy Husband and I added some Crystal hot sauce later.
(image: Cafe Delites)
---
NICHES FOR NIGHTSTANDS
I'm a big fan of this idea of using niches for nightstands, especially when you're working with weird angles. This is the former Nashville home of designer Louisa Pierce.
See more photos of this amazing home here.
(image: via The Nordroom)
---
NECK COOLING WRAP
If I could sew, I'd make a bunch of these neck cooling wraps. You fill them with water-absorbing polymer beads and you can reuse them. These would be great to sell at farmer's markets or parades.
Chica and Jo have a very detailed tutorial with lots of tips, including how to clean them.
(image: Chica and Jo)
Cooling wraps have been on my mind because the boys are getting ready to run a race in the middle of July and I know it will be hot. Several years ago during an ultramarathon, someone let Handy Husband borrow one of their neck cooling wraps when he was about 50 miles into the race and I think he almost wept with relief.
Here he is in the below picture wearing that borrowed neck cooling wrap. This was probably 67 miles into the 70-mile race. Yes, those numbers are correct. Yes, it's even crazier than it sounds.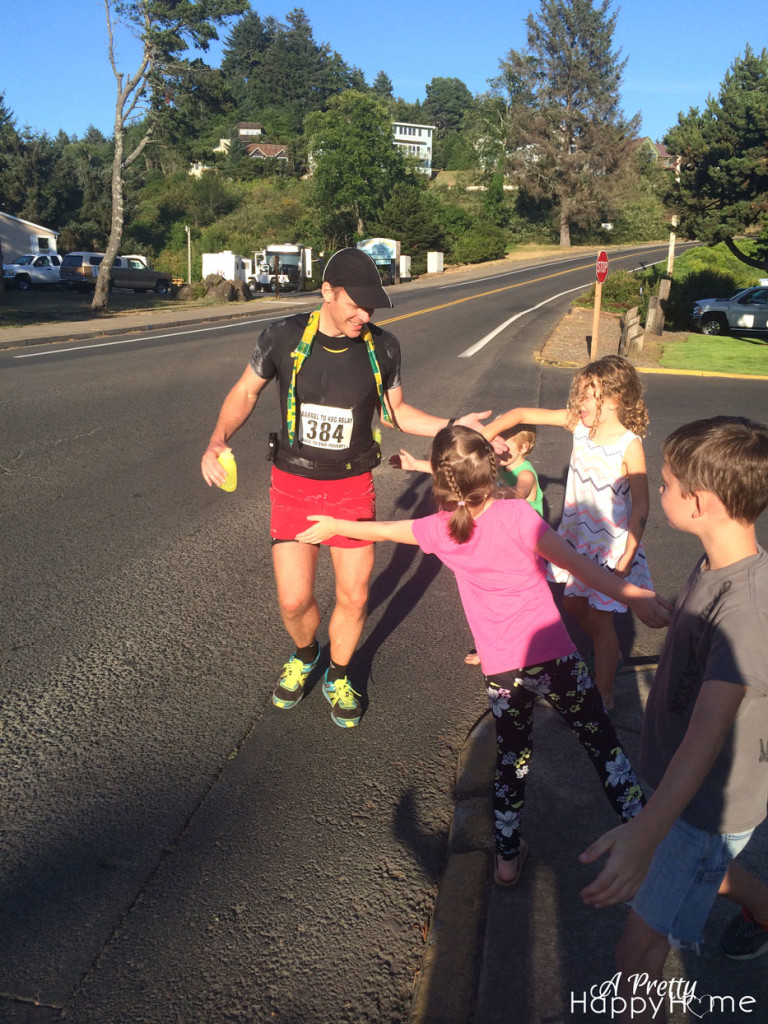 P.S. Just checked and it looks like you can buy something similar from Amazon for about $9. Check it out here.
---
GOOD ADVICE
Here's some good advice from Jeopardy Champion James Holzhauer as quoted first in a NY Times article and then in a blog post by Austin Kleon. I've learned so much by doing the very same thing.
"I have a strategy of reading children's books to gain knowledge. I've found that in an adult reference book, if it's not a subject I'm interested in, I just can't get into it.
I was thinking, what is the place in the library I can go to to get books tailored to make things interesting for uninterested readers? Boom. The children's section."
---
Thank you for reading today's Happy List.
Be good to yourself and others this week.
I'll see you back here on Monday.
*affiliate links in this blog post*