Hi! Welcome to this week's Happy List. I'm delighted you are here.
This week on the blog I shared an old house essential with you – my slow cooker for removing paint from door hardware. It's really amazing what you can accomplish with water, heat, and a little bit of patience.
I also wrote about my hunt for a ceiling medallion for our living room and I learned something about the history of ceiling medallions while doing it. Win, win.
As always, I love hearing from you. It makes this whole thing more of a dialogue than a monologue. You can always comment on this blog post or send an email here. You can also connect with us on Instagram or Facebook.
Now, here's the Happy List!
---
JUST LOVELY
This Airbnb in Lindfield, England, looks so lovely. It's a barn conversion and it has elegant yet bohemian vibes to it. I'm not even sure I could pick a favorite thing in this photo. The doors? The beams? That couch?
See more pictures here.
(image: via Airbnb)
---
NOVELTY BUILDINGS
This is just delightful! There are buildings in Japan that are shaped like whatever the business sells.
Can you imagine being the architect that got to design a dog-shaped building? Best. Job. EVER!
I don't want to ruin it, so go see more of these novelty buildings here.
(image: Spoon Tamago)
---
PERSONALIZED COIN PURSE
The Etsy shop Create Gift Love can take your child's artwork and print it on a coin purse. How neat is that? This is something I totally would have loved when my kids were toddlers.
(image: Create Gift Love via Etsy)
---
BRICK CANDLEHOLDERS
Spotted at a Culture Lab Detroit event – brick candleholders. I never would have thought of this, but I can see how it would be really cool in the right setting.
(image: Photography by Ara Howrani, courtesy of David Stark Design and Culture Lab Detroit via The Organized Home)
---
SPUDNUTS
Have you heard of or tried spudnuts? They are potato doughnuts and they look delicious to me.
One of you told me about them, so thank you very much. I'm starving now. Ha!
I found a recipe from Taste of Home but you can also see if there's a spudnut location in your area here. There aren't many of these spudnut locations left!
(image: Taste of Home)
---
MENOPAUSAL WEIGHT GAIN
How about we follow up a mention of doughnuts with a blurb about weight gain during menopause? The world is a cruel, cruel place. Ha!
According to this paper in BJOG (British Journal of Obstetrics and Gynecology), weight gain during menopause is related to a decrease in estrogen. When estrogen decreases so does lean muscle and bone. The body tries to make up for that by increasing protein intake. If you are on a low-protein diet, then you end up eating more to try and make up for your protein deficiency. This, combined with lower physical activity leads to weight gain.
It should be possible to avoid or minimize weight gain by increasing protein intake, decreasing processed carbohydrate intake, and increasing physical activity including strength training.
At least, that's how I interpreted the paper but there was a lot of medical jargon and I didn't go to medical school. So, don't take my word for it. Go read the paper here and ask your doctor.
---
CHARMED
The brick path, the windows, and the doors in this photo completely charmed me.
I'd also like to think we are the type of people that could live with a white rug and a white ottoman but, alas, we are not. Haha!
See more photos of this Amagansett beach cottage by NYC and Hamptons-based interior designer Marie-Christine McNally of Marie-Christine Design over at Desire to Inspire.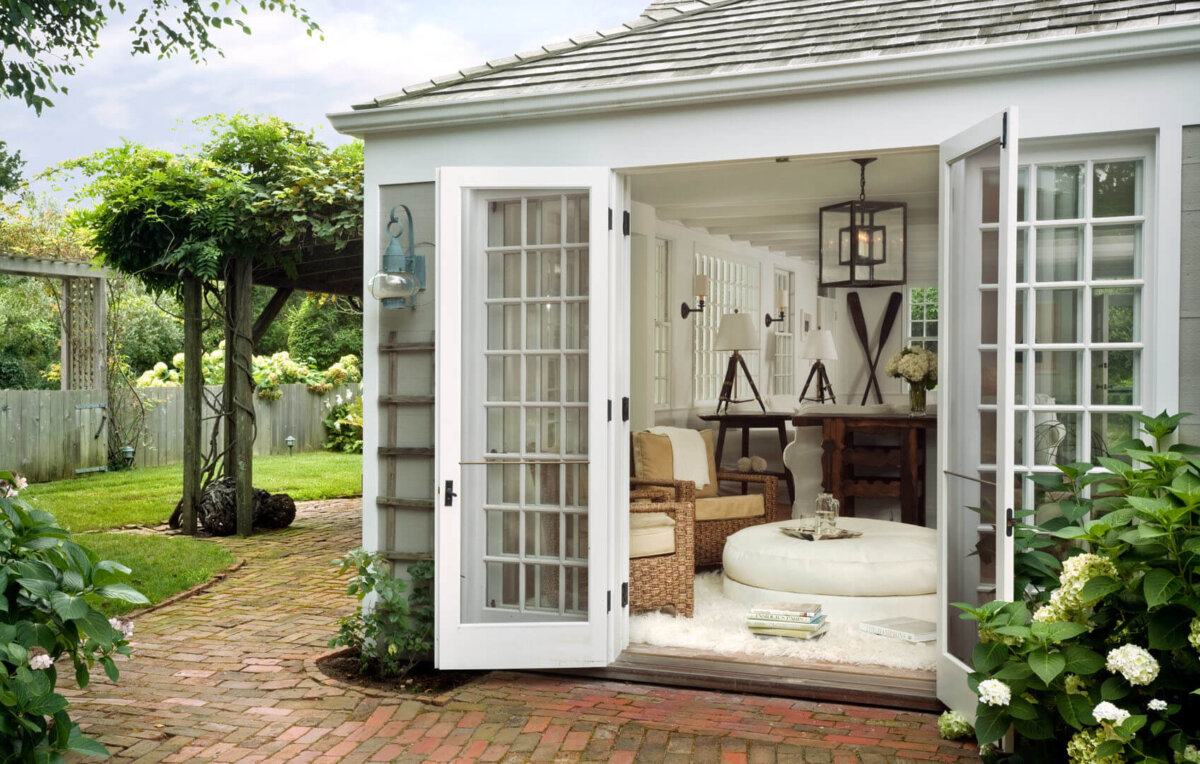 (image: via Desire to Inspire)
---
TOILET BRUSH STORAGE
This is a much cuter way to store a toilet brush! Why didn't I think of that?
(image: Matthew Williams, styling by Alexa Hotz via The Organized Home)
---
FOOD FOR THOUGHT – A WISH
"I wish you endless dreams and the furious desire to realize some of them. I wish you to love what must be loved, and to forget what must be forgotten. I wish you passions. I wish you silences. I wish you birdsongs as you wake up and children's laughter. I wish you to respect the differences of others, because the worth and virtues of each person often remain to be discovered. I wish you to resist the stagnation, the indifference, and the negative values of our time. I wish you at last to never to give up the search, for adventure, life, love. For life is a wonderful adventure and no reasonable person should give it up without a tough fight. I wish you above all to be yourself, proud of being and happy, for happiness is our true destiny." – Jacques Brel
---
Thanks for reading today's Happy List.
Be good to yourself and others this weekend.
I'll see you back here on Monday.
*affiliate links in this blog post*