Hello! Welcome to this week's Happy List. The world is a heavy place and I intentionally keep the Happy List light as a respite from that. Hopefully, it gives your brain a chance to rest before you get back to reality.
That's a long way of saying I'm delighted you are here. Feel free to stay as long as you want and come back often.
This week on the blog I shared the gallery wall I've been working on in our living room. It has a whole bunch of mismatched nature art and I'm infatuated with it. It's going to make me a little sad to take it down in order to put my Christmas tree up.
I also rounded up the prettiest matchstick holders I could find across the internet. While I'd use all of these myself, I think they would make neat gifts for friends and family this Christmas.
Thank you for reading this blog. It makes our day – both mine and Handy Husband's. If you want to share the blog or an idea we post on social media, we would be very grateful. We also love talking to you. If you want to connect with us or ask a question, you can always comment on this blog post or send an email here. You can also reach out on Instagram or Facebook.
Here's the Happy List!
---
CHEVRON CEILING
Check out this wood chevron ceiling made by I Spy DIY! It's it amazing?
I'm also enamored with the live edge desk in this room. Adding that to the list of things I'd like to build someday. Go see all of the pictures of this space here.
(image: I Spy DIY)
---
GLASS BEAD PUMPKINS
I wouldn't mind trying this glass bead pumpkin idea from A Beautiful Mess. It lights up so beautifully! I think I'd do it with a fake pumpkin so that I could reuse the pumpkin year after year though. Get the instructions here.
(image: A Beautiful Mess)
---
GOOSEBUMPS
I love a silly joke and this goose bumps sweatshirt on Etsy made me smile! So cute, right?
Plus, the design is embroidered, not printed on the sweatshirt. It would make a fun gift. Check out all the colors here.
(image: Creative Embroidery Co. via Etsy)
---
BUNK LOVE
Bunk beds with stained glass windows? I can't even handle how amazing this is.
You have to go drool over the rest of the photos from this space over at Style By Emily Henderson.
(image: Design by Anne De Wolf of ARCIFORM and Versatile Wood Products | Chief Lumberjack: Richard De Wolf of ARCIFORM and Versatile Wood Products | Styled by Emily Henderson and Emily Bowser | Photos by Sara Ligorria-Tramp
---
TAPPING
Have you heard of the tapping technique to relieve anxiety? I just learned about it this week and thought it sounded kind of bogus until I learned that it's actually been studied quite a lot. There's a little more to it, but it basically involves using your fingers to tap pressure points particularly on your face.
You can read more about it over at the NIH website, WebMD, and Kaiser Permanente to see if it's something that might help you. There's also an app called The Tapping Solution that can guide you through the process.
(image: via NIH)
---
GRAPES 
We know grapes are good for us in general. In addition, grapes *may* be good for your eyes according to one small study published in the journal Food and Function.
"The grape eaters showed a significant increase in macular pigment optical density (MPOD), plasma antioxidant capacity, and total phenolic content compared to those on placebo." (source)
I don't know what that means, but it sounds good. I hope this research pans out in the long run because grapes are my favorite food. Not joking. I always have them in the house.
I'd rather have a crunchy grape (red or green) than a cookie. Also not joking.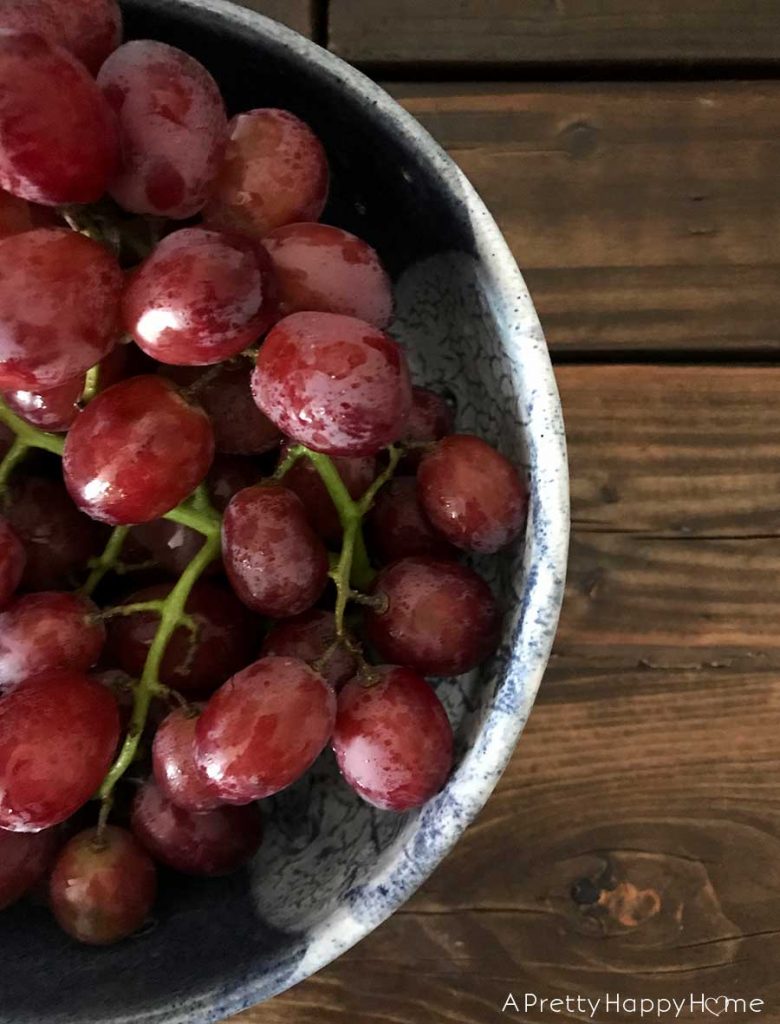 ---
PUMPKIN SPICE MONKEY BREAD
Normally, pumpkin spice doesn't do much for me but I think an exception could be made for this Pumpkin Spice Monkey Bread from Today's Creative Life.
She used the Rhodes frozen rolls to make the recipe extra easy. Doesn't it look delicious? Get the recipe here.
(image: Pumpkin Spice Monkey Bread)
---
POETRY MOMENT
Think of Others by Mahmoud Darwish
As you prepare your breakfast, think of others
(do not forget the pigeon's food).
As you wage your wars, think of others
(do not forget those who seek peace).
As you pay your water bill, think of others
(those who are nursed by clouds).
As you return home, to your home, think of others
(do not forget the people of the camps).
As you sleep and count the stars, think of others
(those who have nowhere to sleep).
As you express yourself in metaphor, think of others
(those who have lost the right to speak).
As you think of others far away, think of yourself
(say: If only I were a candle in the dark).
---
Thank you for reading today's Happy List.
Be good to yourself and others this weekend.
I'll see you back here on Monday.
*affiliate links in this blog post*