Blackberry Freezer Jam using Frozen Berries
Earlier this year we picked blackberries at a local Georgia farm. It was a fun, family day in 90+ degree heat! 😉 Instead of using the berries right away, they all went into the freezer using this method for freezing berries.
After facing a near outage of jam (it was a close one, there was rationing happening on the lunch sandwiches), I decided it was high time to bust those blackberries out of the freezer and make some delicious Blackberry Freezer Jam.
Since the berries were in the freezer, I spread them out on a cookie sheet and let them sit on the counter for a good 30 minutes while they thawed. (Note to self: teach children how to pick ripe berries.)

Instead of sitting there watching berries thaw (it's very similar to watching paint dry), I assembled my ingredients for this recipe. It took about 7 seconds since you only need 4 ingredients – sugar, pectin, berries and water. I always use the pectin in the pink box because it uses less sugar in its recipes that the other varieties.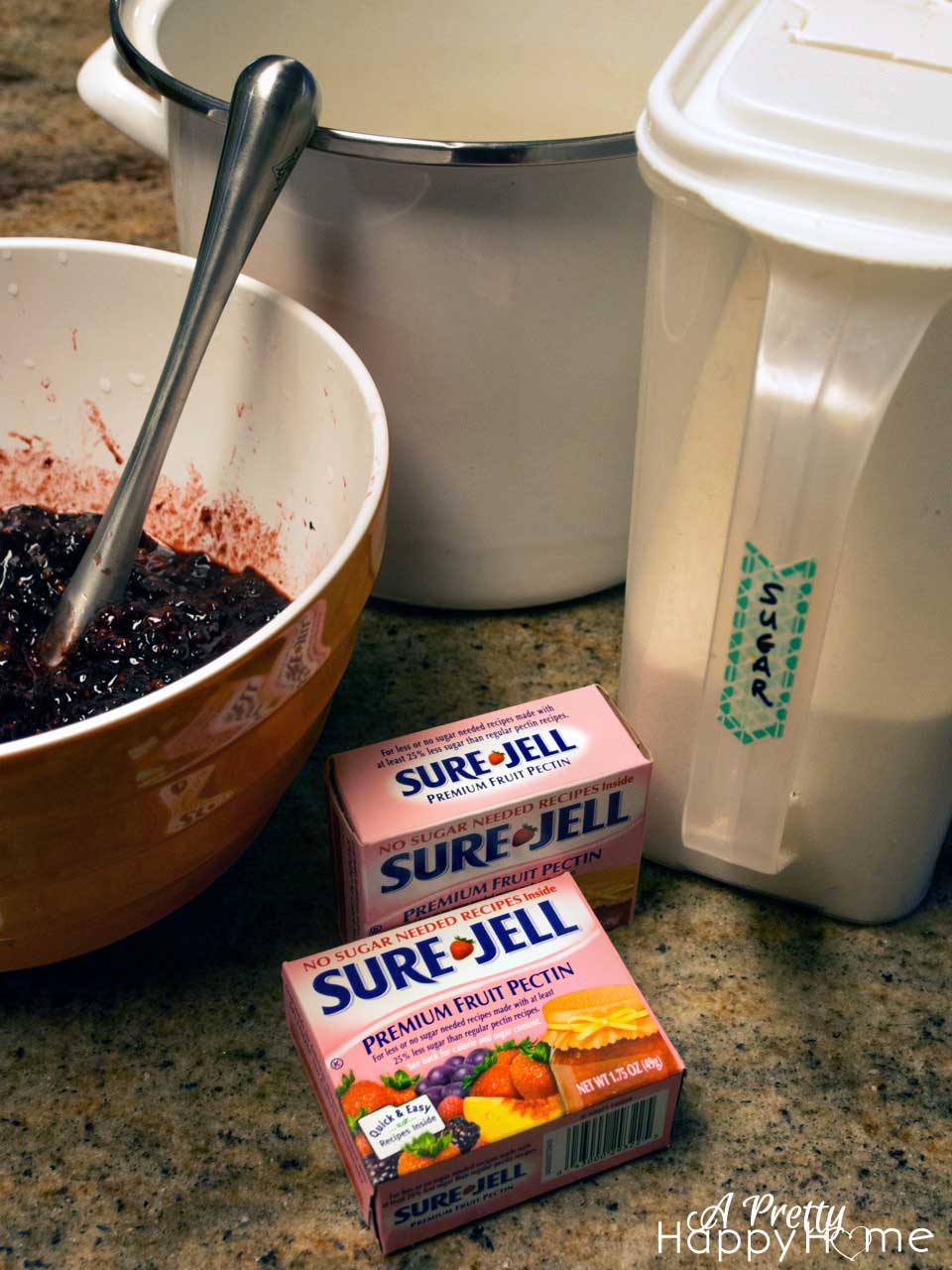 And don't waste a ton of time Googling the perfect recipes. The freezer jam recipes come in the box! Convenient, I know. I've had awesome success with all of them except for peach freezer jam. If you want your peach freezer jam to set up, use this recipe here instead. Almost all of the freezer jam recipes call for 4 cups of crushed/pureed fruit per batch. I doubled this particular batch.

After that, it was time to crush up those berries. I could have pulsed them quickly in the blender or food processor, but seriously, these type of berries are so easy to mash – a 4-year-old can do it.

Oh, look! A 4-year-old did do it…while sucking his thumb and holding a blanket. No excuses, people! 😉
Hopefully this drives the point home – blackberries are super easy to crush up by hand. (The only fruit easier to work with is the raspberry.) We used a muddling tool, but a potato masher would work too. I like our freezer jam a little chunky, so I told him not to get too carried away!
You'll need 2 bowls for this crushing process. One bowl to do the crushing in and the second bowl to measure out your berries. I actually didn't have quite enough berries, so I had to pull more out of the freezer and wait for them to thaw. As a side note, you don't need to bring the berries up to room temperature, but you do want them to be easy to mash and warm enough for the juices to come out.

Finally, we were ready for the next step: mixing the sugar with the pectin. Do yourself a favor and mix the sugar and pectin together BEFORE you pour in the water. If you don't, you get these weird pectin clumps. With enough stirring, they will breakdown during the boiling process, but it's kind of maddening to watch them mocking you in the pan before they do.
Again, my 4-year-old was really earning his keep this morning! It's hard to tell, but the pectin is the creamier colored powder in the pot.

Follow the instructions on the package for bringing the pectin, sugar and water mixture to a boil on a medium to medium/high heat. You'll want to stir pretty constantly throughout this process.

Once the mixture comes to a hard boil, you'll let it go for 1 more minute before removing the mixture from the heat. Don't kill yourself second-guessing – is this a hard boil? If you're not sure, give it another minute. It will be fine!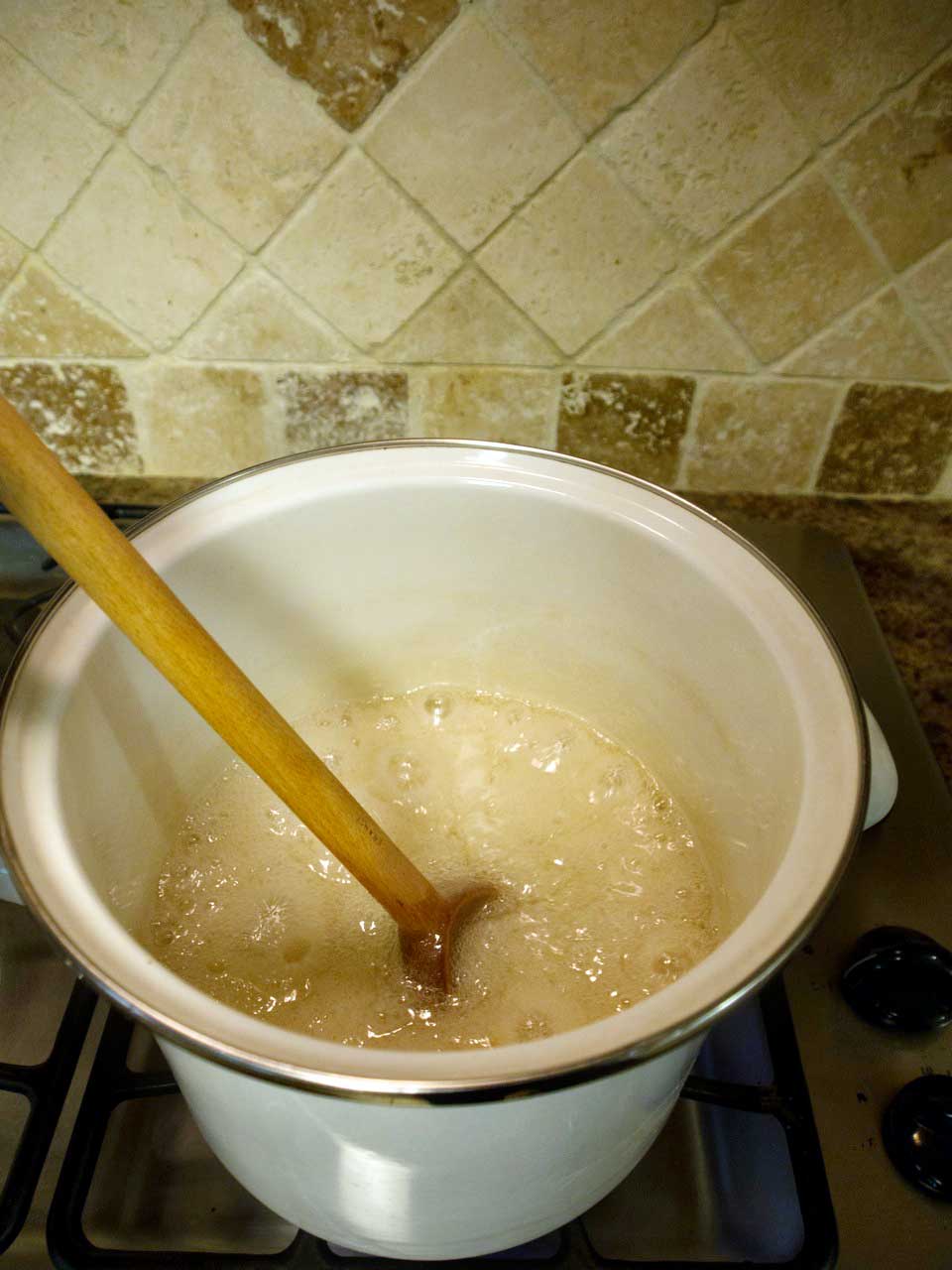 Carefully add in your berries to the boiling mixture.

The last step is to make sure you've stirred everything together thoroughly so that the berries and the pectin mixture are fully incorporated. That's all there is to it!

Now you are ready to put the hot mixture into your containers! I use plastic, reusable freezer containers like these. You can get them at any grocery store.

Grab a ladle and start spooning out your mixture. Be careful! It's still hot!

I always end up dripping jam on the sides of the containers when I am filling them. I wet a clean paper towel and simply wipe off any drips.

I've got to be honest. It was at this point in the process that I licked the wooden spoon that was covered in jam. Somebody has to make sure it's good! Trust me it was goooooood.
Here's what I like about freezer jam. It tastes like the most flavorful, fresh berries are exploding in your mouth. Cooked jams and jellies don't have that same amped up flavor explosion.
Also, if you don't like jam with seeds, then you need to make jelly.

After having freezer jam, I can't go back to cooked jam/jelly or heaven forbid the little packets of jelly you can get at hotels and restaurants. BLAH! This is the real deal and it is so easy to make. If you didn't pick berries this summer, you can always buy frozen berries at the store.
I'm already happily thinking about breakfast tomorrow! If that's wrong, I don't want to be right.
Here are some links to other freezer jams I've made:
Strawberry Freezer Jam
Peach Freezer Jam
Blueberry Freezer Jam
*affiliate links in this post*