Vanilla Glazed Banana Muffins
An alternate title to this post could be "how to make a relatively healthy muffin less healthy, but more delicious." Another appropriate title would have been "how to make 24 muffins disappear in 24 hours."
Bananas aren't my go-to fruit, but the rest of my family eats bananas like they are going out of style. My kids do eat the bananas after they develop brown spots because I tell them those are the sweet bananas. Ha!
Every once in awhile, though, I end up with the wrong ratio of consumption to banana browning. And there those brown bananas sit mocking me. I hate to throw them away, so a couple of weeks ago I searched for a banana muffin recipe. As it turns out, my picky 4-year-old will try almost anything as long as it looks like a muffin. Oh, the possibilities.
I have made this recipe with a crumb topping, with no topping and then things got really crazy and I decided to make it with a glazed topping. Living wild in suburbia, people. Living wild. My family voted, hands down, that the glazed topping was the best. Shocking! Not.
This banana muffin recipe received 5 stars out of over 8,400 votes on Allrecipes.com. HOLY BANANAS BATMAN! I've made this recipe 3 times and have followed the muffin portion of the recipe exactly and it has not disappointed. (The crumb topping that comes with the original recipe is delicious. Alas, for this culinary adventure we had to leave the poor crumbs behind and embrace the glaze. That's right, I said embrace the glaze.) 
I also turned to Allrecipes.com for a vanilla glaze recipe. The vanilla glaze was one of those recipes that had super high ratings, but when you read the comments, everyone had changed the recipe. That means it is not really the recipe anymore, but, oh well. I ended up deferring to the commenters and adjusting the recipe's measurements. I'll detail my changes in case you want to try it yourself!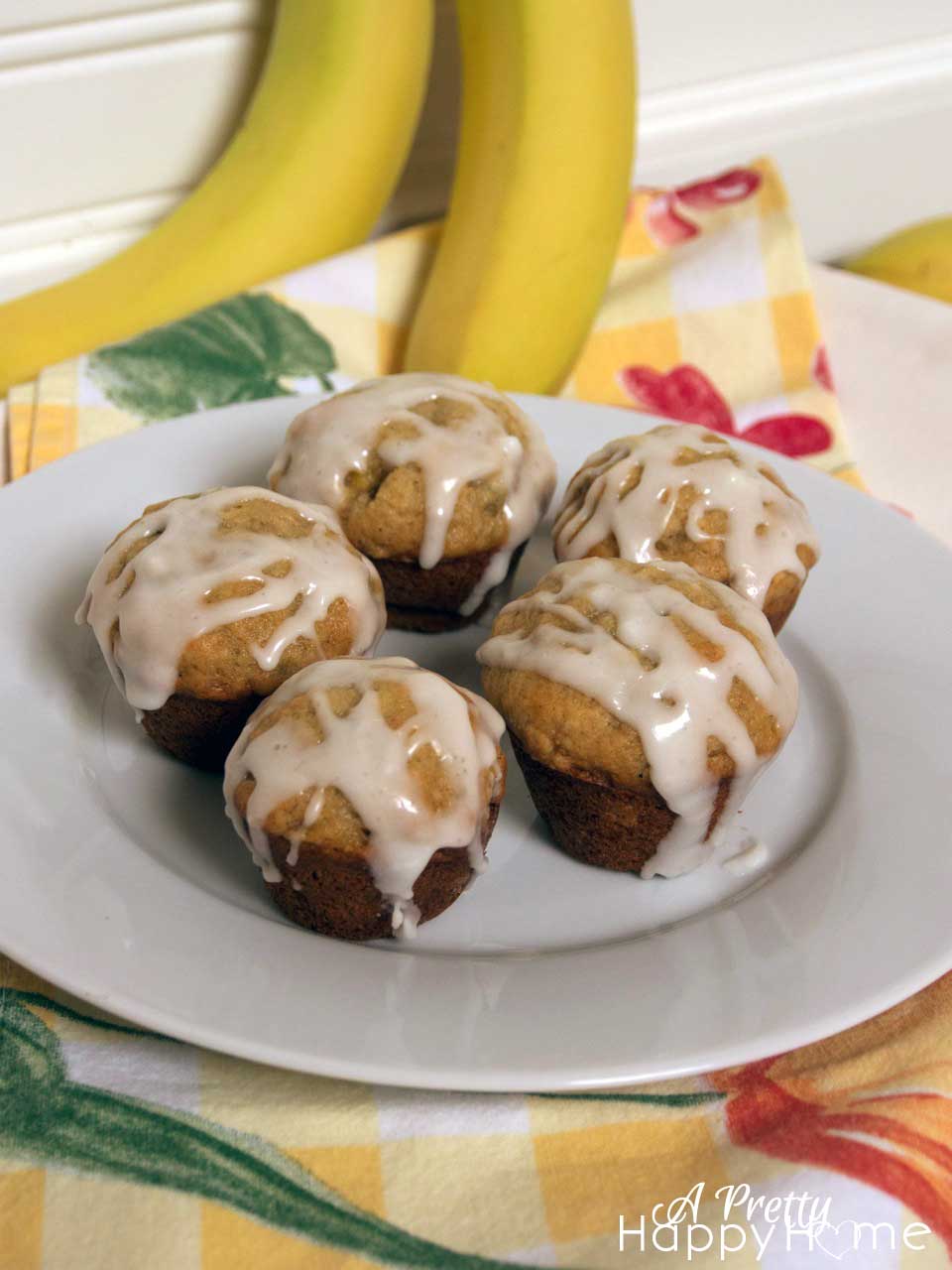 If you have some bananas sitting on your counter looking sad and lonely, this is the perfect recipe to use them in! The muffins will generate smiles and happy tummies all around!
Banana Crumb Muffins – from Allrecipes.com Recipe by Lisa Kreft
(Makes 24 mini-muffins or 10 regular-sized muffins)

Muffin Ingredients:
1 1/2 cups all-purpose flour
1 teaspoon baking soda
1 teaspoon baking powder
1/2 teaspoon salt
3 bananas, mashed
3/4 cup white sugar
1 egg, lightly beaten
1/3 cup butter, melted
Crumb Topping: (If making the recipe as is, omit if you want to use the vanilla glaze instead)
1/3 cup packed brown sugar
2 tablespoons all-purpose flour
1/8 teaspoon ground cinnamon
1 tablespoon butter
Directions:
1. Preheat oven to 375 degrees F (190 degrees C). Lightly grease 10 muffin cups, or line with muffin papers. You can also use 24 mini muffin cups.
2. In a large bowl, mix together 1 1/2 cups flour, baking soda, baking powder and salt. In another bowl, beat together bananas, sugar, egg and melted butter. Stir the banana mixture into the flour mixture just until moistened. Spoon batter into prepared muffin cups.
3. FOR THE CRUMB TOPPING, if you are doing this part, in a small bowl, mix together brown sugar, 2 tablespoons flour and cinnamon. Cut in 1 tablespoon butter until mixture resembles coarse cornmeal. Sprinkle topping over muffins.
4. Bake in preheated oven for 18 to 20 minutes, until a toothpick inserted into center of a muffin comes out clean. If you are doing mini-muffins, baking time should only be 13-15 minutes.
5. IF YOU ARE USING THE GLAZE, let the muffins cool and then drizzle the glaze all over the top.
Vanilla Glaze – adapted from Allrecipes.com Original recipe by Jamie Langston.
1 1/2 cups powdered sugar
1/8 tsp salt
2 1/2 tbsp milk
1 tbsp butter
1 tbsp corn syrup
1/4 tsp vanilla extract
Directions: Stir dry ingredients together. Melt the butter. Add melted butter and the remaining ingredients to the powdered sugar/salt combo. Stir until creamy. Makes approximately 1 cup of glaze. Enjoy!
---
Here are some other delicious recipes!
Dave's Killer Bread Copy Cat Recipe
Would I Make It Again: Korean Beef Bowl