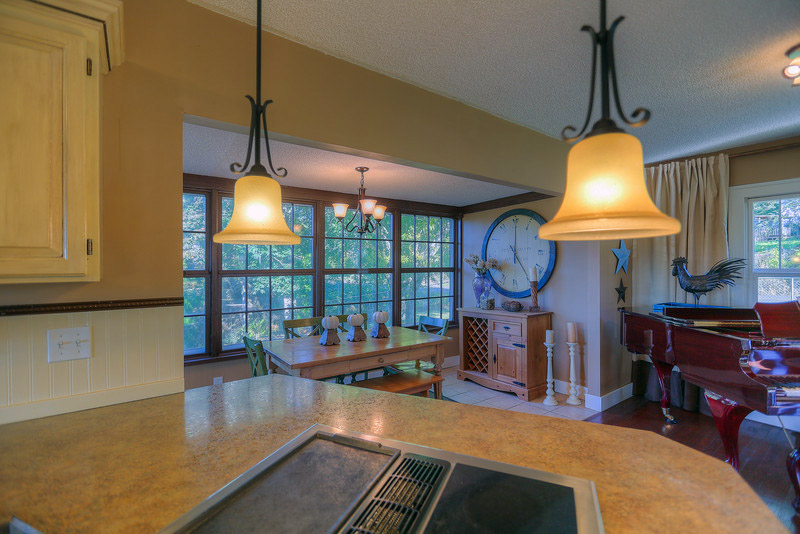 Wistful Wednesday – Oregon Kitchen
Did I tell you we sold our house in Oregon? We did! Hurray! 99% of the time I am so glad to be done with it. The process of selling your home can be draining – especially if it takes a while, like ours did. The other 1% of the time I am a little wistful for the ol' homestead. I never felt like it was our "forever home," but we did put a lot of sweat equity into it and with that comes some emotional investment.
So, let's take a trip down memory lane!
Here's the kitchen! It was actually quite large for a 1936 home. When we redid the counters, we had 100 sq. ft. of counter space to cover! We could have gutted the kitchen for what the granite estimates were coming in at. Needless to say, we opted for laminate counters.
It's hard to tell in the photo, but the sink was a chocolate brown granite sink
. We got ours from Home Depot, but Amazon is selling the same one now. I can't say enough good things about it. Loved it. Our water left white marks all over the sink, but after I cleaned and dried it, I would rub it down with baby oil and it looked brand new.
When we purchased the home, the cabinets were an orangey-oak from 1968. To update them, I painted all of the cabinets a creamy color and then wiped on a chocolate-colored glaze for a distressed look. It took forever! We also added the crown molding to give the cabinets some height. The upper cabinets you can see on the left were new, but we managed to find a similar door style and no one ever noticed they were 40 years newer.
The cabinet hardware came from Target. I was pleasantly surprised at the quality. Even after 7 years there wasn't any significant wear on the handles or the pulls.
From the stovetop area you could look out on the dining room. That dining room used to be a porch, but at some point in the home's history it was enclosed. Do you see those multi-pane brown windows? They came from an old schoolhouse. I love that the windows were reclaimed and put to use in the home. It's hard to tell from this angle, but they really made a big impact. The previous owners installed storm windows on the outside in order to make the windows double-paned. We were thankful for that!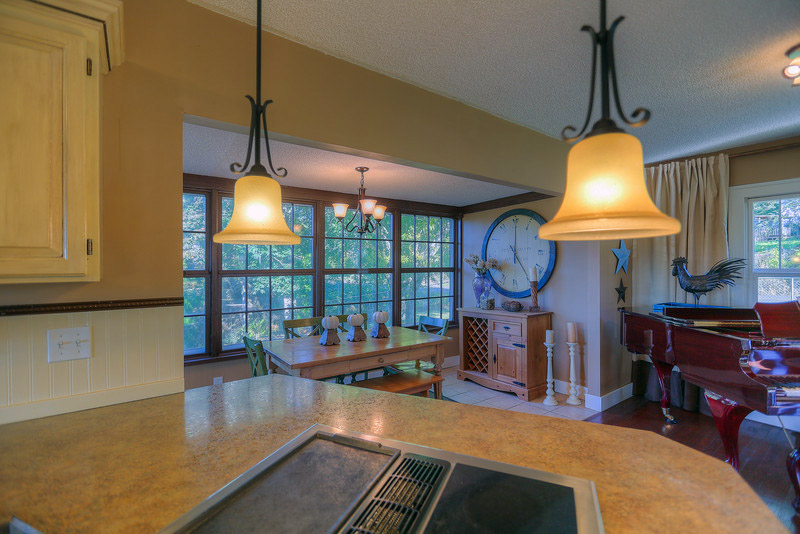 So, there's a glimpse at our old house – happy memories! Looking at these old pictures makes me want to buy another house. Right now! I love putting my stamp on things. We've been looking, but haven't pulled the trigger yet. There are some nice perks to being a renter. 🙂
P.S. These photos are being used with permission from our realtor, Stephen Tandy. These are the photos from our real estate listing. Photo credit to Charles Price Photography.
---
This was so long ago, but here are more from Oregon!