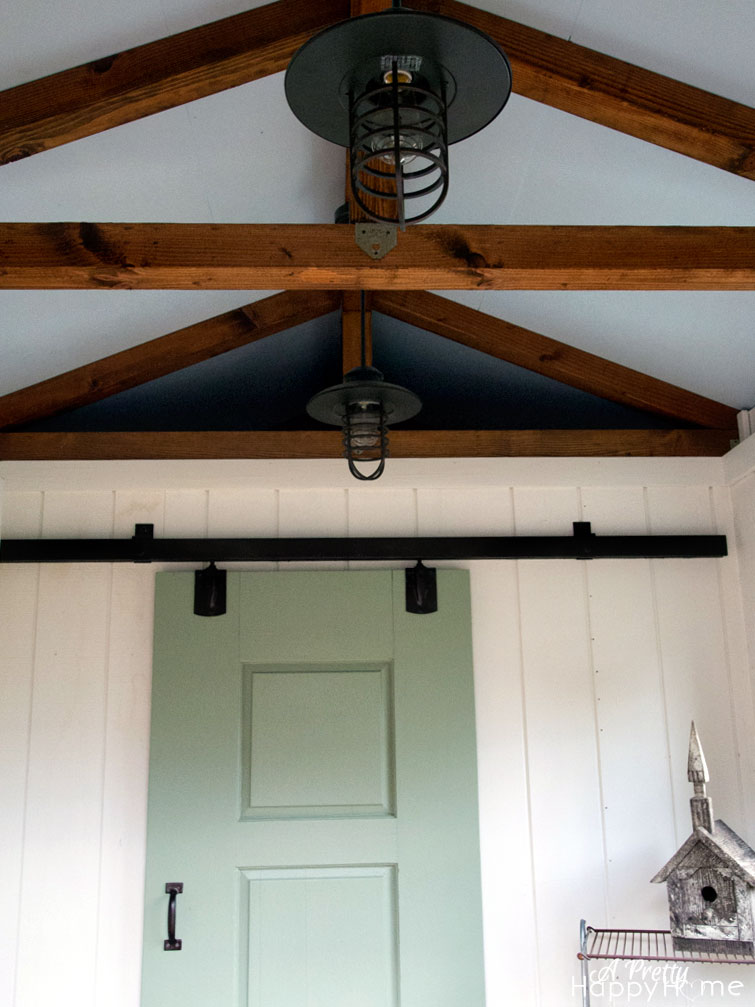 Someone is ready for spring planting! Spoiler alert: It's not me!
Before the end of 2014, I posted about my stepmom's new potting shed. By new, I mean they just built it, but most of the materials are salvaged or repurposed for the space. So, totally new, right? Ha! Isn't it charming? Let's go inside!

The beam work you see on the outside of the building is carried through to the inside. I'm not the only one drooling over those beams, right? That sliding door sections off an area that will be used for storage.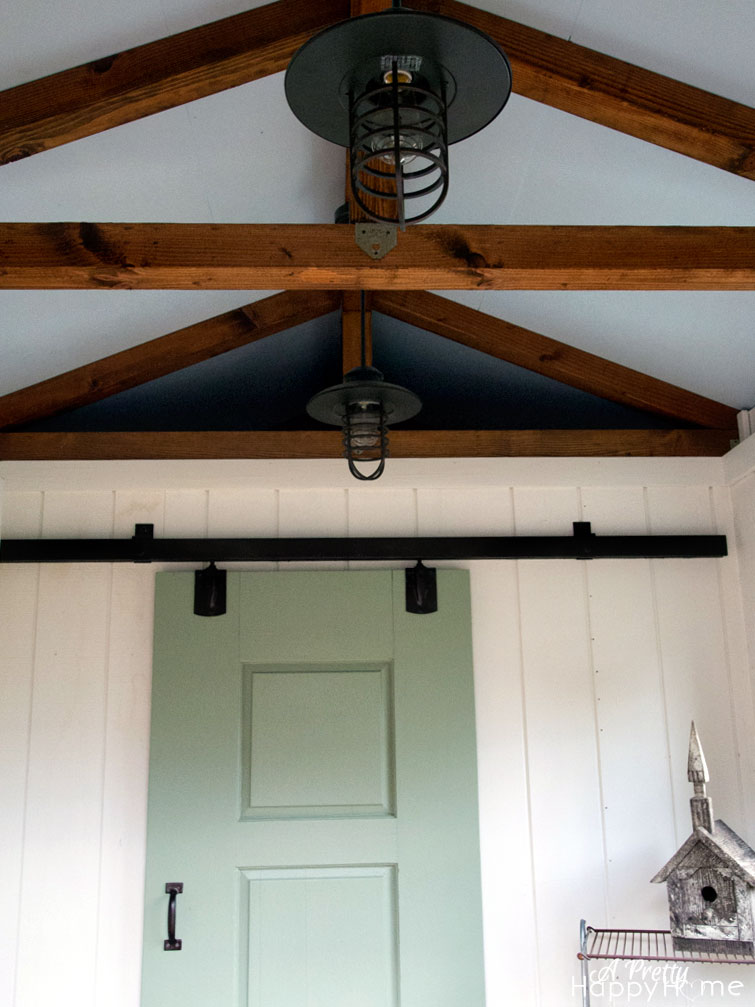 Fun fact! This wood door used to be the front door to our house before the home was remodeled almost 10 years ago. Hoarding for the win! 🙂
Kidding, Dad. Sort of.
I think the door looks better used in the potting shed! Plus, I'm a sucker for a touch of sentimentality in design. Now, I'm going to have to ask how they did such a good job filling the hole where the door knob used to be.

The hardware is new, but the barn track was salvaged from an older barn on the property and repainted for the potting shed.

These old windows now serve a fantastic purpose of providing natural light to the room and a view of the in-progress backyard landscaping projects.
The vertical paneling is actually old exterior siding that was salvaged and repurposed here.


I'll probably get in trouble for showing winter landscaping and a raw patch of dirt, but that dirt area is getting a facelift soon. It used to have a building on it, but now it's the next phase of Project "Make the Backyard Awesome." My stepmom is like the Chuck Norris of the landscaping world… that dirt doesn't stand a chance.

Bringing it back inside, I like how she made something potentially boring like flowerpot storage become a focal point with the addition of the a cool wire shelf. I'm not sure what the shelf was originally used for, but my stepmom scored it at a garage sale.

I love the steeple on this old church birdhouse. I'm sure all the cool birds want to live there.
Opposite the window wall and looking back toward the front of the potting shed is where all the action will happen. At least that's what I assume. I usually haul all my flowerpots out on the deck or front porch and create an unholy mess when planting flowers. Then I end up using my kids' sand shovel to aid with the planting process because I can't find a trowel. Sad, but true.
Now, I'm sure there's a great reason why my dad had that funky work table. It was clearly created for function, not form. However, in the true spirit of "work with what you've got," my stepmom put a little lipstick on that pig (aka painted it) and now, I dare say, it's a happy little spot for getting your hands dirty.

The retro cupboards are another yard sale find. As a side note, I clearly have been going to the wrong yard sales.
Now, before anyone goes all environmental on me, my stepmom found those boxes of rat poison long tucked away in an old building on the property. She liked the old-fashioned graphics on them and has them there for display purposes…or so she says!

I like these little guys hanging out with the Coca-Cola crate, adding some additional cheer to the space.
In case you are wondering why there isn't water plumbed into the work table area, here's the scoop. That was going to be an extra expense and a water spigot was already located right outside the building. If the space gets extra dirty, there's a drain in the concrete floor and the entire place can be hosed out.

And in case anyone needs to take a break from all things garden related, how cute is this stool? I like it all chipped and paint-splattered.

Looking back toward the front door is another one of my favorite parts of the potting shed, another old door that was salvaged and given a new chance to shine. A true comeback story!
So, that concludes our tour of the happiest potting shed on the planet. The moral of this story? Clearly you need to get to hang out with my stepmom and hope some of her design mojo rubs off on you. 🙂
Also, with a lot of thought and elbow grease, you can make what could potentially be a lackluster place for a mundane task completely inspired and pretty. Plus, you'd always be able to find a trowel.
---
There's more good stuff! Read one of these…