Turning a Tub/Shower into a Closet Without Damage
Yes, you read that right.
We turned a tub/shower combo into a closet of sorts without damaging the shower surround.
Why, why, why? Don't you people like to take showers? That might be what you are wondering.
Fair question.
For the record, 50% of us like to take showers. The other 50% of us seem to be content having dirty feet and faces, but their parents make them take daily showers/baths anyway.
Here's the real reason we've made this journey down the creative, DIY rabbit hole.
Our new house is an older home with terrible storage, as is normal for older homes. We don't have a coat closet. What we have in abundance are bathrooms – 3 FULL bathrooms to be exact. The third bathroom is on the main level and we don't have a bedroom on that level, so no one is going to use that particular tub/shower, especially given that we have two others upstairs by the bedrooms. If we had a house full of teenagers or more than 2 kids, our situation might be different. So, no complaints about extra bathrooms here!
Why, yes, those are my piano books sitting in the tub. Totally normal. But since this space is becoming a closet, it works…for me!



Here's the deal and why this set-up looks odd – odder than piano books in the tub.
That's real subway tile. We didn't want to damage the tile for my cuckoo creative idea. A tension rod isn't strong enough to hold up all the things I plan on hanging in there. I learned that the hard way.
I suggested to Handy Husband that we get some rods and use some sort of ceiling mount. But…the studs in the ceiling weren't spaced appropriately for our needs.
So, my husband came up with this "I-shaped" system that won't damage the tile. His brain clearly works differently than mine.

There's a vertical board running from the top of the tub to the top of the shower. It is attached to a horizontal board that runs the width of the tub. There are two more horizontal boards flanking either side of the vertical one – for additional stability. All of these boards are screwed to each other, but not to the tile. Still with me?
The vertical board is on the far side of the water spout and shower head, for ideal closet rod placement and stability.
If you're wondering why the board below is crooked, well, that's the joy of an old house. The board is level, the ceiling is not. Measure and double-check level, always!

The little extra shorty horizontal piece (technical term) on the below photo is there for added counterbalance, according to Handy Husband.
He also made sure that the screws he was using were long enough to go into the board, but not all the way through the board. Again, we didn't want to damage the tile.
Why two rods? Well, this isn't the prettiest system in the world. And hanging up coats and long dresses isn't pretty either. So, I planned on hiding the functionality with some curtains.

The genius of this system is that when the two rods are in place, it doesn't allow the "I" Frame to collapse on itself. The rods push the "I" frame flush to each wall and is why we didn't need to secure those boards to the tile. You just need to make sure those closet rods fit in their holders very tightly – you don't want any give.
Is that clear as mud? 🙂

I bought two sets of Ritva white curtains from IKEA to hang on the front closet rod.
I probably could have gotten away with just using 3 out of the 4 curtain panels, but I'd already ironed the 4th panel and storage is a problem, so up it went. It's nice and full!

Sorry for such terrible pictures. This might be the last you see of this room since I can't figure out how to shoot in such a small space.
Now, the curtains are close to that porcelain throne. However, the tub is close to the toilet, so there's not a lot of breathing room in this space anyway. There may be a joke in there somewhere…

Peek-a-boo! This is where we will hang extra coats and off-season items. So far, so good.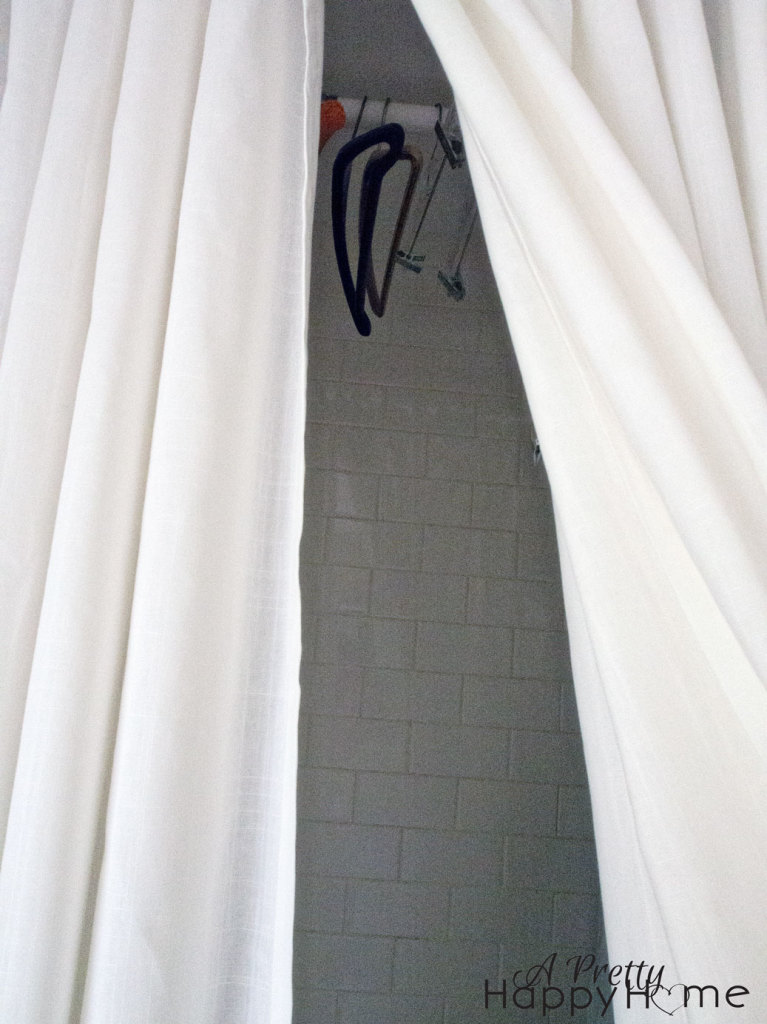 I realize this situation might only apply to me, but if there is another person out there who wants to use this storage solution, be advised that you may want to adjust the height of your "I" Frame. I'm tall and we needed to hang some taller items, so having the rod high off the ground doesn't bother me. The concept could easily be adapted to any height, however.
I'm also not providing dimensions for this project because as you can tell from the pictures, we had to build this frame to fit our particular tub given that it didn't seem to be built square. So, my dimensions are not going to work for anyone else. Just measure and measure again!
I'm happy we could find a creative solution to solve this storage dilemma. We are definitely utilizing this home to its max! If you're renting or just not ready to tackle a big construction project, sometimes a creative fix is just the solution.
---
Thanks for reading! I have other wacky ideas if you don't want the fun to end…
DIY Geometric Mirror Using Children's Blocks
Hide Computer Cords with a Shower Curtain
How to Reshape a Flexible Plastic Woven Basket