Adding Color to the Piano
When I go to Target, I like to walk down the back side of the home decor aisles because it is on those end caps away from the high traffic areas that you can find some real deals.
Not that I necessarily need any of those deals.
Sometimes you just don't know you need it until you see it. Am I right? Shopping logic is a dangerous thing.

Recently, on one of those trips, I found this turquoise seeded glass vase on clearance.
Come to mama! I have a weakness for all things turquoise. I didn't have a plan for it, but there's not always time to formulate a plan on the fly when you are shopping with a 4-year-old. It's grab and go, grab and go.

When I had 5.3 seconds to myself without a preschooler trying to use the shopping cart as a launch pad for various ninja moves, I came up with a plan to add more color to our piano room.
This is the dusty piano picture I posted when I explained my favorite product for shining up a piano. Seriously. Read that post. It will change your life. Unless you don't have a piano. Then, I can only recommend getting a piano after that.
This is the only "before" picture I have because in all honesty, I'm too lazy to now remove the vase and snap a fake "before" picture. That would require dusting…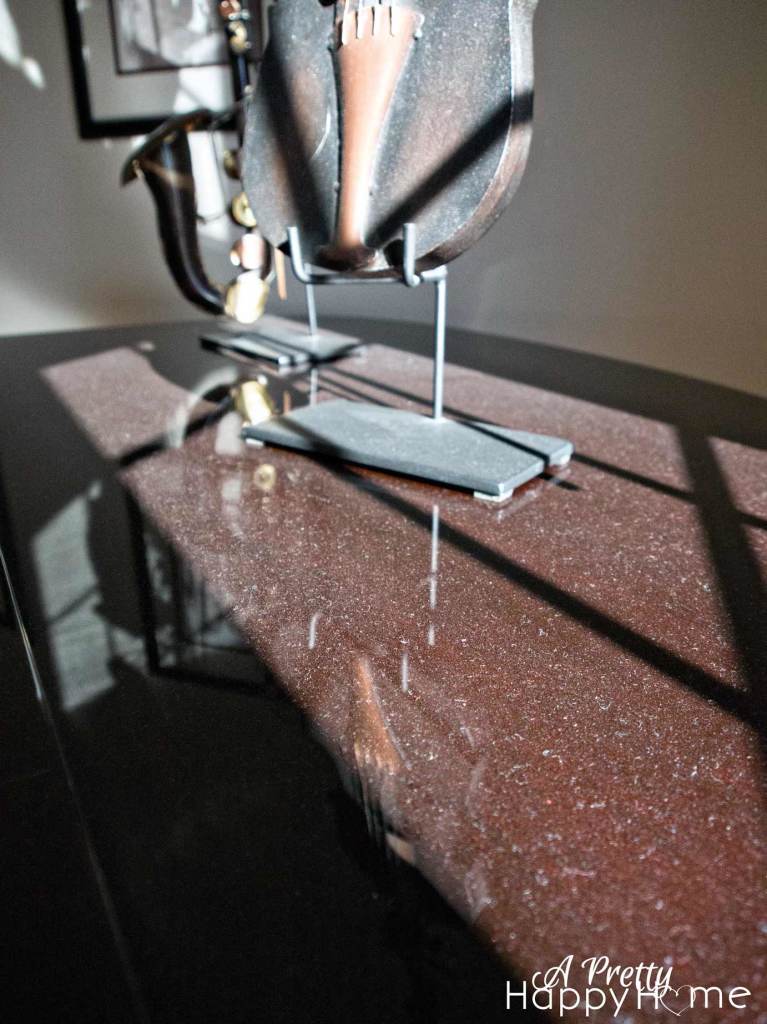 Moving on, here's how that area looks now…
It just feels right somehow. Like it needed a little boost of color in the corner. Curtains would help too, but we're short-term renters, so that's not going to happen.
I've already married together the two unlikely colors of turquoise and red in this room. I'm a rebel that way. This vase and flower combo complements the other colors in the room nicely.
(That picture on the wall is of me and my mom. I was 3 years old or so.)

This is my view from the piano bench.
And yes, I did use fake flowers that I had in my stash. The HORROR! I don't use fake flowers much anymore, but I decided to make an exception. There was just no way I was going to be able to keep fresh flowers in that vase for months on in. My "fresh flower logic" is much more sound than my "shopping logic." 🙂
Plus, the idea of water on top of the piano gave me violent convulsions. I don't even let people drink anywhere near the piano. We have a household ban on open containers in this room!

Sometimes, in the dead of winter, a quick and easy project is just what I need to brighten my mood. And color too! Bright pretty colors always make me happy!
---
Thanks for being here today! Here are some other posts you might enjoy!
Joanna Gaines Made Me Do It (Baskets for sheet music)
How to Dust a Piano with a Glossy Finish
Vintage Key Project Inspiration
---
*affiliate link in this post*