I made a little bit of progress on the kitchen project this weekend. I always seem to invite friends over when I'm smack-dab in the middle of a project. "Hey! I ripped my kitchen apart! Come over for a BBQ!" Good friends don't judge. They just bring wine.
So, that meant there was more fun, but less work happening! Not really a bad thing, in my opinion!
If you recall, I said we were going to try a few different methods of getting our cabinets ready to paint. We started on the bottom half of the cabinetry because I had a plan in place for that section. The plan for the upper cabinets is still in flux.
Any guesses as to what color we'll be painting???
So, I stripped the paint off of the bottom cabinet doors and then sanded the bottom drawer fronts. Spoiler alert! Sanding was MUCH less labor intensive.
I realize these drawers look super scary, but they are smooth.

For the cabinet frames, I took the sander
to them as well. It wasn't as bad as I thought because we have a sander
 that connects to our shop vac so virtually all of the sanding dust is sucked away. It was clean enough that I didn't remove my pots and pans from inside the cabinets and they didn't get dirty. It's pretty sweet – I totally recommend it.
I wasn't going for perfect…remember, what these cabinets really need is a gut job. I was just going for as smooth as possible and not sticky! I think the reason the cabinets were sticky in the first place is that the last coat of paint on the cabinets never really cured and they were left forever tacky. And gross.
Anyway, the frame received two coats of primer. Already looking better after the first coat!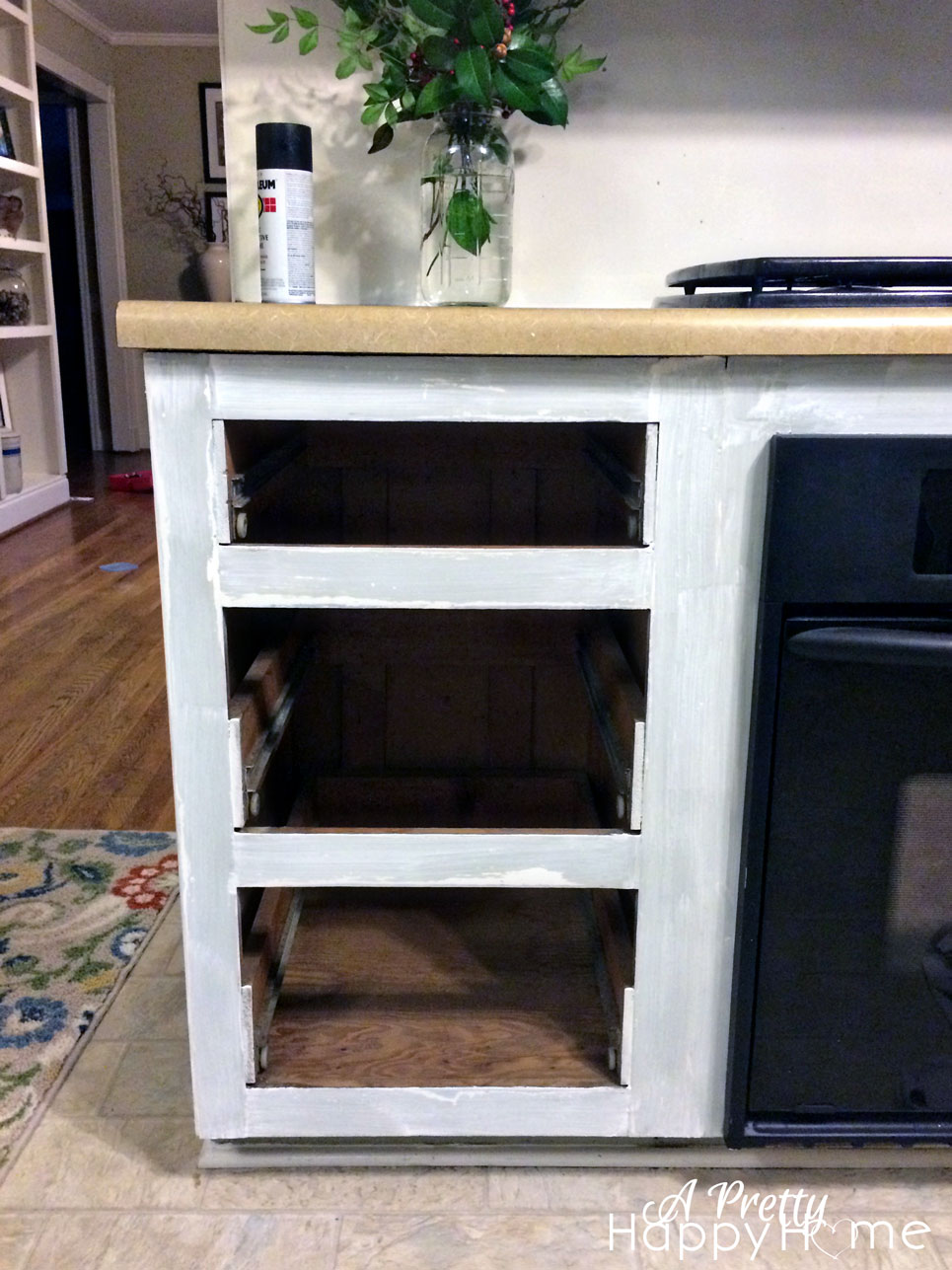 And TADA! Here's the first coat of black paint! Did you guess the color correctly?
Yep, I decided to go down the road less traveled for the bottom cabinets. First of all, I have nothing to lose. Second, it just felt right. Partly because this house has a slightly masculine feel, so I felt it could handle these darker cabinets. Partly because I wanted to find a way for the appliances to blend in better.
See how the black stove is already disappearing and blending into the cabinetry? I don't think I have the words to express how happy this make me feel! I do like it when a plan comes together!

Now, if you're wondering what my kids are doing while all of this is happening?
They often entertain themselves outside while sporting cool shades…

Or they pull out their own loose tooth…

We've had a great Spring Break hanging out together. We took some day trips around the area and worked on making our home a little prettier. Weeks like this where we have nowhere to be and nothing pressing to do…pure happiness!
Now, to fortify myself for the early morning wake-up call as we get back to school. That bus comes EARLY! Get the caffeine ready.
---
Thank you for reading! Here's the conclusion to this story and a few others! 
Personalized Hangers – Great Handmade Gift
DIY Embroidered Shirt – Nevertheless She Persisted
---
*affiliate links in this post*