Hiding a Router and Modem in Plain Sight
When we moved into this house we set up our Internet connection in the easiest spot for the Charter Internet guy, which was in the basement.
It worked great. Until it didn't.
Isn't that how it always is with your Internet service? If I was into conspiracy theories…
So, last weekend my husband got up early and tells me he's going to move the router upstairs. In my un-caffeinated, still-in-bed state, that's all I heard. Router and upstairs.
He was literally moving the router 6-feet straight up. I thought he was going to leave everything plugged in where it was and run the wire directly through the basement ceiling/living room floor and just set the router up there. I figured I could hide one router, so I rolled over and went back to sleep.
This is the area where it was going to go, which is right above where the router was in the basement.

Contrary to what the chalkboard says, I did NOT laugh out loud when we ended up with this set-up:

Actually, when I first saw it, the router, modem, power strip and all of the cords were sitting underneath one of the child-size chairs – the ones from the first picture.
As if the children in our house would never, ever move one of those chairs. Ever. Wouldn't even dream of moving those chairs all around the house, upstairs, downstairs, wherever their adventures take them. Not our kids.
Now, our aesthetic differences aside, the Internet did run much faster after we moved the router AND modem AND power strip AND a billion feet of cords up 6-feet to the living room. I was actually very happy about that. Seriously.
So, here's what I decided to do with that hot mess.

Yep. I shoved it in a basket. I didn't have a basket with a lid, so I found this one at HomeGoods for $14.99. I also found two new shirts, but all that combined still seemed like a bargain given what we were working with. 😉
While it did cause me a fair amount of internal anguish, I cut a small hole in the back of the basket and fed the cords through the hole.
Pretend I vacuumed before I took this picture.
Also, for reference, I moved the components and basket to the adjacent wall (to the left). It allows the kid area to remain the same and actually hides the majority of the cable cord behind the curtains.


This is the important part.
1) You want to make sure your Internet still runs as fast as it should if you do something like this. I use the speedtest.charter.com site to see how fast our connection is working. If you have a different Internet provider they should have a similar site for you to test your connection speed.
2) You don't want your router and modem to get too hot. (The experts would probably discourage you from using this method. So, listen to them not me. Okay?) I purposefully chose a basket with a loose weave and I liked the open hand-hold space on top of the basket. It gives the components room to cool down and an opportunity for air to circulate. I've been compulsively checking it the past few days and so far, so good on the heat issue.


I'm not sure if I'm done with this project. I've been toying with idea of raising the basket up slightly or embellishing it in some way. For now, it's good.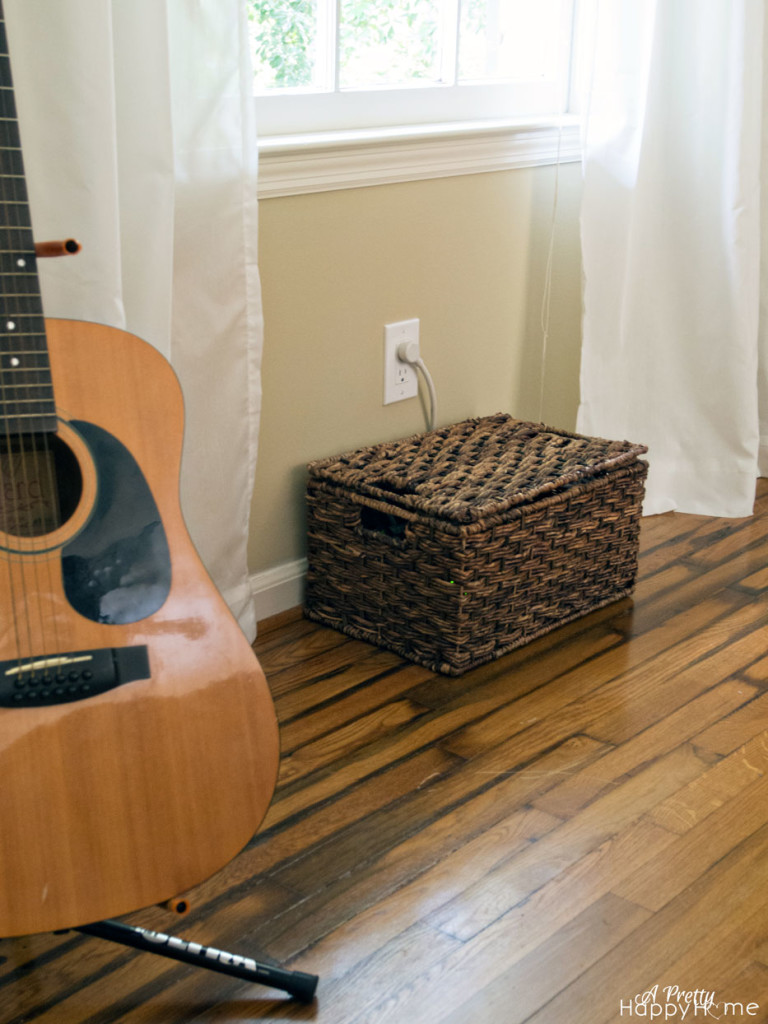 I'm pleased to report that while this story started out with some miscommunication between Handy Husband and my half-asleep self, it had a happy ending! It might take us a couple of tries to get on the same page, but we usually end up there.
P.S. If you need a really great router
 to support a lot of devices *raises hand*, we've been super happy with ours and haven't had any issues since we got it.
---
I LOVE quick and easy projects. Like these:
Painted Visor Using a Doily Stencil
---
*affiliate links in this post*