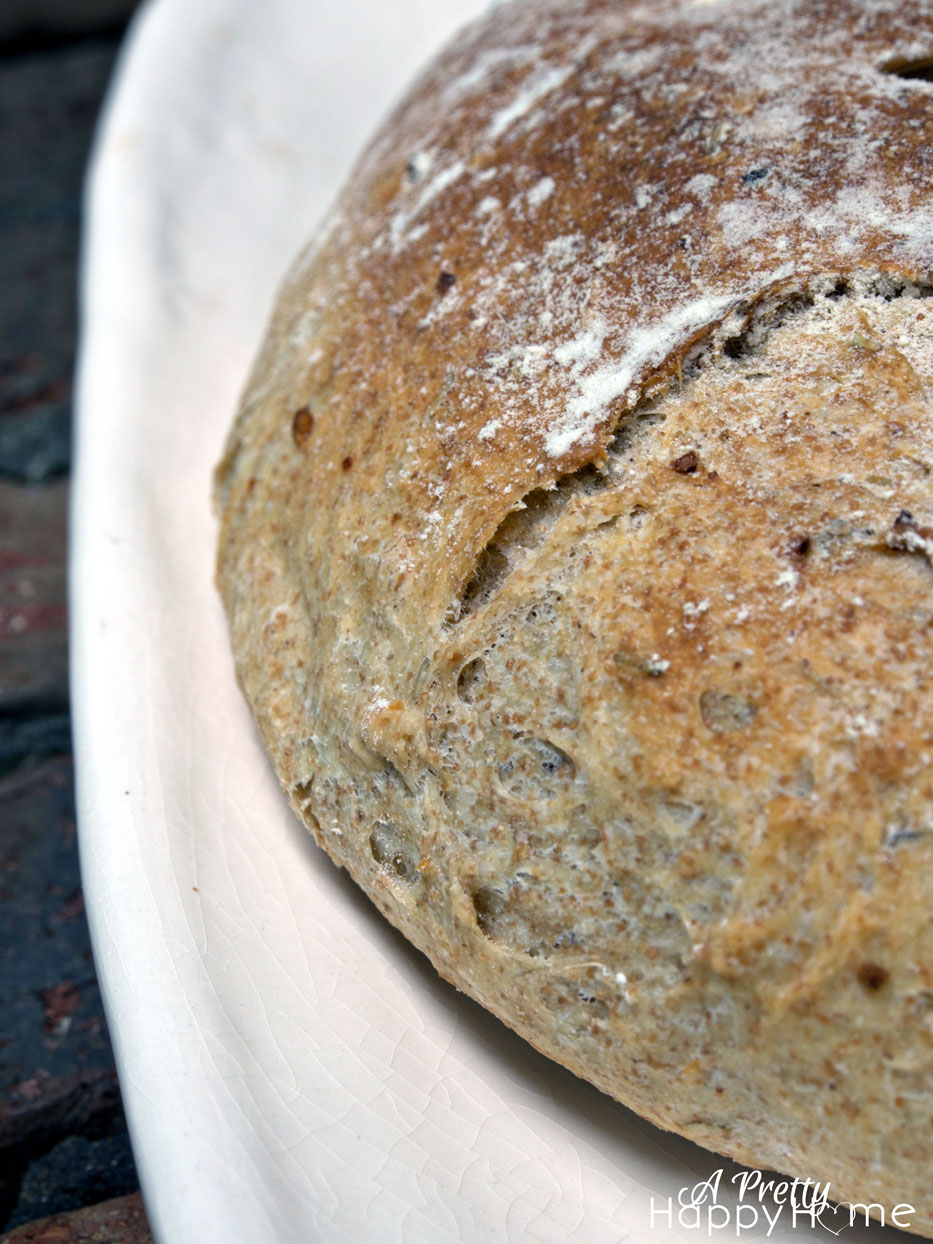 Rosemary Garlic Artisan Bread (5 Minute)
I decided to expand my bread-making horizons.
Why?
Well, duh, it's bread! Does it need further explanation?
I'm still making my Dave's Killer Bread Copycat Recipe every 5 or 6 days. That's our every day toast and sandwich bread and I love it more now than I did when I first started making it. Truly.
However, I want to learn how to make crazy good artisan bread. The kind that transports you to a sidewalk cafe in Paris with every chewy, delectable bite.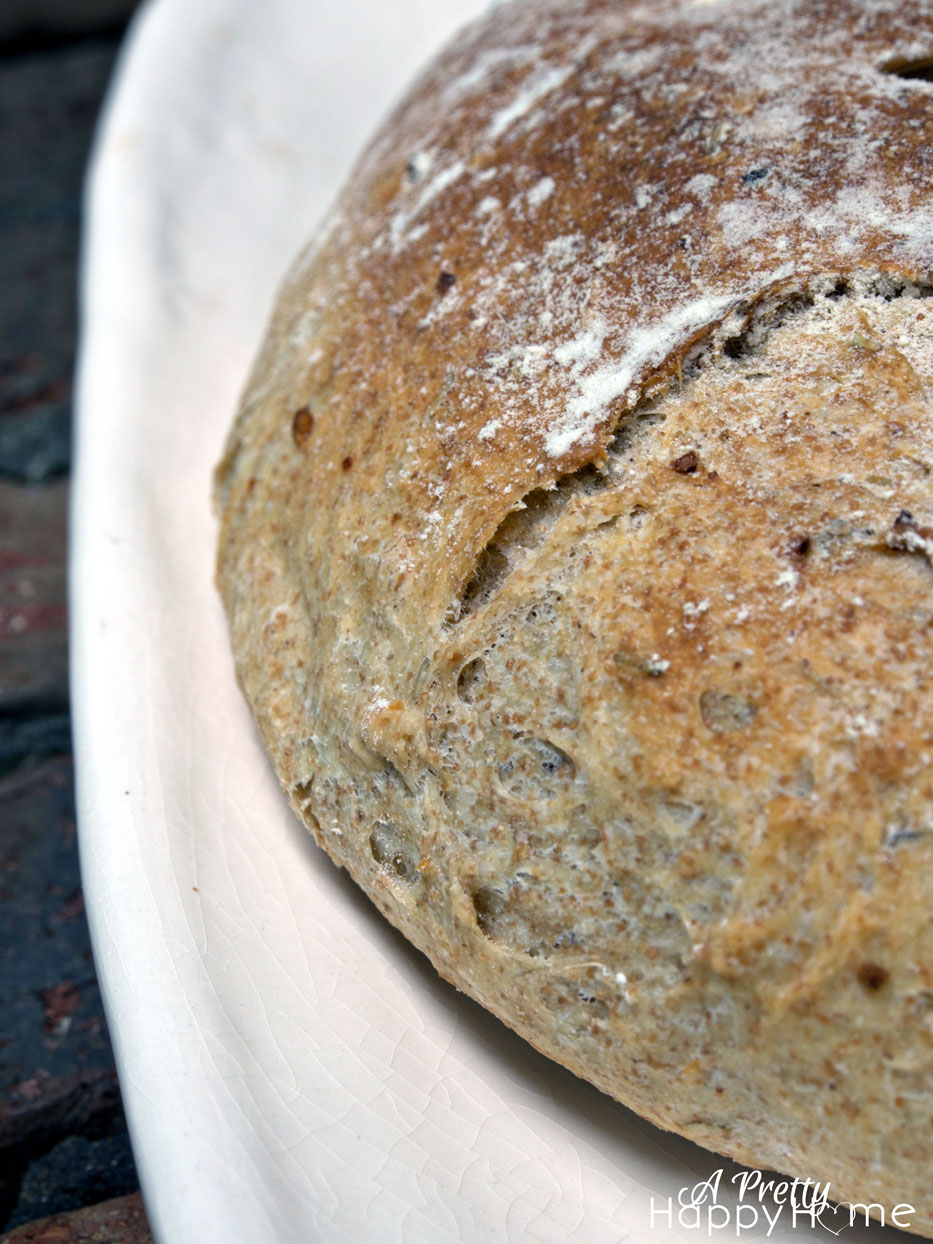 Yesterday I started Googling recipes to see what was out there and how involved this process might be. Recipes and techniques were all over the board. It was hard to keep up.
One category of recipe that kept popping up was for 5-Minute Artisan Bread. It seemed like the path of least resistance at the time, so I went for it.
To clarify, I think the 5 minutes refers to the amount of time it takes you to mix up the ingredients. Realistically, it takes a lot more time for the yeast to start working, to mix the ingredients, to let everything rise, to bake, etc. There's not a lot of kneading with these types of recipes though.

I decided to try a recipe from The Cafe Sucre Farine because, well, she had pretty great step-by-step pictures and it all sounded easy.
I used Chris' exact recipe and then added approximately 1 tablespoon of dried rosemary (no fresh on hand) and 1 heaping tablespoon of garlic (the kind from the jar) to the dough.
Before long, my kitchen smelled heavenly. Seriously, I'm pretty sure Heaven smells like rosemary garlic bread. Or bacon. I could probably smell that for eternity.

In my quest to make crazy good artisan bread, I learned a few things this go-around.
1) The flavor of this bread was delicious. Even my husband, who is currently on a high protein/high fat/low carb diet, had multiple slices today. (I'll explain more about his diet at some point, but he's an ultra-marathoner, so he can get away with that.)
2) The TEXTURE of the bread was not the chewy, airy bread that I associate with artisan bread. The texture of this bread was what you'd expect from a normal wheat flour/white flour combo bread recipe.
3) Experiments, even ones that don't turn out quite as you intended, are not a waste. I had a delicious grilled ham and cheese sandwich with this bread. Not going to lie, it made my day.

I think the moral of this story is that if you want something to taste authentic, you probably have to prepare it authentically as well. No shortcuts!
That said, I would happily make this recipe again because it did taste divine – especially with the herbs I added.
I will be doing more recipe research. I've heard amazing things about Ken Forkish's book Flour Water Salt Yeast: The Fundamentals of Artisan Bread and Pizza
. I might have to go the route.
---
*affiliate links in this post*
---
Guys, I really like bread. And carbs. And bread. Check these out. 
Pane Bianco with Basil, Sausage & Sun-Dried Tomatoes