I decided after 12 years it was time for a new headboard in our master bedroom. That seems reasonable, right?
I wanted Handy Husband to make me a headboard. This also seems reasonable, right? (Nod and agree with me.) After all, he does have experience making this one and this one. Alas, his free time for honey-do projects is limited these days.
That meant I needed to take matters into my own hands.
In case you are wondering, that means I went online shopping. I didn't bust out the power tools or my car keys. I was in my element.
I wanted a wood headboard, but hesitated to spend so much money on something Handy Husband can make – even if he doesn't have time right now.
Pottery Barn king-sized beds and even headboards are at least $1,000. Yikes.
By the way, I really, really, really need a window like the one in this Pottery Barn picture.
(Image Source: Pottery Barn)
I started to explore other headboard options. I love the look of the tufted headboards, but I've always wondered how you clean them.
This one from Pier 1 is sweet, but it was also $800 for the king version. That's too much money when I'm worried about how you clean it.
(Image Source: Pier 1)
Overstock also had some gorgeous options in headboards, but I don't have any experience with their return policy. There was a very good chance that whatever I ordered would not live up to its online hype.
I landed on a tufted navy blue headboard
that I ordered on Amazon.



Come. to. mama.
This headboard
in a king size was only $178. I'm pretty sure I've spent more than that at the grocery store.
The queen size is less than $150! Shut the bedroom door.
The price (and knowing I could return the headboard
 for free) is what assuaged my cleaning concerns and prompted me to pull the trigger on this purchase.



I'm sure there are quality differences between this headboard
and the ones made by Pottery Barn. I'm not exactly sure what those are though. Maybe the fact that this headboard isn't tufted all the way to ground? It sits on wood legs that bolt to the bed frame. Maybe the button tufts aren't as deep as other headboards? That would be my guess.
Neither of those things bothers me.
I love the navy color and since navy is the new black (in my house, as least), I think it will be pretty versatile.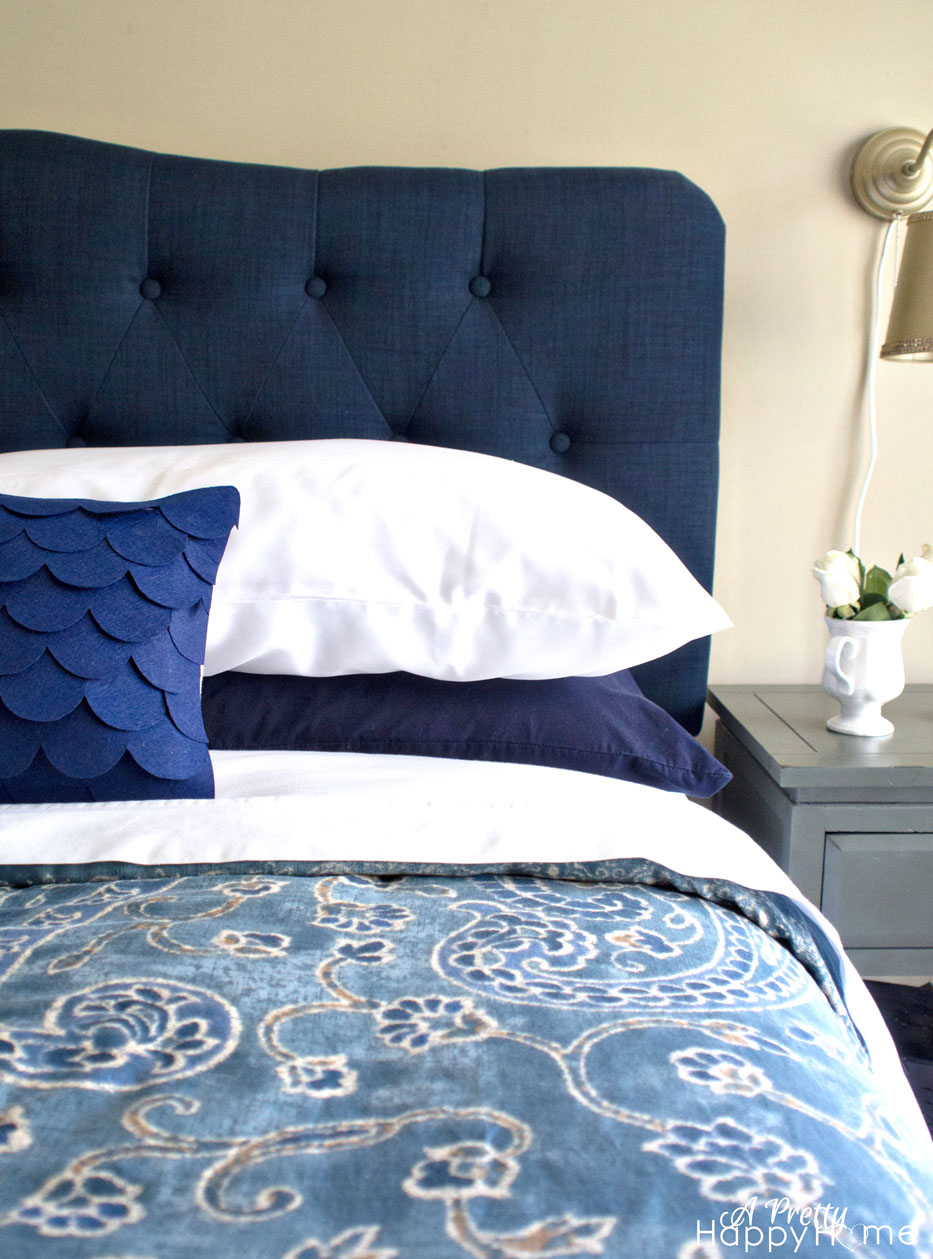 I've had the headboard
for a few months now and am quite happy with it. I still don't know what happens if one of my kids puts their dirty feet on it or worse, pukes on it, but let's hope we don't have to find out. Please, Lord, let's not find out.
Update: It's 2018 and that headboard is still going strong! I do dust it periodically with a damp rag, but other than that, it looks brand new!
---
If you enjoyed this post, I have more! Oh, yes I do. 
Sharing a Bed, but not the Bedding
---
*affiliate links in this post*