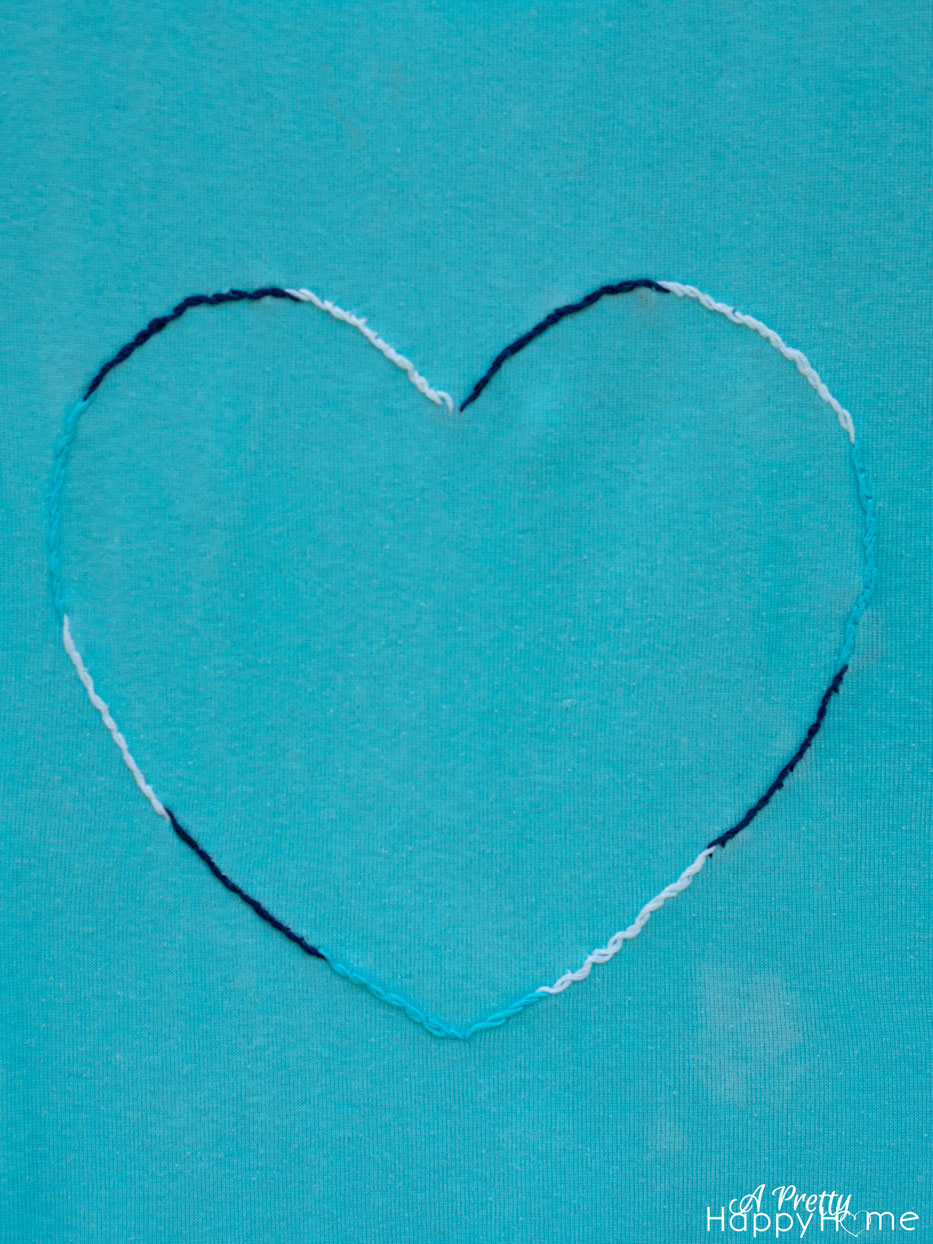 Embroidery Embellished Shirt
My wardrobe is pretty basic. Lots of solids, not a lot of prints. I'm trying to branch out more, but the practical side of me says I can wear a white t-shirt with a lot more than I can wear a wildly-printed one. My practical side speaks REALLY LOUDLY.
Perhaps this project was my impractical side finding its voice.
I wanted to see if I could use embroidery thread to embellish an old t-shirt. Sew new life into it, so to speak.
The problem? My experience with embroidery thread is limited to the friendship bracelets I made when I was 12. I'm a little rusty. Just a little.
That's why I was going to practice on an old shirt – a tank top. Unlike most of my projects, I did a little bit of research before I threaded the needle. I found this article about the different types of embroidery stitches on Craftsy incredibly helpful for a beginner like myself. It's one thing to know what type of hand embroidery stitches to use. It's another thing to understand how to stitch a design on a shirt without ruining the shirt or your design. This article on Design Sponge was so helpful in that regard.
First, I placed a section of water soluble embroidery backer
on top of the tank top and also underneath the front of the tank top to provide a stable working surface. This is helpful because the tank top is made from a stretchy material and you don't want your stitches moving around. The embroidery backer
is "secured" or held in place on the tank top by an embroidery hoop
.
I cut out the shape I wanted to embroider from a piece of computer paper. In this case, a heart. I placed the paper heart where I wanted the design to be on the shirt and then I traced around the shape directly onto the embroidery backer
material with a pencil.
After that it was time to start embroidering. Deep breath. This could have been the part where I screwed it all up.
A tip I uncovered is that you don't need to use the entire strand of embroidery thread. If you look closely, embroidery thread is 6 threads entwined together. I separated the threads in half and only used 3 of the strands to thread my embroidery needle.

I started at the top of the heart and using a split stitch (or my beginner's version of a split stitch) began to work my way around the heart. This type of stitch was great because I could easily transition in a different thread color to jazz up my design.
You could easily just rethread your needle when you are ready to switch colors. I had purchased a new pack of embroidery needles
, so I had three needles ready to go with my three different colored threads.

When you completely finish stitching your design, you will be left with a fully intact piece of embroidery backer. This is why you need to use WATER SOLUBLE embroidery backer
.
You're going to hold your shirt with the backing material under running water. The water soluble embroidery backer
will immediately start to dissolve. It's a little freaky and pretty darn awesome too. Just keep holding it under the running water and working the material with your fingers until all of the backing is gone.
At this point you could probably dry the shirt and be done with it. I washed it in the washing machine and then ran it through the dryer.
Here's my final result.

This would probably be a better reveal if I showed you a true before picture, but it's not too hard to imagine this tank top as a solid turquoise.

Once I got going, this was a super quick and fun project. My stitches weren't perfect, but I loved the instant results!
My only regret is that I used an old tank top that wasn't holding it's shape. If I would have known it was going to turn out so well, I would have picked a different shirt! Live and learn.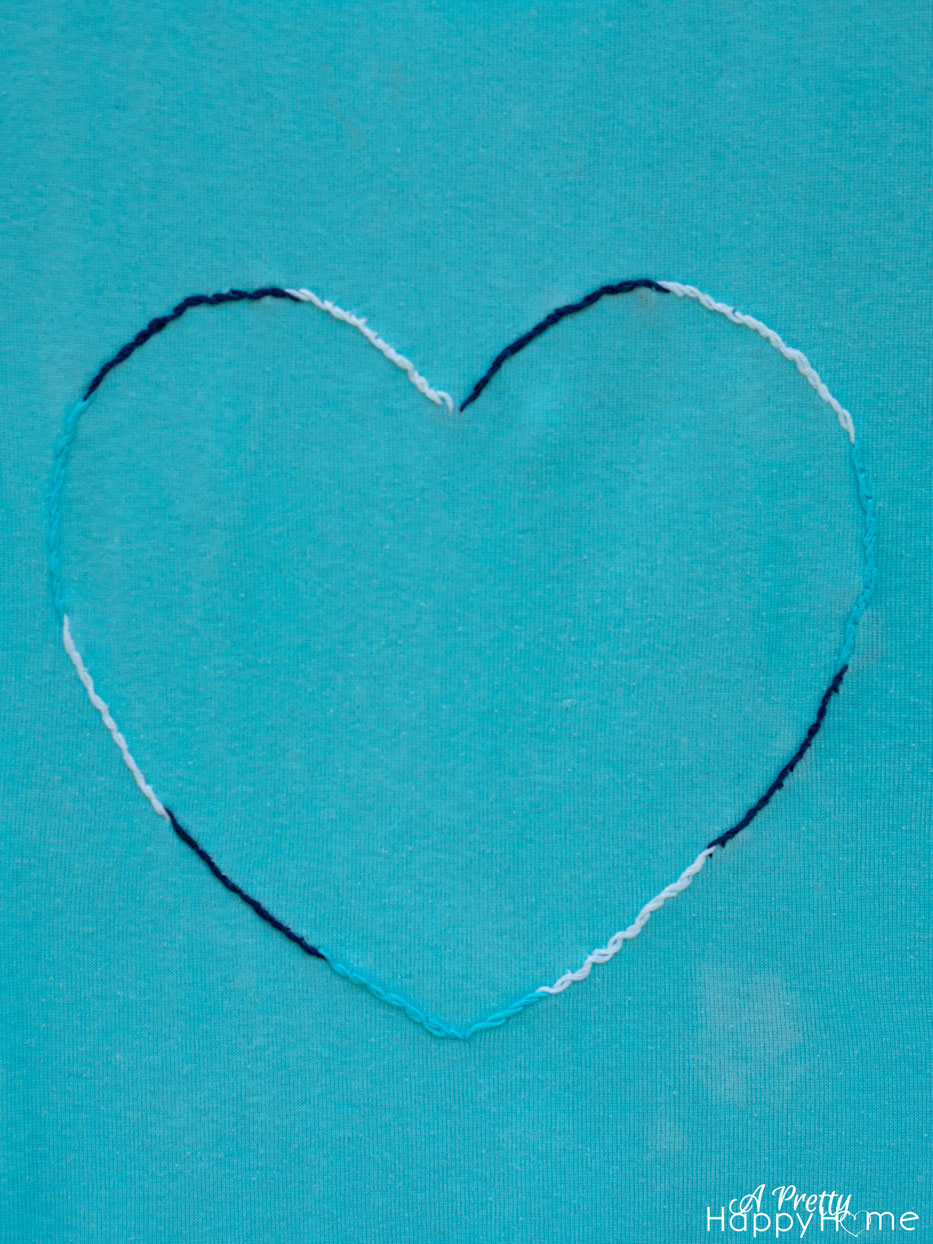 Now, I didn't turn this shirt into a wild print, but I call it progress! The possibilities are endless for using embroidery thread to personalize your clothes. Let me know if you try it! Happy stitching!
---
Here are some other embroidery thread projects you might enjoy!
Nevertheless She Persisted Embroidered Shirt
Skinny Jeans Embellished with Embroidery Thread
Yarn and Felt Holiday Wreath – embroidery thread to secure flowers
---
*affiliate links in this post*