Happy List #28: SCHOOL IS OUT
Today is the last day of the school year! No more homework. No more keeping track of school uniforms. No more packing (and the dreaded unpacking) of school lunches. No more forcing certain offspring to wear socks AND underwear because that's what civilized people do on school days.
HURRAY! HURRAY! HURRAY!
On Monday I'll probably be saying, "Oh, sweet heavens how long until school starts?"
Kidding!
That will definitely probably happen on Tuesday.
This week I shared the unexpected thing I am so glad I saved after my mom died – sweet, sentimental pieces of her handwriting. By the way, I love you all to pieces. Your sweet comments here and on social media were like a nice virtual hug.
On the opposite end of the spectrum, I also shared the other thing I've been saving – tourist maps. They make fantastic wrapping paper!
Here are the other things giving me all the happy feels this week.
---
PAPER FLOWERS
I believe I recently posted a paper flower tutorial and told you guys to hide my scissors. Well, I found another one! I can't seem to let this idea go.
I need someplace to hang paper flowers because it could look so cool as a photo backdrop. Am I right or am I right?
Full tutorial (and image credit) can be found at Hostess With The Mostess.
---
LITHIUM PONDS IN CHILE
I recently ordered something on Amazon with a lithium ion battery. It was the drone
for my son's birthday. The box was papered in huge warning labels.
WARNING! LITHIUM ION BATTERY INSIDE. HANDLE CAREFULLY. YES, THAT MEANS YOU, DELIVERY GUY!
I can't remember the exact words, but that's close enough.
I didn't know where lithium comes from, but now I do. I watched the video with my kids too and we had a crazy good discussion about minerals and technology. I felt like we really nailed it in the learning department…for those 6 minutes.
This was also a gentle reminder of how interdependent our world is on each other for natural resources and trade. Because HOLY COW if we can't get batteries for our iPhones there's going to be a panic!
---
FANNY PACKS ARE COMING BACK
At least, that's what InStyle magazine says.
So, if you want a $395 lilac-colored fanny pack (or belt bag to be super up-to-date), visit ShopBop. No, that's not an affiliate link.
I actually wouldn't mind fanny packs coming back into style. You can't beat the practicality!
---
FAITH HILL AND TIM MCGRAW'S HOME
This is Faith and Tim's home in the Bahamas.
I wonder how much time they spend here? I'd probably never leave! See all the gorgeous photos of their home on Architectural Digest.
(via)
---
TIN SIGNS
Since I will be visiting (aka overstaying my welcome) at Dad and The Junk Whisperer's house soon, this idea for reclaimed tin signs caught my eye.
I can almost guarantee there's a piece of tin somewhere on the ol' family farm.
I also have a friend who could sell these in her shop with no trouble at all.

Get more inspiration at Gypsy Farm Girl.
P.S. There is no way I'd say "welcome y'all" in Ireland. Just in case you were wondering. They already think I'm strange enough.
---
COFFEE BUTTER IS A THING
Why am I not surprised coffee butter is a thing? At least it is in Japan.
And I'm not talking about spilling your coffee on your buttered toast either! Been there, done that. DANGIT!
This might come as a soul-crushing shock – there's nothing healthy about coffee butter. Check out the recipe from Epicurious and see for yourself.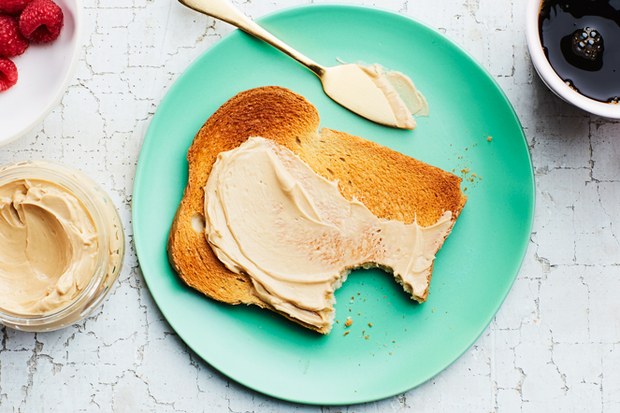 PHOTO BY CHELSEA KYLE, FOOD STYLING BY OLIVIA MACK ANDERSON
---
RAW RESTORATIONS
I found a company called Raw Restorations that reuses barn wood and metal to make cool wall art.
I'm a little obsessed with all of their creative ideas…and their firm grasp of geometry.
Learn more about their process, including custom creations, here.
---
EASY PARTY DECOR IDEA
How about balloon flowers to jazz up your next party? The color combinations are endless!
Depending on your space and how you hang these, I don't think you'd need helium.
Learn more and get the tutorial at Hostess With The Mostess.
But wait! There's more!
If you're serving ice cream at your party, it would be fun to make ice cream cone decorations with balloons.
By the way, this picture comes from a party that served 'make your own spiked milkshakes.' Clearly, a grown-ups party and one I think I'd actually attend. Just throwing that out there…
Get the details and see more pictures here.
---
MAP QUILT OR THROW
Wedding or anniversary gift idea!
A quilt or throw with a map of where the couple got married (or calls home) would be super special. A definite keepsake. I'd love to receive something like this.
You can also personalize the quilt with the couple's wedding date or mark a specific spot on the map with a heart.
This quilt/throw below shows a map of London and was made by Haptic Lab. I'm sure other companies must do this as well – perhaps on Etsy.

---
HANDWRITING JEWELRY 
After my post about saving copies of a loved one's handwriting, a reader told me about some Etsy shops that sell handwriting jewelry. Send them something handwritten and they can recreate it!
This bracelet is from CaitlynMinimalist.

This one is from CarolJewelryArt.
---
HOUSE NUMBER WALL PLANTER
I loved this idea for displaying your house numbers by Sarah at Sarah Hearts.
As she points out, it is renter-friendly too.
---
That's all from me this week!
Wish me luck! I'm off to collect two very happy kids from their last day of school! I am so very proud of all of their hard work this year.
*affiliate link in post*