My Latest Thrift Store Finds
Believe it or not, I've been shopping – thrift store shopping! And I have some thrift store finds to share with you.
There's really no difference at all between thrift store shopping and regular store shopping for me.
99% of the time the outcome can usually be categorized as one of the following:
This store was a complete waste of time. I can't believe I left my house for this.
The store contains all my hopes and dreams and I can't afford any of it.
That last 1% of the time I find something at the intersection of I can't live without it and I'm willing to pay for it, but not pay too much.
Here are my latest thrift store finds in all their new-to-me glory.
---
Thrift Store Find: Glass Citrus Juicer
Not a sexy purchase, but I broke our last citrus juicer that looked exactly like this one and we've missed it.
For whatever reason we like this style much better than the handheld juicers.
Glass citrus juicers
 sell for around $10 new, so the $3 I spent was a good deal and I won't feel so bad if I drop this one on the floor too!
---
Thrift Store Find: Cocktail Ring and Faux Diamond Bracelet
Excuse the awkward hand photo below. I'm going to cross fashion blogger off my aspirational list because taking a picture of your own hand is not as easy as it might seem.
I paid $2 for this cocktail ring and it has been in my regular ring rotation since purchasing it a couple of months ago.
There are times when I want a little bling on my wrist, but I don't want to wear the real thing. This faux diamond bracelet fits in that category and it was also $2.
Not too shabby for a total of $4, right?
---
Thrift Store Find: Copper Bowl 
This copper bowl was $3. Right now I have a plant plopped in it and I love how that looks. Since buying this bowl I've seen other stores selling similar ones at the same price, so $3 must be fair. Although, on eBay these bowls sell for $10.
According to Wise Apple Vintage, my bowl which has a Coppercraft Guild sticker, was probably made in the 1970s. Coppercraft Guild was owned by the same company that owned Radio Shack. They wanted to get in on the Tupperware-style of business, so they manufactured copper bowls and other items that were intended to be sold at parties. Unfortunately, they went out of business in the late 1970s or early 1980s.
Don't look too closely at that plant. It's really not doing that well. Perhaps I should to take it out of its original container and plant it properly.
---
Thrift Store Find: Mini Foosball Game
I bought my son a basketball for $2 and a mini foosball game for $6.
The foosball game is fun to play and since we don't have space for the full-size thing, this is a good compromise. These mini foosball tables sell new for around $20 at Dick's or on Amazon, so I'm happy with the savings because I know this is a novelty thing that we will eventually donate back.
---
Thrift Store Find: Ceramic Bud Vase
I spent a whopping 50 cents on this little bud vase. Clearly, I'm willing to spend the big bucks to decorate my home!
McGee and Co. is selling a similar vase to this one for $12, so I thought 50 cents was a bargain.
In full disclosure, this vase has been holding my toothbrush. I didn't think my toothbrush would make a very appealing photo, so I plopped a branch in here for you. You're welcome.
---
Thrift Store Find: COPPER BAR TRAY
I save the best thrifted find for last! I purchased this copper bar tray for $2.
You know where this story is going, right? Just like the above mentioned bowl, this tray is also a Coppercraft Guild creation. There is one selling on Etsy right now for $44 and they are selling for $30 – $40 on eBay.
Yes, I am very delighted with this score. The tray is not holding bar accessories, but it is holding something near and dear to my heart – my memory rock collection.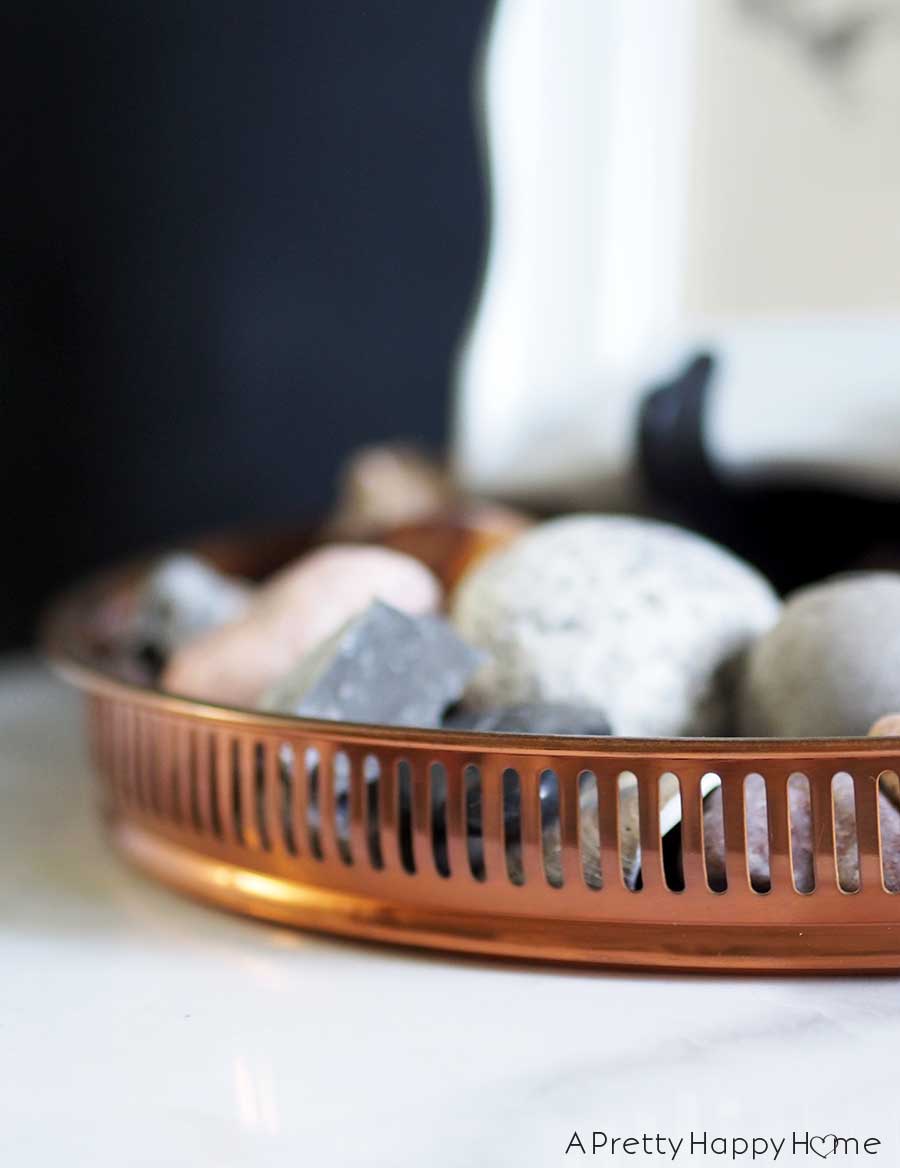 Again with full disclosure, for the purposes of today's photos, the tray is by a window in my daughter's room where the natural light is decent. Normally, I have it placed on my dresser in my bedroom. The natural light in my bedroom room is terrible now that the leaves have grown back on the trees. There's some irony there because I am so happy the leaves are back!
---
If my math is correct, I'm up to a whopping total of $20.50 spent on this round of my latest thrift store finds. I'm ridiculously happy with how far I stretched my 20 bucks! If only I had this much luck when buying clothing.
I'm still on the hunt for a few particular thrifted items. At the top of the list is a brass ash bucket because I think it would be a cool vessel to hold my playing card collection. I'm also looking for quirky leather accent chairs and additional outdoor seating.
Are you on the hunt for any particular thrifted finds? If you are, I wish you all the luck in finding them!
---
Thanks for hanging out with me today. Here are some other posts you might enjoy.
Happy Thrifting: The Nest at Farmstead Farmers Market
I'm Starting to Like Zucchini Because I Hide It In All the Foods
Our Best Hidden Storage Purchase
*affiliate links in this post*