Hello!
How was your 4th of July? I hope you had an enjoyable day.
Ours was a mix of family fun and house projects. If only I could convince the kids that house projects were the same as family fun we could get so much more done. Ha!
This week on the blog I shared why my big mouth made our recent move so much harder. I also shared some festive 4th of July ideas which seem utterly useless on July 5. Kidding. Those pies are definitely appropriate 365 days per year.
Here's the Happy List!
---
CHEESECAKE DIP WITH STRAWBERRIES
Michael at Inspired by Charm is one of my favorite bloggers to follow. I love his style and the recipes of his that I've tried have been gobbled up in a flash.
The next recipe I'd like to try is this Cheesecake Dip with the graham cracker crumbs. Doesn't it look delicious?
(image:Inspired by Charm)
---
SOFFA SANS
The playfulness of IKEA made me chuckle this week.
IKEA made a font called Soffa Sans out of the shape of their couches and this just cracks me up.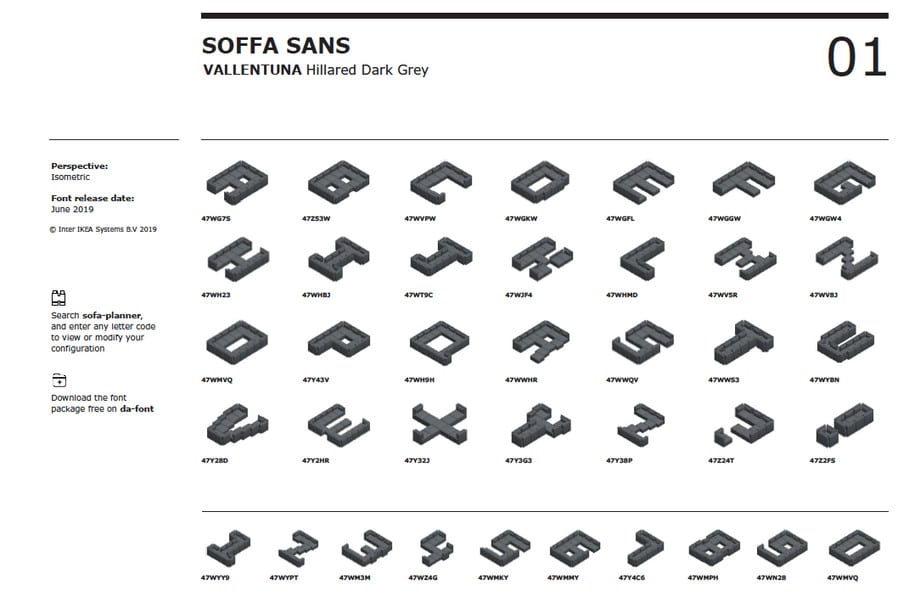 (image: via The Verge)
---
AIR PAINTING
Painting with a hair dryer looks like fun!
All the how-to details can be found at Jennifer Rizzo.
(image: Jennifer Rizzo)
---
COLLECTING
I find the picture of this collection of striped pottery very satisfying.
---
LOVELY SENTIMENT
This quote has a lovely sentiment.
If you like these prints, you can print them for free at Anderson + Grant.
(image: Anderson + Grant)
---
BUG ZAPPER
There's another lovely sentiment I'd like to share with you today. Are you ready for this?
Flies in the house are bad!
Especially this time of the year when I'm constantly yelling, "SHUT THE DOOR!"
Closely followed by me muttering, "Too late."
We have an Electric Bug Zapper
 and we did not buy it. It was left in the last house we lived in and OF COURSE I TOOK THAT THING WHEN WE LEFT. I'm classy that way.
It's amazing. And satisfying to zap the flies instead of mushing them flat on whatever surface they land on. Gross.
Most of the time the flies stick to the zapper so you can easily tap them into the garbage can.
This is the one we have and it has 4.5 stars out of almost 2,500 reviews. See? A lot of people agree with me. It's WAY better than a regular fly swatter. I'll get off my soapbox now because I have flies to kill.
---
BEAMS AND SKYLIGHTS
I found this combination of beams and a pitched ceiling with skylights so interesting.
It's not a combo you see everyday in home design, but it clearly adds a ton of light to the space.
More pictures of this home can be found on Design Sponge.
(image: Design Sponge)
---
JACKIE O'S HOME
Jackie Kennedy Onassis's Martha's Vineyard home is for sale for a cool $65 million.
I had fun looking at the pictures, but it was the pool that caught my eye. If Jackie O. enjoyed grass around her pool, maybe I shouldn't worry about the grass surrounding mine.
(image: Christie's International Real Estate via Elle Decor)
I should probably worry about the weeds though. So. many. weeds. I don't think I have as many gardeners as Jackie O's estate does. For the record, I have zero gardeners.
---
I LISTENED, I READ
I listened to this and this about the use of IQ tests in American public schools. It is pretty eye-opening when you realize how biased and subjective these tests can be. And, in some cases, modern versions of the tests can be helpful. Such a mixed bag. After hearing the names of the tests I also realized my daughter has been given at least one of the tests mentioned.
I read Patrick Henry's "Give Me Liberty or Give Me Death" essay from 1775.
---
Thanks for reading this edition of the Happy List! I love sharing my finds with you.
I hope you have a great – no, FANTASTIC – weekend.
P.S. Please wish my luck today. I'm going to the DMV to get the address on my license changed. And yes, I have to do that in person. And yes, I decided to do this today because Handy Husband thought I could finish the drywall sanding in the Carriage House. Now you know how desperate I am to avoid drywall sanding. Worst. Job. Ever.
*affiliate links in this post*