Happy Friday, everyone!
Any early Halloween plans? If the weather is nice we are going to a Halloween Parade in Pennsylvania. You know I LOVE parades and I've never been to a Halloween-themed one. Well, I take that back. I was in Las Vegas on Halloween one year. It was an interesting experience, that's for sure.
Do you know what else was interesting? This week's blog posts! (I do love a good self-promoting segue.) On Monday, I wrote about our new sconces in the dining room that are working thanks to the Magic Light Trick. On Wednesday, I shared a dresser drawer organizing hack using wood soda crates.
Here's the Happy List!
---
PIANO UPDATE
I have two very important piano parts updates.
When you take apart a piano there are a million pieces that need to be repurposed, recycled or trashed. If you need to catch up on this conversation, read this post.
You know we turned the harp into wall art.
The piano keys were awesome, but I just didn't have a use for them that wasn't kitchy. I reached out to my daughter's middle school and the art teacher was THRILLED with the idea of having the kids use them in an art project. You can bet your bottom dollar I dropped those keys off at school before he could change his mind!
The very back of the piano (what you would see if you were looking at the back of an upright) isn't one solid piece, but it is very solid and 4 – 5 inches deep. Handy Husband has turned that into a worktable in our garage. Clever, right? The depth and sturdiness of the piano back made it the perfect work surface to attach our bench vice.
I just cracked myself up by the use of "our" in that last sentence. I don't think I've ever used a bench vise.
Now I just need to come up with ideas to use the copper wires, the felt pads from the hammers and all the wood. NO PRESSURE!
Are you invested as much as I am in this saga?
No? I don't blame you! I'd rather I wasn't.
---
CHURCH PEW HEADBOARD
Excuse me while I go find a church pew to turn into a headboard. How other-worldly is this idea?
This image is from The Russell, a boutique hotel in Nashville. The hotel used to be a Presbyterian church. Go check out their website and prepare to drool over the ideas. Who wants to go to Nashville now?
(image: The Russell)
---
SLATE CHALKBOARD FLOORS
Sometimes I actually read an article instead of just looking at the pretty pictures.
That's how I learned that the radiant-heated floor in this kitchen is made from slate chalkboards that were rescued from a school in Pennsylvania. Slate chalkboards.
I'm still wrapping my mind around this brilliant use of repurposing.
Read all about it in this Remodelista story.
(image: Remodelista)
Does that mean you can write on the floor?!?!?
---
WILD RICE SALAD
I'm feeling very passionate about the idea of eating this Wild Rice Salad from The Pioneer Woman.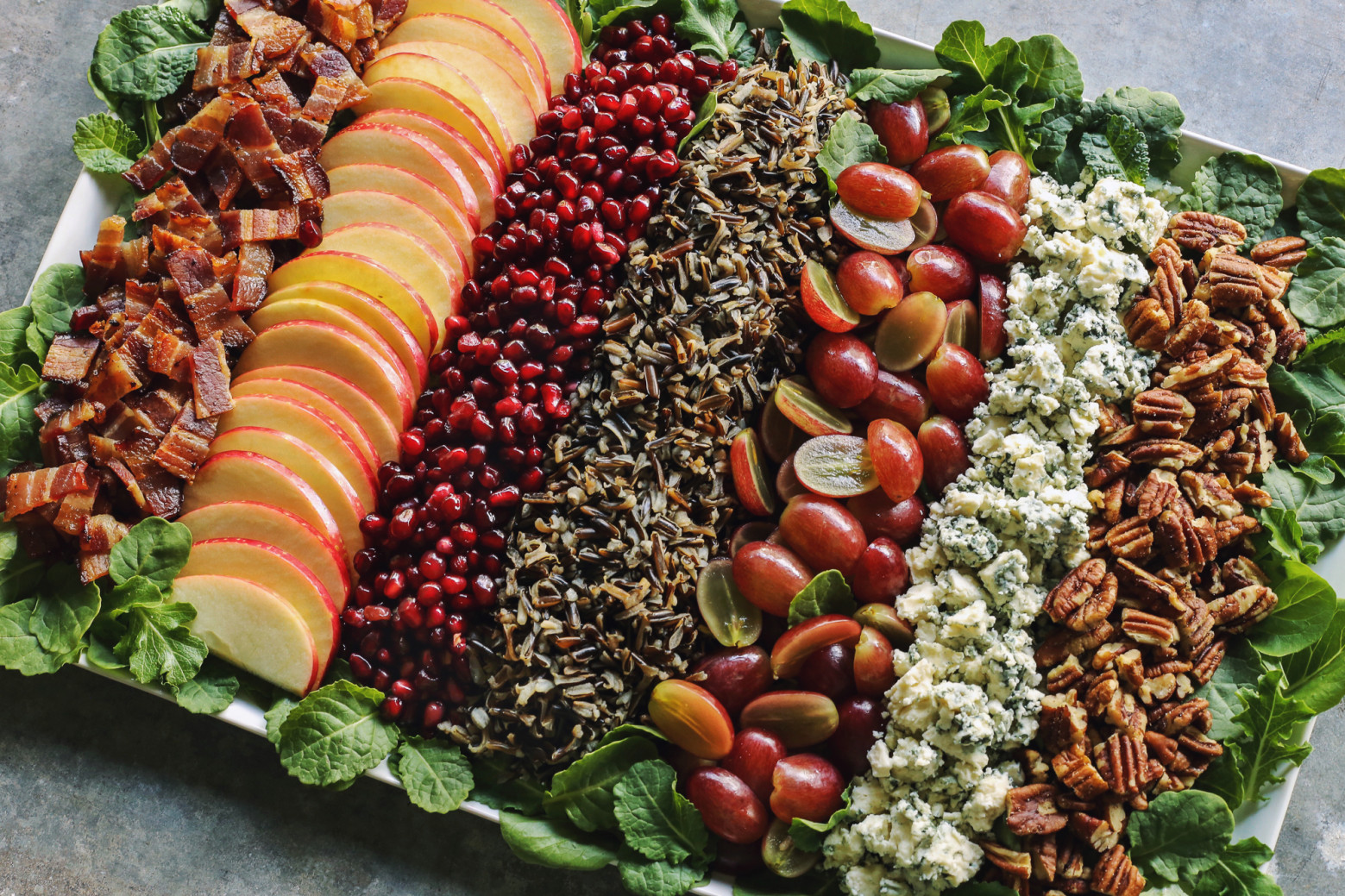 (image: The Pioneer Woman)
---
WALL DECALS
You know I'm skittish when it comes to wallpaper since I've been removing so much of it lately and have so much more to remove.
I'd love to see how a wall decal treatment like the one done in this bright and happy laundry room looks in person.
More pictures and a fantastic how-to can be found at Driven by Decor.
–
(image: Driven by Decor)
---
PUT A SHELF ON IT
I am really digging this shelf above the board and batten in this room. Also, that forest green color is amazing.
This is an AirBnB space by I Spy DIY. I won't spoil it, but her clever tip about coasters makes me think maybe I should do this around my entire house. HA!
(image: I Spy DIY)
Probably because I just saw this picture, I noticed the set of the new NBC show Bluff City Law, also used this coaster trick.
---
MOTHERS
My son and I are reading a book titled Rooftoppers
by Katherine Russell. The girl in the book is an orphan, but she desperately hopes her mother is still alive. This particular passage, where the girl is trying to remember her mom so she can draw a picture of her, was so beautiful, I had to share it with you.
"Mothers are a thing you need, like air, she thought, and water. Even paper mothers were better than nothing – even imaginary ones. Mothers were a place to put down your heart. They were a resting stop to recover your breath."  – the character Sophie, as written by Katherine Russell
Isn't that beautiful? I was extraordinarily blessed to experience that feeling for the first 26 years of my life. I hope I am that resting stop for my children.
---
On that note, I hope your heart, mind, and body finds rest this weekend.
Happy Friday!
*affiliate links in this post*