Wood Crate Drawer Organizer
There are a million and one products you can buy to organize your dresser drawers.
I own some of them!
Unfortunately, these organization systems are only as good as the person using them.
Have you ever met a 9-year-old boy?
Organizing is not at the top of the to-do list for my 9-year-old.
I'm sure there are 9-year-olds out there who could make Marie Kondo herself weep with joy at the sight of their neatly folded shirts and pants. But again, that's not my child right now. Maybe someday he will turn over a new leaf and his spouse will thank me for raising him up right, but let's not get ahead of ourselves.
In an attempt to use what I already owned to bring a bit of order to the chaotic jumble of shirts and pants in my son's dresser, I put my wood soda crates in his dresser drawers.
If ever there was a Hail Mary organizing play, this was it.
It should be noted that my son has a dresser with real wood drawers. Second, it was dumb luck that one wood crate per drawer fit with a little room on the side for off-season clothes.
This system eliminated two problems. First, he didn't need to rifle through the drawer to pick a shirt. He could clearly see all twelve shirts that were available for him to wear.
Second, it gave him a clear place to put away his clothes as opposed to just shoving them in the drawer. I have him fold his shirts and shorts in thirds and then roll them up. Although, let's be honest, he might not roll each item as neatly as I would, but that's okay. Only one item fits in each cubby regardless of how neatly it is rolled, so it all works out in the end.
An unintended benefit of this wood crate organizer is that it helped me resist the urge to buy him extra clothes that he really didn't need. No matter how many shirts I buy, he mainly wears his 4 or 5 favorite shirts over and over – as long as they are washed!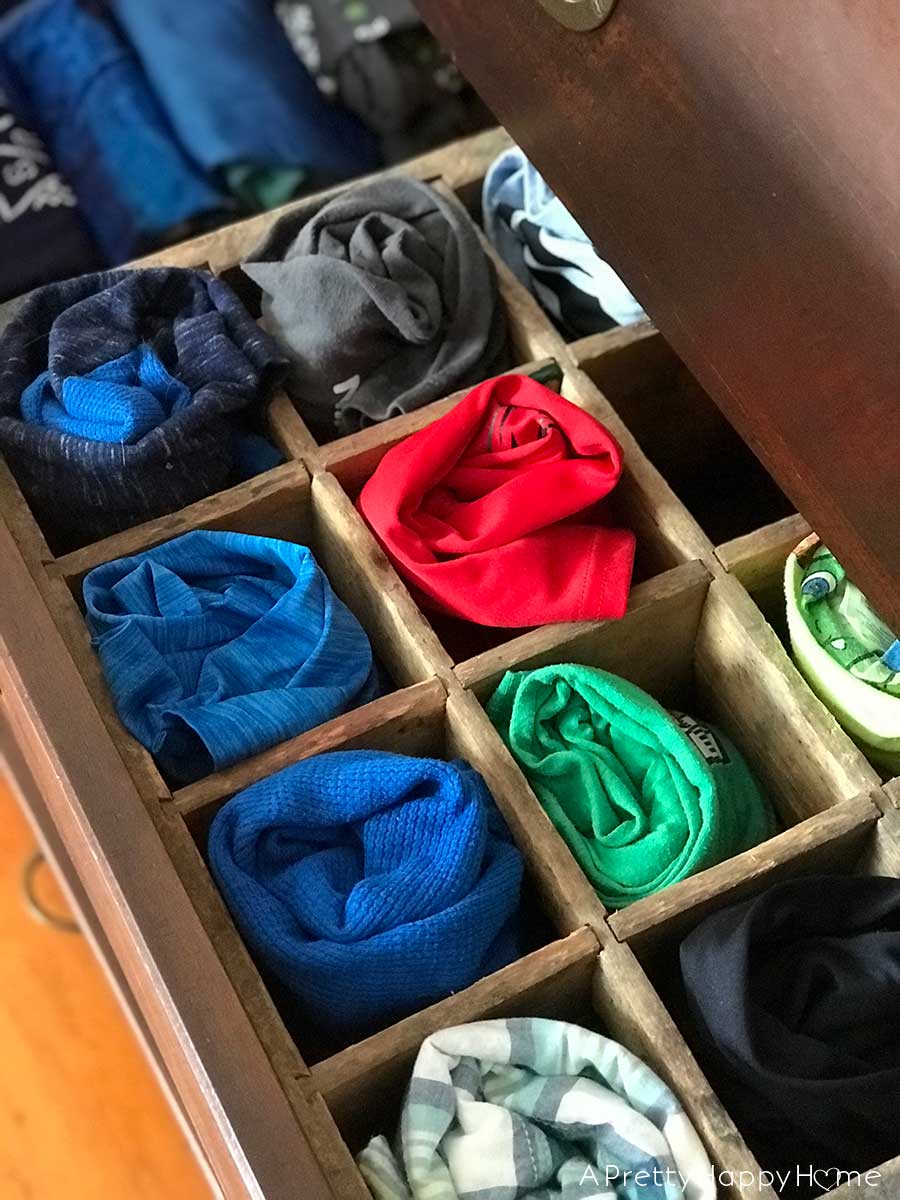 The downside to this solution is that it won't work with teen and adult-sized clothing, unless you're talking t-shirts, socks, and undergarments. My son wears a boy's size 8-10. Shirts, shorts, compression leggings, socks and underwear all fit great in a wood crate. Long pants in his size are too bulky for the wood crates with 12 cubbies, but would probably fit in a wood crate with six cubbies.
If you use a wood crate as a drawer organizer, be aware that it will add weight to your dresser drawer. Some dressers are constructed to handle that weight while opening and closing easily, others aren't. This solution would work well on a closet shelf though.
Now that I know this wood soda crate organizer idea works better than anything else we've tried, I feel more confident investing in plastic grid drawer organizers for his dresser. If I do, I'll be able to reclaim my wood soda crates for a different project.
Happy organizing!
P.S. Right now I'm also using wood soda crates for storing art supplies, craft supplies, rags, and plastic shopping bags.
---
My wood soda crates are vintage Coca-Cola and 7-up crates and you can find them at thrift shops, flea markets, and sometimes your grandma's garage! I've also seen them on Etsy.
These plastic drawer dividers
are similar to the ones I own for socks and underwear.
I'm interested in these grid organizers
 because they are 4 inches tall, customizable for length and width, and should be able to corral larger shirts and pants.
---
Thanks for hanging out with me today! Here are some other posts you might enjoy. 
How I Get the Sweat Smell Out of Dry-Fit Workout Clothes (aka polyester) 
No-Sew Way to Repair a T-Shirt Hole
*affiliate links in this blog post*