Hey, hey! It's Friday! The 13th!
This week on the blog it was all about the exterior of our house. I shared the surprising way we had a whole bunch of brush removed from our property. That alone probably raised our property value.
I also shared my newly painted front gate and how long it took me to paint it. It definitely wasn't an hour.
In other news, I've been trying to do more stories on Instagram. I even showed my face this week. Twice. Crazy stuff. If you're on Instagram, I'd love to connect with you there too.
Here's the Happy List!
---
SWEET POTATO SAUSAGE BREAD KNOTS
It is the beginning of soup season! Soup requires bread. It's a law or something.
If you need a way to up your bread game, these Sweet Potato Sausage Bread Knots that I wrote about a billion years ago are the way to do it.
I bought a sweet potato this week for this very reason, so this bread is on my mind and hopefully soon to be in my belly. You can use canned sweet potato too.
I'm so hungry now.
---
KITCHEN ISLAND
This is a unique kitchen island. More pictures of this Oregon home can be found at Rue Magazine.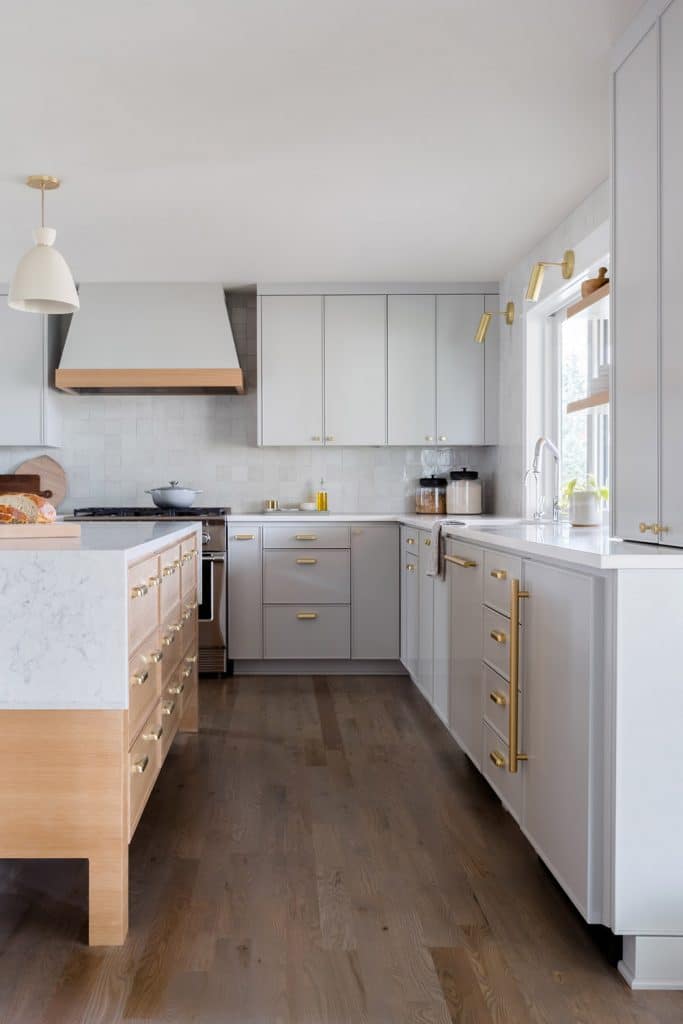 ---
THIS MADE ME CRY
I can't stand it when kids are intentionally mean to each other. I don't want my kids to be mean to other kids.
You've probably seen this story already, but it is too good not to share again! The response by the University of Tennessee when this boy was ridiculed is amazing. I got teary-eyed when I read how his mom responded to their act of kindness.
Share in a Florida elementary student's Volunteer pride by wearing his design on your shirt too! Pre-order today for a late September expected delivery. A portion of proceeds from every shirt sold will be donated to @STOMPOutBullyng .https://t.co/NdnTtYREFL pic.twitter.com/OeTZvgC09Y

— VolShop (@UTVolShop) September 6, 2019
In general, I think it should be noted that kids who are mean to others, especially if it is chronic behavior, usually need help too to figure out what's going on in their lives that makes them act out.
---
HAPPIEST U.S. STATES
New Jersey, where I live, is #5 on the most recent list of happiest states as determined by WalletHub. New Jersey doesn't do great on work environment rankings, but it was #2 on physical and emotional well-being rankings.
I think happiness is what you make of it, but I like it here! New Jersey wasn't at all what I expected.
Check out your state's rankings here.
---
PATHWAY
This home featured in Birmingham Home and Garden is elegant in so many different ways, but look at that path! That's what caught my eye. I've been thinking about our front yard and how we can use all the stone slabs we've found.
See more of this gorgeous home, including a better picture of the path and the interior here.
(image: Jean Allsopp for Birmingham Home and Garden)
---
POTTY TALK
Is everything the Norwegians create next level?
This is a public toilet. I mean…
(image: Steinar Skaar/Statens Vegvesen via Atlas Obscura)
Learn more about this space here, including why there is a WWII memorial nearby.
---
I LISTENED
If you have teenagers, they need to listen to this Hidden Brain podcast about a kid whose admission to Harvard was rescinded because of inflammatory and insensitive memes he shared on a group Facebook page. There are real consequences to online behavior and you don't always get a pass for being young and doing something dumb. If you don't want to listen to it, you can read the recap of the podcast story here.
---
I sure hope you enjoy your weekend. Happy Friday!