Navy Blue Sunporch Reveal
One of the most charming exterior features of our Colonial Farmhouse is the sunporch.
There's just something about a sunporch that gives an old house some added character. It's probably all the windows.
Here's a refresher on what the exterior of our Colonial Farmhouse looks like with the sunporch. Ignore the landscaping for now. This is an improvement from when we moved in.
From the inside of the house, there is nothing charming about our sunporch.
Zip. Zero. Nada.
It has cracked windows. The windows that aren't cracked look like someone let a toddler finger paint with window glazing. Some of the window grids are askew. There are rotting tongue and groove floorboards in a couple of places. There is an American flag wallpaper border and an ugly ceiling fan. The front door opens, but only partway because the floor isn't level. Oh, and the paint is peeling in spots.
But other than that it is fine.
Hahahahaha!
Suffice to say, time has not been kind to this poor sunporch.
Do we have money budgeted for new windows and new floors? Heck no! I'm saving for a new kitchen.
The cracked window thing isn't as bad as it sounds because there are storm windows on the outside, so it's not like the sunporch is completely open to Mother Nature and all her critters. Although, there did seem to be a secret portal open to ladybugs during one warm week in October.
The rotten floorboards are as bad as it sounds, but it isn't something we are motivated to fix yet. Since tongue and groove boards lock together, replacing one board in the middle of a floor is an annoying project. In the meantime, tread carefully, my friends.
My goal was to put some lipstick on this pig for around $100 and a lot of elbow grease. Basically, my budget was to be spent on paint, caulk and wood filler.
Let's see if paint really can work miracles.
Our dirty, sad-looking sunporch is now a dramatic navy blue!
The ceiling, walls, trim, and baseboard heaters are all the same color and sheen. The floor was painted using black porch paint. The ceiling fan was also painted black.
It took me about a week of painting in all my spare time to put two coats of paint on this room. It was hours upon hours of work. The ceiling was probably the most annoying because I had to back brush in between all the grooves.
Totally worth it though!
I'm enjoying this color of navy blue paint because it changes throughout the day and with the weather. You'll notice this change in the photos I'm sharing. I was tempted to go darker with the navy color, but this color almost looks black in certain light, so I'm glad I selected the color I did. I matched it to a color in my living room rug.
Our sunporch is about 4 1/2-feet wide and maybe 30-feet long. It has five doors. Four of the doors are french doors that are not centered on the sunporch. They are centered on the interior rooms, our living room and music room.
Needless to say, there is not a lot of useable space in this sunporch.
I did pull some furnishings from other areas in my house to give you a sense of scale in these pictures because furniture and art was not in the budget for this makeover! I've also since removed the vintage quilts because I don't think direct sunlight is good for them.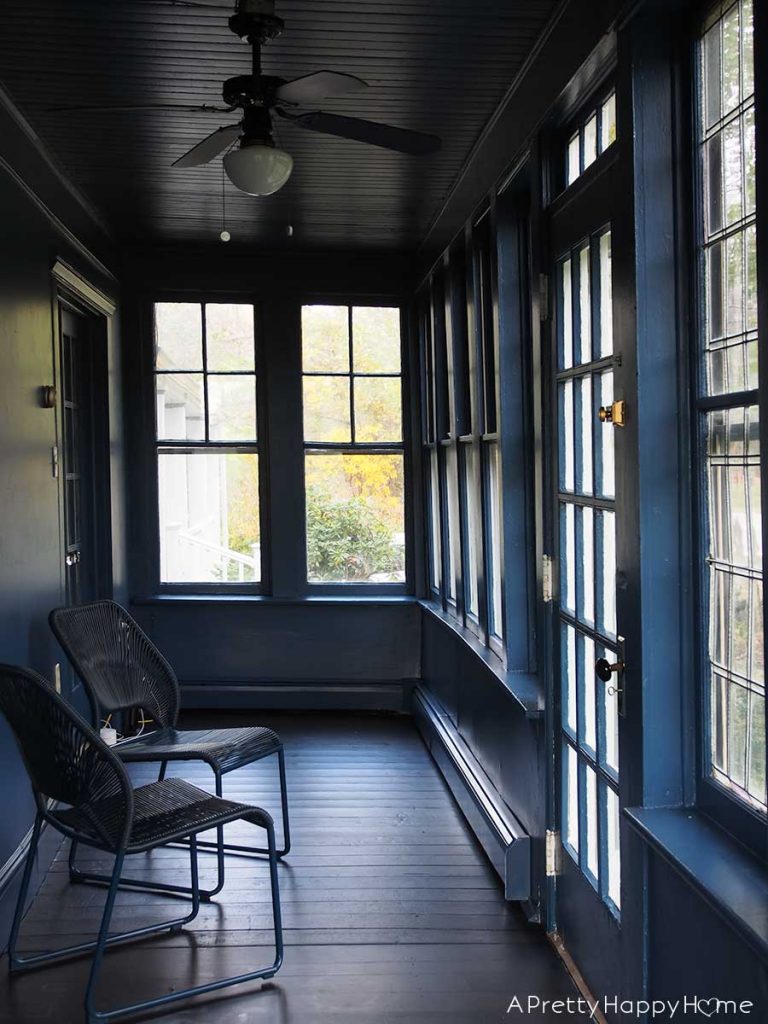 I probably shouldn't admit this, but I'm not 100% certain how we are going to use this space.
In the summer this sunporch is uninhabitable. It reaches temperatures equivalent to the surface of the sun. We have to keep the doors to the sunporch closed to keep the rest of the house cool.
Now that the temperatures have cooled down, the sunporch does still warm up during the day and I can open the french doors to help naturally heat our living room and music room.
I envision this space having rocking chairs and it being a neat place to sit and read with a cup of coffee. Maybe I'll write blog posts from the sunporch?
An odd perk of painting the sunporch dark is that when you drive by our house during the day, it is harder to see into the porch. It's really an optical illusion because there are no window treatments. Before, you could drive by and see that American flag border in all its glory!
For anyone who thinks I'm crazy to have painted the floor black, you're probably right. This is the second floor I've painted black, so I knew what I was getting into. Yes, a black floor does show dust and dirt, but I'm the weirdo who thinks that is a good thing because it is a reminder to clean.
I'd prefer the floor to be stained wood like the rest of our floors, but since it can't be right now, the black paint ties in well with the other black accents we have in the connecting spaces.
I couldn't fix all the problems in our sunporch with my $100 budget. Paint is good, but not that good. However, I think those flaws aren't quite so apparent at first glance. It's like my porch is wearing a hat to cover up a bad hair day and sunglasses to hide dark eye circles. From a distance it looks like she has it all together.
Having a room that was imperfect to begin with gave me some freedom to have fun with this space. This is how I have fun, apparently!
I feel an odd sense of self-imposed pressure to restore our Colonial Farmhouse to its former glory and to honor its heritage with my design choices. However, I also want it to be a home that reflects our family's personality. Finding the sweet spot between those two objectives can be tricky.
If this sunporch had brand new windows, I wouldn't have painted them blue. If this sunporch had brand new floors, I wouldn't have painted them black. The walls and ceiling are different story though!
I'm choosing to be grateful for this in-between time because it makes me happy to open the doors to this sunporch now instead of reluctant to step foot in what started out as a depressing space. Our sunporch was a low risk way for me to flex some creative muscle. To choose a color that I might not normally pick. To not take my house or myself too seriously.
I couldn't "ruin" anything with this makeover and that is so liberating. By also addressing some of the issues with this room, I probably did buy us some more time before we have to spend money to renovate this space. I'm a big believer in taking care of what you already own and usually when I do that it brings me a deep sense of satisfaction.
---
The paint color used in this navy sunporch is Glidden America's Cup Navy 10BB 11/126 color matched to Behr Premium Plus in the satin enamel finish.
The floor was painted with Behr Low Lustre Enamel Porch Paint in black.
The navy blue outdoor dining chairs are from Target and they still look brand new after being outside all spring and summer. I featured them in this post.
The rattan swivel chair was a thrifted find and featured in this post. The pouf and white throw are from a shop in Ireland. The leather-topped stool is from HomeGoods.
*affiliate links included in this blog post*
---
Thanks for checking out my navy blue sunporch! Here are some other posts you might enjoy.
Step Stool (from a high school shop class) Makeover
Sweet Potato Cranberry Doughnuts
Hiding Cords Behind a Desk with a Curtain