When I set out to decorate a music-themed Christmas tree this year, I didn't plan on creating a piano pedal tree topper.
It just sort of happened on a whim.
Was it a good whim?
It's hard to tell, but you know me, I'm running with it!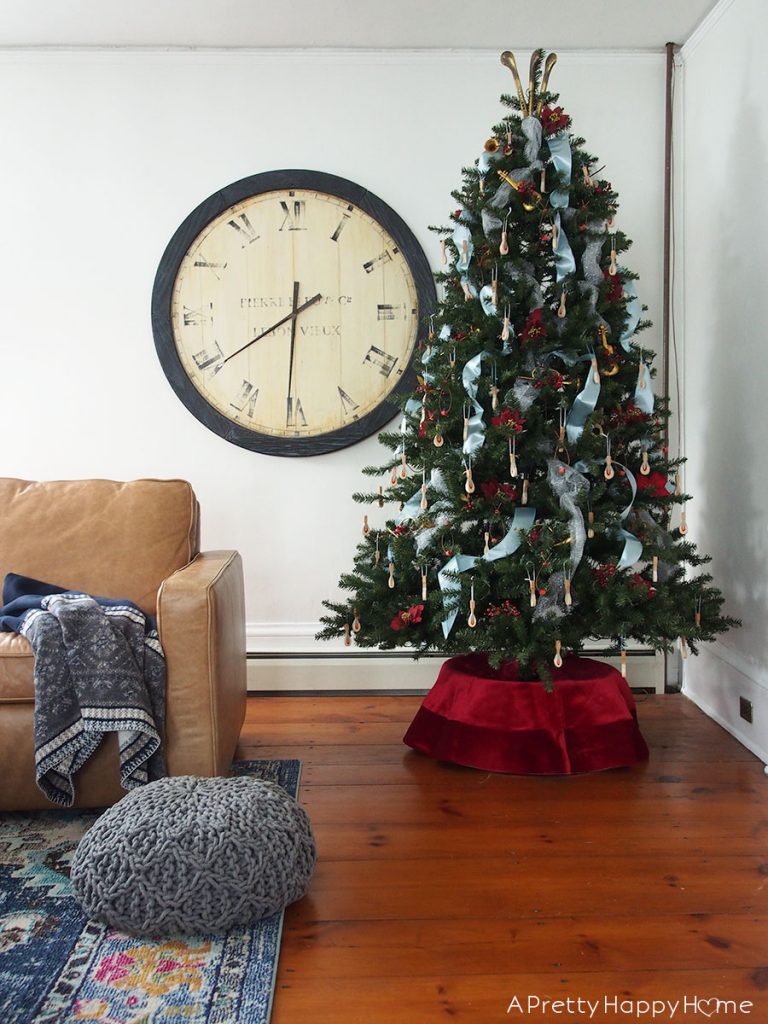 If you're new here, we took apart an old upright piano that was left in our Colonial Farmhouse when we purchased it. We've been repurposing the piano parts for other projects (like this piano harp art). That's how today's piano pedal tree topper came to be.
Piano pedals are made of metal and these have a lovely patina from decades of use. They are also quite heavy – especially when placed at the top of a Christmas tree.
I individually wired the pedals in place with green floral wire
. The wire is visible when I zoomed in to photograph it for this blog post, but not when you're just standing in front of the tree.
The piano pedals ended up shifting a bit once I had them up there and I ended up leaving them that way. It felt a little like one of those situations where a car is precariously, but perfectly balanced on the edge of a cliff. Any little movement or shift in weight could bring the whole thing down. No one wants to see their Christmas tree toppled over, so I crossed my fingers and slowly backed away from the tree.
"So far, so good," she said with complete confidence and her fingers crossed behind her back.
But truly, it has been fine.
I don't have a particular tree topper that we use every Christmas for sentimental reasons, so maybe that's why I was open to the idea of repurposing piano pedals as a tree topper this year.
I mean, why not?
Happy Christmas, everyone!
---
P.S. The pedals have been in use prior to being repurposed as a piano pedal tree topper. They made a low-key appearance in the pictures of our piano harp art. Do you see the piano pedals on the wire basket in the bottom left of the below picture? My piano tuner said, "Well, I haven't seen that before!" I took it as a compliment. Ha!
P.P.S. You can buy vintage piano pedals on eBay. There are so many cool looking ones! They seem to start around ten bucks for a set.
---
Thank you for sharing in the holiday cheer around here! Here are some other posts that might be music to your ears, I mean, eyes. You get what I mean. 
Christmas Tree 2018: Blue, White and Natural Wood
Christmas Windows on Irish Storefronts
*affiliate links in this blog post*